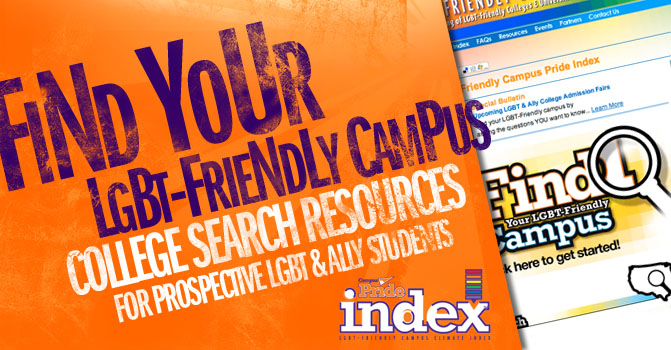 Finding the right college can be hard for anyone, but LGBT and ally students often face unique challenges. Campus Pride aims to make this process easier for prospective students and their families through the Campus Pride Index and the many other resources listed below. We encourage LGBT and ally prospective students to use these resources along with attending a Campus Pride LGBT-Friendly College Fair as a starting place in their search for inclusive and accepting campuses. If you're looking for LGBT and ally scholarship resources, then check out the Campus Pride National Scholarship Database. 
Campus Pride 2016 Top 30 List of LGBTQ-Friendly Colleges & Universities
Campus Pride chose thirty campuses to highlight in 2016 based on their overall ratings on the Campus Pride Index and specific LGBTQ-inclusive benchmark measures.  The Campus Pride Index, currently 235+ campuses, is the premier national benchmarking tool which self-assesses LGBTQ-friendly policies, programs and practices. The Top 30 listing is based on the final responses to the Campus Pride Index, a national benchmarking tool which self-assesses LGBTQ-friendly policies, programs and practices.
Campus Pride Recognizes 7 Brave Campuses for LGBT Students in the South
The struggle for fair access and treatment for LGBT students is still that in many places — a struggle. And while organizing in the South offers a special set of challenges, Southern colleges and universities remain a vital part of the social, political, and cultural landscape. Since conviction has always been strong in the face of adversity, Campus Pride has identified seven campuses in particular that stand out as not just good colleges, but "brave spaces" where LGBT young adults have stood up against the politics of bigotry and pushed forward, driving grassroots progress.
Obtaining a FAFSA Dependency Override for LGBTQ Students
An unfortunate consequence of coming out as LGBTQ to family members is the loss of financial support.  The Department of Education has the power to change the documentation related to financial aid when a student is listed as "dependent" on parents/guardians, but is not receiving any support due to extraordinary circumstances, including abandonment due to LGBTQ identity.
2013 Top 7 LGBT-Friendly Religiously Affiliated Universities Colleges
Campus Pride lists top 7 LGBT-Friendly Religiously Affiliated Universities Reprinted with permission from The Washington Blade (2013). Religiously affiliated universities often are not associated with LGBT friendliness or visibility. Recent studies by Campus Pride reveal, however, that more and more Catholic and Protestant universities are actively seeking to improve the campus climate for their LGBT students.
Advising LGBTQ Students through the College Admission Process
The transition from high school to college is an extremely important time in the lives of young people. For this reason, this time is marked by excitement, fear, uncertainty, and many other complex emotions. These emotions are magnified in unique ways for lesbian, gay, bisexual, transgender and questioning (LGBTQ) students. This resource guide is intended to meant to assist educators, counselors, and students services professionals (as well as parents and guardians) in supporting LGBTQ students through the college admission process and their subsequent transition to life at postsecondary institutions.
Campus Visit Scorecard for LGBT Students & Families
The time has come for the ultimate test – the campus visit. It's time to discover for yourself just how LGBT-friendly and progressive your top campus choices are. Whether or not your campus is listed on the Campus Pride Index, you must still put the campus through your own personal test and ask all your questions. To make your campus visit easier, you can easily grade and compare campuses with this nifty LGBT-friendly scorecard. Simply be sure to collect the necessary information during the campus visit to completely answer the questions. Then after all your campus visits, you can tally up your scorecards and see what campus ends up on top.
Personal Campus Inventory Quiz
Learn more about yourself and what you are looking for when picking the best LGBT-friendly campus for you.  Utilize the worksheet as a preplanning step to answer key questions about what you desire in a college or university. Then go on the search to find it!
Individual Action Plan for the LGBT College Seeker
An action plan for a LGBT college seeker comprises many of the same aspects as it does for other prospective college students. However, there are certain LGBT considerations to keep in mind. Complete this planning worksheet based on the considerations and priorities from your Personal Campus Inventory Quiz. The result will be a list of deadlines with an action plan that you can use to keep on track during your quest as an LGBT college seeker.
LGBT-Inclusive Factors When Considering Your Campus Priorities
Determine where each LGBT-inclusive factor ranks to determine what's important in choosing your best fit for an LGBT-friendly college/university. Ask yourself the question: How important is it to have this on my future campus? Use these responses to prioritize your interests and figure out your top campus choices. Compare your choices on the Campus Pride Index and determine what to look for on your campus visit.
Minding Your P's and Q's to Choose Your Perfect LGBT Campus
What do P's and Q's have to do with determining the perfect LGBT campus for you? P's and Q's will help steer you in the right direction until you find what you're looking for.
Top 10 Criteria LGBT Students Look For In A Campus
Before you begin reading LGBT-friendly campus profiles on the Campus Pride Index, there are important questions to ask yourself: Do you know what you're looking for? Even more, do you know what exactly you want or need in a college in terms of LGBT issues? Possibly hearing perspectives from other out LGBT high school students can help you to consider all your choices. Following is a top 10 list compiled form feedback of LGBT high school students searching for the best LGBT campus. Keep this list close by as you narrow down your LGBT campus choice. Think about whether any of these LGBT issues matter to you and how much!
Campus Pride Trans Policy Clearinghouse
The Campus Pride Trans Policy Clearinghouse is the premier resource for transgender policies at colleges and universities, including lists of campuses with gender-neutral housing, trans-inclusive nondiscrimination statements, and more. The clearinghouse is updated regularly by Dr. Genny Beemyn, a noted scholar on transgender issues in higher education and the Director of the University of Massachusetts Amherst's Stonewall Center.
Suggestions for LGBT Students of Color
Many LGBT students of color are flourishing across the United States in local communities and college campuses. Nevertheless, LGBT students of color often encounter campuses that do not support them holistically as complex individuals with multiple identity groups. This resource includes important suggestions to help LGBT students of color find a supportive college or university.
2012 Top 10 Trans-Friendly Colleges & Universities
With improvements made across the country, for the first time ever, Campus Pride can assemble a list of the most welcoming places for trans students to go to college. The final top 10 list is based on the Campus Pride Index, which rates LGBT-friendly campuses across the country, and the organization's decade of research on LGBT issues. The Top 10 article was coauthored by Shane Windmeyer and Genny Beemyn and originally published in The Advocate.
2012 LGBT-Friendly Top 10 List for College Athletics
Colleges and universities must take responsibility for the academic success and safety of all lesbian, gay, bisexual, and transgender (LGBT) students–including their college athletes. Nobody knows where colleges and universities stand on inclusion and the safety of LGBT players, coaches and staff in college sports. In 2012 Campus Pride, the nation's leading nonprofit organization for LGBT and ally college students and campus groups, teamed up with Compete Magazine to find out which U.S. campuses are leading the way by compiling he first-ever national "LGBT-friendly Top 10 List for College Athletes."