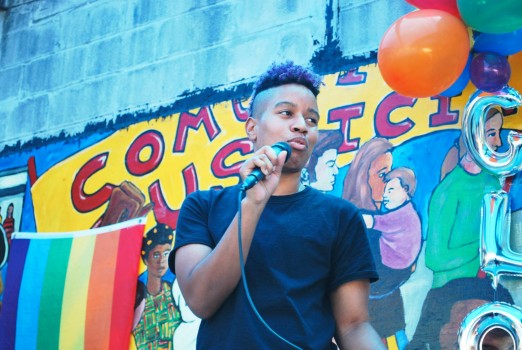 To honor the Campus Pride Speakers Bureau, we will be starting the People of Pride blog series dedicated to getting to know the esteemed members through individual interviews.
The Campus Pride Speakers Bureau is our way of highlighting artists, entertainers and speakers that represent the diversity of the LGBTQ community and the various issues that impact LGBTQ and ally people. In addition to their expertise and, or talent, these individuals represent the values of Campus Pride and share our work across the country.
About J Mase III: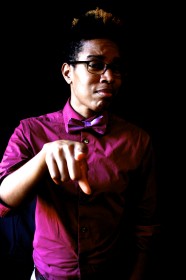 J Mase III is a Black/Trans/Queer/Rowdy-as-Hell Poet with a capital [P] based in New York City and creator of the national performance event, Cupid Ain't @#$%!: An Anti-Valentine's Day Poetry Movement.
As an educator and activist he has worked with thousands of community members and service providers across the country on the needs of LGBTQ youth and adults in spaces such as faith communities, elementary schools, domestic violence shelters, medical agencies, juvenile justice organizations, foster care programs among others.
Q: How do your creative, educational, and other passions all interconnect with your work?
A: Since I was 18, I have lived by a very particular set of values that causes me to see social justice movements happening on three major levels in order to be effective: Head, Heart & Feet. At the head level, is intellectual development; through this space I run workshops and create space for folks to develop a stronger base in the statistics and theory place of things. At the feet level, I get involved in, and help to make space for others to get involved in, organizing; whether that is a protest, developing inclusive policies, or some other type of direct action, this level is where folks become physically involved in social justice work. Finally, the heart; passion, faith, the warm place in your gut that tells you that you need to get involved. At the heart level, I create art, I hold space for folks to have faith discussions. Without the heart, it is unlikely folks will be compelled to be involved in social justice movements. It is not enough to hear numbers, we as human beings are social creatures, and in order to become invested in making change, we must be emotionally involved. All of the work I do falls within this framework.
Q: You use a lot of humor in your work, why is that?
A: When it comes to being a person of color, to being a trans person…we are dealing with trauma all day. Just by walking out of my house today I will get looks or comments, I may be challenged directly, just for existing in this body within a system of transphobia and white supremacy. As a result, when it comes to being part of a poetry scene, often there is pressure that tells us we are only allowed to focus on that trauma. Furthermore, we aren't just supposed to be focused on that trauma, but also be overcome by sadness and grief while we do it. I come from a legacy of black and brown trans people that were warriors. That consistently had to make space for themselves despite living in the midst of oppressive forces. I come from ancestors and elders like Marsha P. Johnson, Sylvia Rivera, Louis Mitchell, Miss Major and what does it mean if within the fight for justice we never have a right to joy? I rebuke that notion. I love to laugh, and I find joy where I can because I believe we fight too hard, and have lost too many to these systems for us to also be robbed of our joy. Humor to me is a birthright when you come from a community of badass activists.
Q: You do a lot of work around faith. Do you identify with a faith practice?
A: I grew up with a Christian & Muslim parent. I identify as multi-faith and feel close to both. While I feel connected to both, as I am getting older, and Islamophobia becomes more and more rampant, I am finding it more important to find and continue connections with my trans/queer Muslim community.
Q: Is there any particular performance that has been especially meaningful to you?
A: I love performing! I am in my early 30's and I am fortunate enough to be a full time artist! Me! A black trans person! They are all important to me because I feel we have a responsibility to get our stories and work out into the world. What is equally important to me is believing in the work and stories of others who often don't get that space. This is why I am invested in doing performance workshops, this is why I started my organization called awQward.
Q: What is awQward, and why was it important for you to create it?
A: awQward is the first ever talent agency that specifically uplifts the work of trans & queer folks of color. It was important for me to create it because I spent at least 6 years representing myself on the tour circuit. As a trans poet of color, I often got a lot of push back from venues and colleges that said things like "Oh, you're black? Well, our black history month is already filled." Or, "Oh, you're trans? Well, we had a trans person come for the Trans Day of Remembrance last year, so we don't really need you." I found that y work was being marginalized simply because I was trans and a person of color. I had to learn to advocate for myself. After a series of intentional conversations with friends who are full time artists and pure happy accidents, I found a formula that worked for me and allowed me to survive as an artist. A few years back, I asked other trans and queer artists of color what their experiences were like, and they were having similar struggles. I found myself helping my friends market themselves and I wanted to make this network of artists and speakers an official collaboration. I wanted to imagine a world where trans folks of color were taken seriously as business owners and a place where both trans and queer folks of color's art and brilliance had a home. For me, that is awQward. An all trans led, TQPOC movement.
Q: If you wanted someone to take away one thing from all of your activism, what would it be?
A: I would want someone to take away the need for trans and queer folks of color to be in leadership positions in LGBTQ organizations and in the community at large. I want people to understand that the lack of safe spaces for TQPOC folks is not a problem only cis straight white folks need to reconcile. We as a larger LGBTQ community must work hard to make space and support TQPOC organizations like awQward, like Trans Tech Social, like the Trans Women of Color Collective, like Black Trans Media and others that are popping up every day.
When you book these individuals through Campus Pride, a portion of the speaking fees come back to support the nonprofit organization and our work to create safer, more welcoming LGBTQ campus communities across the country.
To learn more about J Mase III and read a full bio, please visit HERE.
If you are interested in booking J Mase III to come to your campus, please visit HERE.