Campus Pride sponsors Johnson C. Smith University first ever Pride Day on November 19, 2014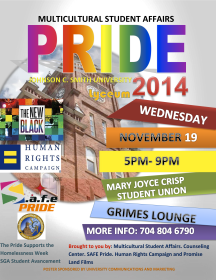 Charlotte, N.C. – Johnson C. Smith University campus organizations have collaborated to deliver the first ever PRIDE on campus. Campus Pride Leadership Academy Camp Pride alumni Warren Radebe is the lead organizer behind the Pride event who continues to challenge administration to make an institutional commitment to LGBTQ issues.
"Going to Camp Pride taught me to explore and engage with other young people from universities," said Radebe. "Through this experience we learn how to move forward and implement programs that are relevant and inviting. Our vision is to build advocacy. We want to involve all elements of the university. An HBCU can become a place where students can become free and let go of challenges. The university is ready for this."
Warren Radebe is currently a Campus Pride Ambassador working to continue developing ties among LGBTQ youth in Charlotte, is the vice president of the Sexuality Advocacy For Equality (S.A.F.E.) Pride organization on campus and is an assistant for JCSU Multicultural Student Affairs. Radebe has been highlighted in Q Notes and Creative Loafing as a key LGBTQ leader of Charlotte.
Coming from South Africa Radebe has seen firsthand how climate can affect young LGBTQ people. Radebe hopes to address students who face discriminiation starting at home and create safe spaces where students can flourish in their identities. His work is profound at JCSU and represents a strong movement of growing leaders across the nation.
"We are very proud of the organizing the Warren is taking on," said Shane Windmeyer, executive director of Campus Pride. "It has been such a pleasure having him in our office and for him to take part in Camp Pride. He is growing into a phenomenal leader and is building strong relationships here in local Charlotte."
Radebe initialized JCSU in the process of taking the Campus Pride Index. The Index is a benchmarking tool that rates a school's programs, policies and practices in LGBT-inclusion. He hopes that the campus will take further action in developing safety and inclusion for LGBTQ students – the Campus Pride Index is the first place to start.
Campus Pride is currently working with a number of schools in the south including in our home state North Carolina. Students on these local campuses are being empowered to create change and take the lead on important issues, including Warren at JCSU.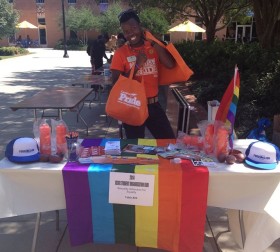 JCSU has received a special grant for historically black colleges and universities (HBCUs) from the Human Rights Campaign and Promised Land Film's Outreach and Engagement Campaign. Additionally, Starbucks, a working partner and sponsor of Campus Pride will be proudly serving coffee at the event in support. Join JCSU, Campus Pride, S.A.F.E. Pride, The New Black film and others on Wednesday November 19.
Johnson C. Smith University is an HBCU located in Charlotte, N.C. JCSU has become incredibly active in LGBTQ issues and will host their first ever Pride event on November 19, 2014. The event will take place from 5:00-9:00 and will provide an opportunity for the JCSU community to come out as allies and show support to the LGBTQ community on campus.
Johnson C. Smith University is located at 100 Beatties Ford Rd, Charlotte, NC 28216. For more information dial (704) 804-6790.
Campus Pride is the leading national educational organization for LGBTQ and ally college students and campus groups building future leaders and safer, more LGBTQ-friendly colleges and universities. The organization provides resources and services to thousands of college students and nearly 1400 campuses annually. Learn more online at CampusPride.org