Special dozen box set features four different designs spreading "Happy Holigays" messages of  joy, love and hope only $24.95 with profits benefitting Campus Pride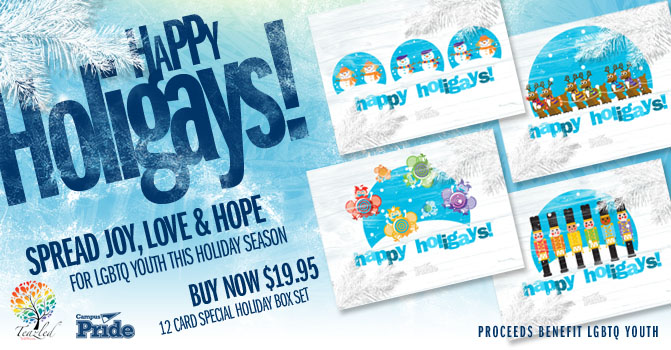 Campus Pride has extended partnership with LGBTQ-owned greeting card company Teazled.com to continue selling special "Campus Pride Happy Holigays" box set of greeting cards to support LGBTQ youth and safe spaces.  Purchase online for $24.95 per 12  dozen card box set.
"The Holiday Season is a time for friends and families to come together in joy, love and hope. Campus Pride cannot think of a better way to send an LGBTQ inclusive message for youth than in a holiday greeting card from Teazled.com," said Shane Windmeyer, Executive Director of Campus Pride. "Now you can support LGBTQ youth simply by purchasing greeting cards… and sending them to those you love."
Box set of twelve cards features four different designs spreading the seasonal holiday message as well as the "spirit of joy, love and hope." The back side of each card also shares the valuable work of  Campus Pride in creating safer youth communities and how you can give back this holiday season.
"Teazled.com believes in giving back to our community, especially LGBTQ youth.  Campus Pride is doing the important work of creating welcoming, safe communities for the next generation and we are excited about this partnership together especially for the holidays," Dina Proto, founder and CEO of Teazled.com, said.
Founded in 2011, Teazled.com creates "traditional greeting cards for the non-traditional family." Available on commercial displays in stores like Albertson's, their online site also boasts hundreds of choices so that LGBTQ families may celebrate those meaningful moments, express their innermost thoughts and communicate with those they cherish.
"Help us spread a message of LGBTQ inclusion, you can make a difference simply by telling someone that you care and love them for who they are this holiday," Windmeyer said.
Campus Pride is the leading national educational organization for LGBTQ and ally college students and campus groups building future leaders and safer, more LGBTQ-friendly colleges and universities. The organization provides resources and services to thousands of college students and nearly 1400 campuses annually. Learn more online at CampusPride.org.