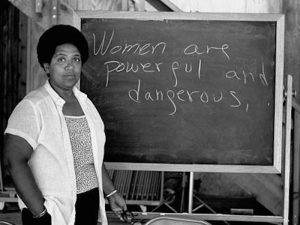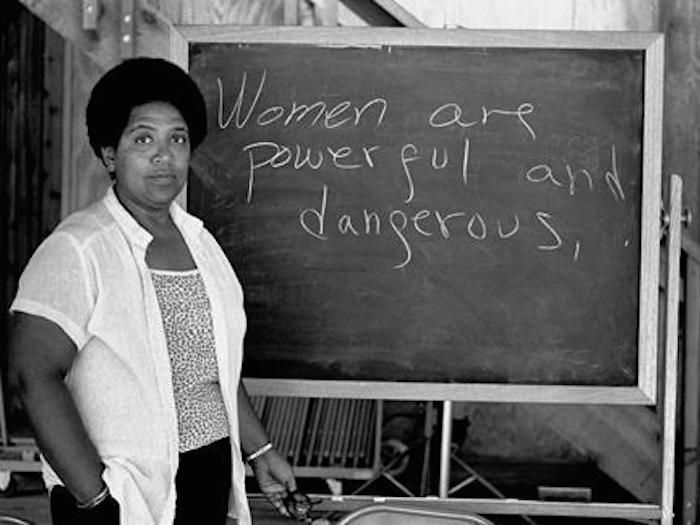 Written by Romeo Jackson, Northern Illinois University
Audre Lorde, the self-identified black, lesbian, mother, warrior, poet is a Caribbean-American, writer, radical feminist, womanist, lesbian, and civil rights activist and serves as the embodiment of intersectional thought. Her words and work has saved my life. I write this to blog to honor and remember her ground-breaking and life-affirming work.
As I seek to honor Lorde's birthday today, I am reminded of her love for difference and its many uses to forge change. She has taught me that difference is not the enemy. Difference is powerful and must always be considered to engage in radical change. In her most famous essay "The Master's Tools Will Never Dismantle the Master's House" Lorde writes, "Difference is that raw and powerful connection from which our personal power is forged…Without community there is no liberation…But community must not mean a shedding of our differences, nor the pathetic pretense that these differences do not exist." Often times, those of us living at intersections are ask to erase our differences for the movement. I have heard far too often that racial justice has no place in the queer movement. To have a queer movement that is not anti-racist, is to erase me from existence. Difference is needed for community, community is collective power, collective power is needed for liberation, liberation is the celebration of difference.
Some may think that different is counter productive when building community. However, difference does not impede community, "It is our inability to recognize, accept, and celebrate those differences" that stops us from forming communities that are healing.
I have often been seen as different either for my blackness, or my queer-ness, or their intersection. Often these differences are met with hostility. In these moments, Audre Lorde's words have lifted me and held me when nothing else could. Her words ring in my conscious every single day as I try to show up in my whole different self, " If I didn't define myself for myself, I would be crunched into other people's fantasies for me and eaten alive." In a world that often tells Black queer people who we can be, and most importantly, who can not be; I am often drawn to these words. It has giving me the power to name myself as a whole person. As a Radical Black Queer Anti-Oppression Femme-ist. Defining yourself is one of the greatest acts of self-love and I have Lorde to thank for that, She has loved me without knowing.
As we remember the work of our foremother, I ask each of us to unapologetically seek, intentionally engage, and radically love the power of difference.
I leave you, not with my words, but with the words of Audre Lorde, "In our work and in our living, we must recognize that difference is a reason for celebration and growth, rather than a reason for destruction."