Written by Alli Adams, Central Michigan University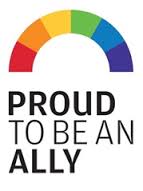 Becoming an Ally is not a noun; it is a process and an action. It is time that people start being proactive and not just reactive. You can become an ally without a life-altering event in your life. Knowing and being aware of your privileges and how they can help those around you can be enough to start the process of becoming a super ally. A super ally is someone who is aware, knowledgeable and is actively making a difference in their community.
When asking students what it means to be an ally the responses were so diverse. People are constantly evolving and changing. Everyone is at a different place with being an ally. Some are more comfortable doing behind the scenes work, while others have caused uproar in their community to make sure their voices are heard. But it is important to know that all types of allies are needed to make a positive change.
Being an ally in the eyes of students:
"Being an ally means being committed to becoming educated and informed to advocate and support a person or group of people in a way that they express is helpful or necessary."
"Being an ally is not only being a friend, but also being a trusted and supportive figure in a persons life, especially during their time in need."
"Being an ally is someone that is an advocate and trust worthy person that is supportive."
"Being an ally is knowing that those you are advocating for are an extension of your self. It is important to be eager for more knowledge and ways to positively impact the world."
5-step action plan on becoming an ally:
1. Education– In order to be credible to those you are trying to impact you have to be knowledgeable. There are so many ways to accomplish this first step. You can seek information by yourself or engage in dialogues with those around you that have more knowledge on the topic. Most importantly share your knowledge!
2. Spoken Communication– Stop asking privilege questions like, "Do you have a boyfriend/girlfriend?" This question is inconsiderate to those around you. If you truly want to know about someone's personal life you should be able to ask "Are you seeing anyone?" to let them know that you are open to different answers then the societal norm.
3. Accept being uncomfortable– Standing up for what you believe in is always the right thing to do, but not always the easiest. Learning how to be comfortable in an uncomfortable situation is important for standing your ground. People are going to challenge you, but know that you can persevere and your voice matters.
4. Do Self Reflection: Knowing where you are at with your own sexual orientation and identity is just as important. Along with knowing where you are at with being an ally. Reflect on things that you feel have made a difference and ways to strengthen that or get more people involved.
5. Be a fountain not a drain– It is so easy to get wrapped up in what we do not have and have no yet accomplished. But focusing on the positive is a great way to empower those around you. Continue to be the glimmer of hope and keep encourage those around you to keep going. "I don't want you to save me; I want you to stand by my side as I save myself."
Central Michigan University students had the opportunity to spend a week with Campus Pride. This eye opening experience allowed CMU Junior Alli Adams to contribute to this article.