Sir Ivan of the Peaceman Foundation gives $2800 to Campus Pride for Giving Tuesday Campaign; Asks others to Give Back to LGBTQ Youth and Stand Up Against Bullying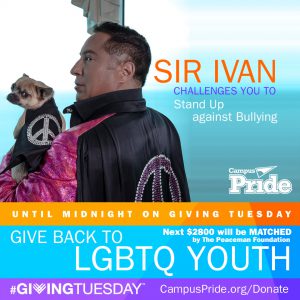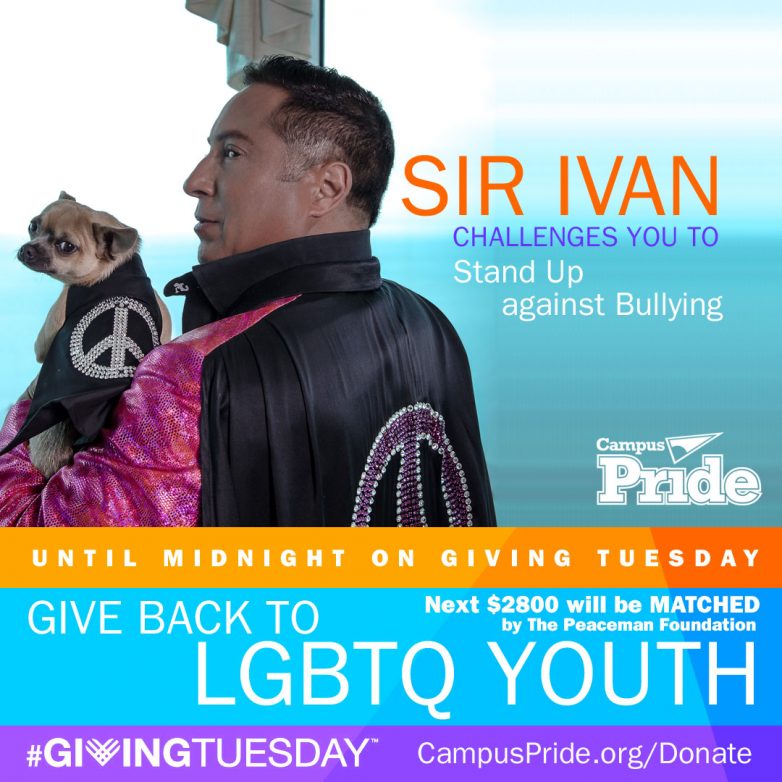 $10, $25, $50 or more – DONATE NOW
Pop-dance recording artist Sir Ivan founder of The Peaceman Foundation donates $2800 to Campus Pride for its End of Year Giving Tuesday Campaign.
Sir Ivan challenges others to "stand up against bullying" and help Campus Pride reach its $25,000 End of Year fundraising goal to support its anti-bullying prevention efforts and work against bias/hate crimes.
Sir Ivan recently released his new single this week, "Kiss All the Bullies Goodbye," bringing a strong anti-bullying message. The single and video features Taylor Dayne and is produced by Paul Oakenfold.
The Peaceman Foundation was founded in 2005 specifically to battle hatred, violence and post-traumatic stress disorder (PTSD).  Campus Pride is thankful to the work of Sir Ivan and its partnership with the Peaceman Foundation.
Campus Pride is the leading national educational organization for LGBTQ and ally college students and campus groups building future leaders and safer, more LGBTQ-friendly colleges and universities. The organization provides resources and services to thousands of college students and nearly 1400 campuses annually. Learn more online at CampusPride.org.