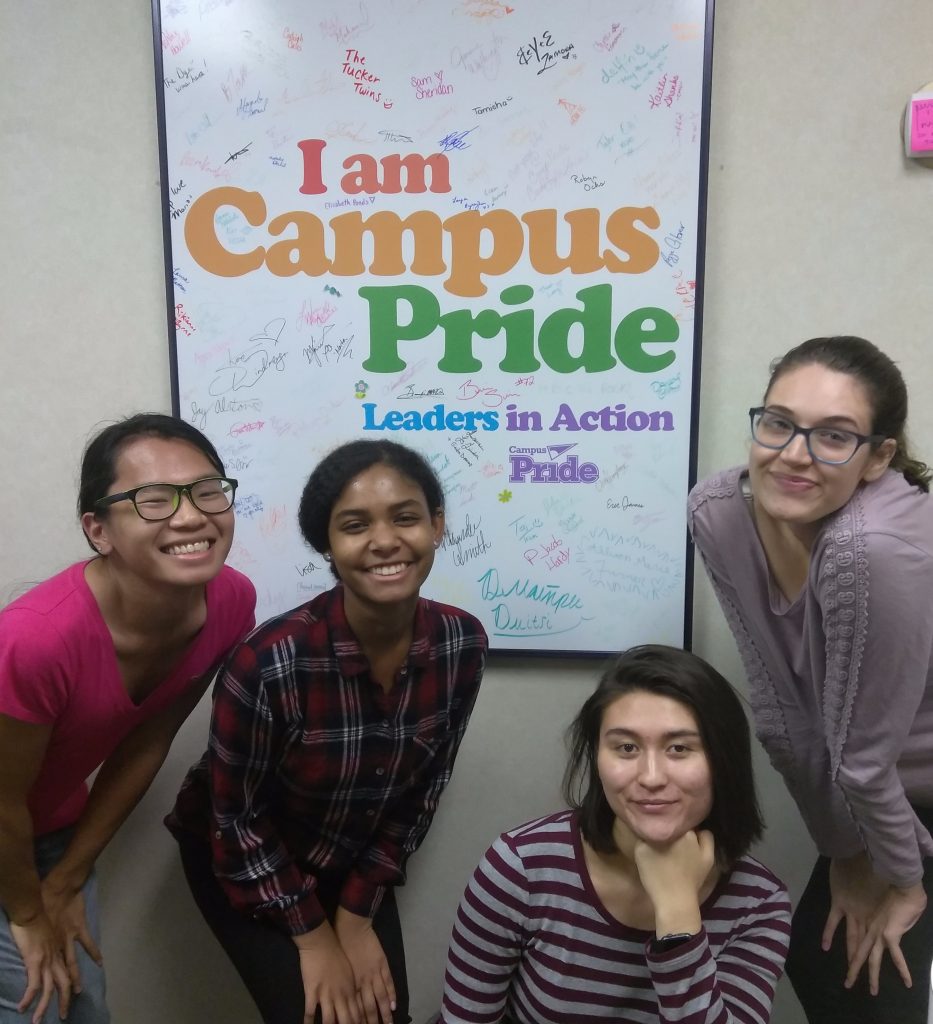 Something you should know about us: we would consider ourselves seasoned alt-breakers. All of us have done a few service trips in the past, and we know enough to have a general sense of how it goes. You sign up, receive an orientation, sleep in a horribly drafty church basement, and do a flurry of service, usually direct and very physical service. This trip has kept to this general structure, but has deviated in every other way from the usual alt-break pattern.
For instance, I am writing this from an air-conditioned office in Southwest Charlotte. I am not exhausted and covered in sweat. In fact, we have spent our days here writing the memoirs of an elderly drag artist and researching the LGBTQ-friendliness of different HBCUs. The sun in our faces has been replaced by the steady glare of computer screens. The room is filled with the sound of typing instead of hammers and nails.
When I received the itinerary, I was surprised, to say the least. Had I been chosen for this trip because I was myself bisexual? Did I give it away in my application? I thought that I already knew everything about the queer community that there was to know. I wasn't the one who needed education. I thought that the straight members of our group might be the ones who would benefit the most. But I swallowed my doubts and went along. I was excited to go on a trip with people I didn't know. Our original group was from all over the country and even abroad, with very different lived experiences and gender/sexual identities and orientations.
But what do they say about chance? Twenty-four hours before the trip, three people dropped out for personal and health reasons. Our group was down to four, and most of us left were queer. I wondered what we would learn if we were all part of the community.
What followed turned out to be a lesson in flexibility and open-mindedness. In my four days here, I have filled in so many gaps in my knowledge. By transcribing the memoirs of the queen and activist Brandi Alexander, I had an intimate look into gay history itself. I experienced through her eyes the AIDs epidemic, the struggles of living as an out gay man and drag queen in the 80s, and being queer in the military under "Don't Ask, Don't Tell". My fellow writers and I were amazed by Brandi's struggles, resilience, pain, and enduring love.
Then we worked on Campus Pride's exhaustive list of hundreds of historically black colleges and universities (HBCUs) and evaluated them for their queer-friendliness. I learned that especially in the South, the rights of LGBTQ students and professors are in a sorry state. Some colleges seem to think that signing Title IX is all they need to do to be queer-friendly. Other institutions apply for Title IX exemptions on a religious basis. I was pleasantly surprised, however: there are many HBCUs that have taken steps to make their campuses more inclusive by not only including gender identity and sexual orientation within their nondiscrimination policies but establishing LGBTQ campus groups. Contrary to popular belief, southern and people of color (POC) don't have to mean queer-unfriendly.
Finally, I was blown away by the people we met on the third day of service. Queer activists in the community visited us in the Campus Pride office and explained to us the problems that they deal with specifically in the South. Now, for the first time, I understand what HB2 means, how it affects trans and genderqueer people, and the negative development that it represents for the country-wide movement. More than ever, it is important not to forget the South in our quest for progressive laws and representation. We need more help and more voices than ever before. Though we have come a long way and I can't imagine going through the trials that the older members of the movement went through, we need continued attention and activism to move toward full equality.
Really, I shouldn't be surprised at how much I gained from this service trip. I shouldn't have expected to know everything about a movement just because I was a part of it. And as a young bisexual cis woman, my experiences are wildly different from those of the people I met. I have learned so much from my few days here. The work I have done with Campus Pride – the hundreds of colleges researched and pages transcribed – do not compare to the firsthand knowledge I have been gifted. By hearing and reading people's lived experiences, I was offered a window into their own subjectivity. We as a group have learned so much about the importance of identity, fluidity, of free expression, and that is something we will take with us back to Davidson and on into the rest of our lives.
Campus Pride is the leading national educational organization for LGBTQ and ally college students and campus groups building future leaders and safer, more LGBTQ-friendly colleges and universities. The organization provides resources and services to thousands of college students and nearly 1400 campuses annually. Learn more online at CampusPride.org.