Campus Pride has the tools and resources you need to organize and manage programs on campus
Spring time marks the launch of Pride festivals and national celebratory gatherings happening across the United States honoring LGBTQ culture and inclusion. College campuses are following suit by planning and supporting Pride Weeks on campus. Campus Pride can help your student organization plan the ideal events for your LGBTQ and ally community.
April is Campus Pride Month. We are hosting events and encouraging college campuses to participate by utilizing our resources and Speakers Bureau to amplify your Pride Week, LGBTQ events and plan ahead for your LGBTQ programming 2016-17.
Students can participate in Campus Pride Month through a variety of ways:
Learn about Campus Pride resources
Campus Pride offers free resources for students to access including tools to assist with Leadership and Organizing, Activism and Advocacy and Event Planning and Fundraising.
Book a speaker through the Campus Pride Speakers Bureau
The new Campus Pride Speakers Bureau provides access to LGBTQ and ally speakers who specialize in LGBTQ issues such as Bias and Hate Crime Prevention, Bisexuality Awareness, Athletic Inclusion as well as singer/songwriters and entertainers.  Book your speaker now!
Plan an awareness event
Use Campus Pride tools and resources to organize students on your campus by creating events that bring awareness to LGBTQ issues. Use the Speakers Bureau and our leadership tools on the Campus Pride website to brainstorm and take action!
Take action against religion-based bigotry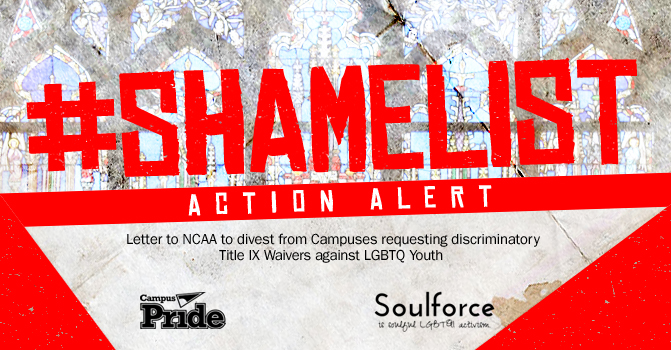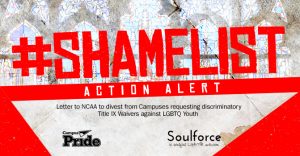 "Religion-based bigotry is careless and life-threatening," said Shane Windmeyer, Executive Director of Campus Pride. "LGBTQ young people face high rates of harassment and violence, especially our trans youth and LGBTQ youth of color. The schools on this list have requested Title IX exemption based on religion-based bigotry targeting LGBQ and transgender people for no other purpose than to discriminate, expel and ban them from campus. It is shameful and wrong."
Campus Pride & Soulforce have partnered to support LGBTQ and ally communities at religious campuses with Title IX exemptions to discriminate openly against LGBTQ youth.  Engage as an individual or as a campus in these actions: 
Join the Sports Inclusion Project to further LGBTQ-inclusion in athletics
The Sports Inclusion Project, founded by Campus Pride and Athlete Ally, is a multi-year project that will assess, improve, and elevate lesbian, gay, bisexual, and transgender (LGBT) inclusion in college athletics and recreational sports. It will focus on all levels of college athletics and participation in recreational sports, setting a national standard of LGBT-inclusion in sports policies, programs, and practices. The Sports Inclusion Project will provide a critical foundation of understanding and vital resources for assisting college sports communities in improving athletics and recreational sports.
Join the digital conversation
During the month of April use the hashtag #QueerYourCampus to join conversations on Twitter, Facebook and Instagram. Post photos of your Pride Week and events, share what your campus is doing for Campus Pride Month and learn more about how Campus Pride can support your LGBTQ student needs.
Attend Campus Pride Events & LGBTQ Awareness Events
April 1-3: Northeast LGBTQ College Conference (NELGBTC Conference) 
Join the 21st annual NELGBTC Conference with LGBTQ youth and professionals from across the nation and the Northeast. Enjoy speakers, keynotes and workshops. Campus Pride is a proud ongoing sponsor of the NELGBTC Conference. The Northeast LGBTQ College Conference covers a broad range of topics like envision and continually work to prepare leaders able to build a more just and sustainable community.
Hosted by Campus Pride
April 8-9: Campus Pride Out & Greek Institute
in partnership with AFLV West in San Diego, CA
The Out and Greek LGBT & Ally Conference is the only conference of its kind for LGBT and ally fraternity and sorority leaders to share, network and learn strategies to create safer, more LGBT inclusive fraternity and sorority communities.
Now you can:
Learn how to become an effective straight ally
Share your story of coming out and being Greek
Network with other LGBT and ally fraternity and sorority leaders
Learn strategies for your organization and community to be safer and more LGBT friendly
Hosted by Campus Pride in conjunction with AFLV West
April 8-9: Queer Health on Campus Conference at IPFW
Come to Fort Wayne, Indiana April 8 & 9 2016 for the Queer
Health on Campus Conference. Meet and network with colleagues from across the region and discuss LGBTQ student health and mental health issues that are challenging campuses everywhere. We welcome submissions from all health care disciplines, including providers of direct services and researchers of topics relevant to LGBTQ health, plus University faculty/staff. Students are invited to submit research abstracts for the Student Poster Session. The 2016 conference theme is "Family Strong: Strong Families = Strong Students."
Hosted by Indiana University-Purdue University, Fort Wayne
April 8-10: The BECAUSE Conference
The BECAUSE Conference is the annual conference of the Bisexual Organizing Project, dedicated to building an empowered bisexual, pansexual, fluid, queer, and unlabeled (bi+) community in the United States. Allies are enthusiastically invited to attend! BECAUSE, which stands for "Bisexual Empowerment Conference, A Uniting Supportive Experience," is welcoming and inclusive of all people, including but not limited to people of all genders, gender identities, sexual orientations, sexes, relationship orientations, races, ethnicities, national origins, abilities, religions, sizes, political affiliations, and others. We embrace the many intersectionalities of the bi+ community, and encourage people of all backgrounds and experiences to join us for this eventful weekend.
Hosted by the Bisexual Organizing Project
April 10: National Youth HIV AIDS Awareness Day #NYHAAD
National Youth HIV & AIDS Awareness Day is a day to educate the public about the impact of HIV and AIDS on young people as well as highlight the amazing work young people are doing across the country to fight the HIV & AIDS epidemic.
Hosted by Advocates for Youth
April 11: Campus Pride competes in SEED20 OnStage in Charlotte, NC
Campus Pride founder and executive director Shane Windmeyer has been selected as one of the Top 10 finalists for Social Venture Partners's SEED20 Class of 2016 competing for cash and grant awards totaling up to $55,000. SEED20 Class of 2016 is comprised of Charlotte-area nonprofit entrepreneurs. Since December, Windmeyer has been training with coaches working towards the pitch of Charlotte's 'big idea' at SEED20 OnStage!
Hosted by Social Venture Partners
April 13: WEBINAR: Beyond the LGBTQ Acronym: Supporting the Spectrum of Sexual and Gender Identities on Campus
Register your campus for our upcoming webinar. Join our experts, Shane Windmeyer, Exec. Dir & Co-Founder of Campus Pride, and Genny Beemyn, Ph.D, Coordinator of Campus Pride's Trans Policy Clearinghouse, as they review specific strategies and necessary practices for supporting students identifying across the spectrum of sexual and gender identities present on today's college campuses.
Hosted by Campus Pride in partnership with Paperclip Communications
April 28-30: Power of One Conference
Attend the NASPA Region V Power of One Conference at the University of Washington, Tacoma. The Power of One LGBT Student Leadership Conference is an established and sustainable conference and is housed administratively in NASPA's Region V. This leadership conference educates students on intersecting identities while promoting social justice. The aim of this conference is to create a respectful, open, and widely accessible environment in which participants will be challenged to apply the things they learn into their lives after they leave the conference.
Hosted by NASPA