We're sorry, but all tickets sales have ended because the event is expired.
Side Bi Side :: Campus Pride Online Training


April 21, 2021




1:00 pm - 2:30 pm
Campus Pride Online Learning Series
Robyn Ochs Presents
Side

Bi

Side

 – Unpacking Biphobia & Creating a Culture of Inclusion
DATE: Wed, April 21 –  1 p.m. to 2:30 p.m. EST
LOCATION:  ZOOM link provided prior to training
REGISTER NOW
Details:
The Williams Institute estimates that more than half of the LGBTQ population self-identifies as bisexual and/or pansexual. Recent research points to high levels of minority stress in this population, yet there is little direct attention given to this population.
We will explore definitions of bisexuality and other labels claimed by people who occupy the space between and outside of the binaries, look at some of the challenges to recognizing and understanding this often-overlooked segment of the LGBTQ+ community and brainstorm strategies for supporting bisexual people on our campuses.
Registration:  $225 for individuals, $495 up to 5 registrations, $695 up to 10 registrations. Payments are due immediately at the time of registration.
Payment by credit card only.  There are no refunds.
About Robyn Ochs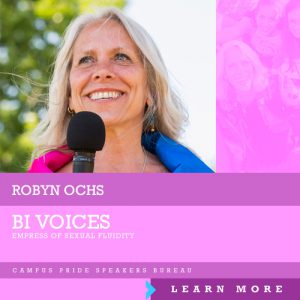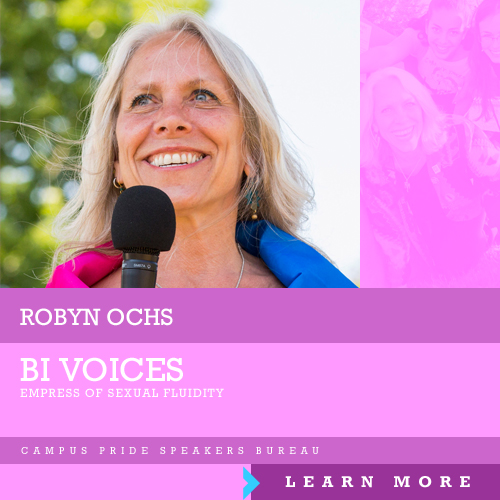 Robyn Ochs is an educator, speaker, award-winning activist, and editor of the 42-country anthology, Getting Bi: Voices of Bisexuals Around the World and the Bi Women newsletter. Her writings have been published in numerous bi, women's studies, multicultural, and LGBT anthologies.
Her essays have been published in numerous bi, women's studies, multicultural, and LGBT anthologies. She has taught courses on LGBT history & politics in the United States, the politics of sexual orientation, and the experiences of those who transgress binary categories of identity.
An advocate for the rights of people of ALL orientations and genders to live safely, openly and with full legal equality, Robyn's work focuses on increasing awareness and understanding of complex identities, and mobilizing people to be powerful allies to one another within and across identities and social movements.