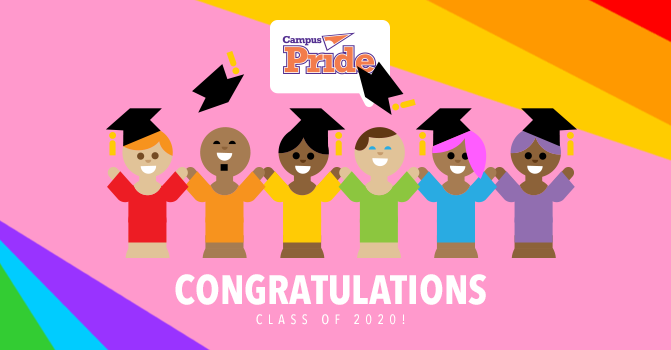 Campus Pride would like to extend a very warm congratulations to the Class of 2020! This is such a huge milestone in your lives and you have worked extremely hard to get here. Despite everything that is going on in the world, you deserve to celebrate this very special time.
We would also like to acknowledge your incredible resilience in the face of the many challenges that you have had to overcome this year. Not only have you had to deal with the pandemic, but you also were forced to carry out your normal lives, such as senior seminars and research, and your own personal struggles.
We encourage you all, despite these challenging times, to celebrate and to be proud of yourself. Just because we are physically distancing does not mean that we can't celebrate. Video chat with your friends and loved ones and celebrate together by hanging out or watching a movie together!
We wish you the best in all of your future endeavors! Don't forget to tag @CampusPride with any virtual celebration that you do! We love hearing from you all!