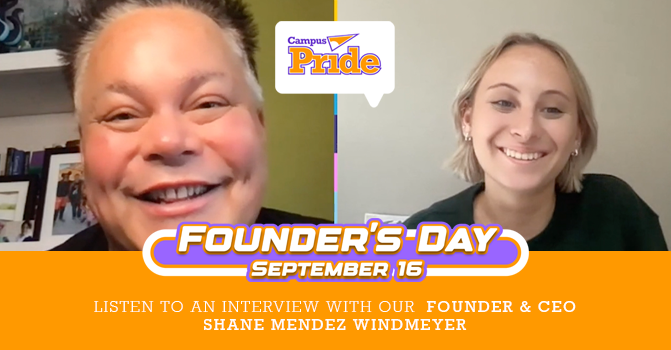 In 2001, Shane Mendez Windmeyer founded Campus Pride to strive for a world where LGBTQ+ students could live and thrive at a campus that supports and welcomes their true identities.
Recognizing the potential influence this work could have on campuses nationwide, Shane created a groundbreaking website called CampusPride.Net. This accessible, innovative platform aimed to empower LGBTQ+ students by equipping them with resources to mobilize, establish student organizations, raise funds, and foster programming tailored to their campuses.
Today, Campus Pride has extended our reach to over 1,400 colleges and universities, supporting thousands of LGBTQ+ college and university students every year. Through training initiatives such as the Camp Pride Leadership Academy, as well as Safe Space and Stop The Hate Trainings, students and staff committed to social justice activism are provided with the tools and resources to create safe and inclusive campuses.
Campus Pride also directly assists over 600 campuses through the Campus Pride Index, the premier benchmarking tool for LGBTQ+ inclusive policies, programs, and practices in higher education institutions. Every year, Campus Pride compiles a list of the "Best of the Best LGBTQ+ Friendly College and University Campuses." Check out this year's list at Campuspride.org/Bestofthebest. 
What started as a vision has transformed Campus Pride into the premier resource for LGBTQ+ individuals on college and university campuses.
Learn more about Campus Pride's history, impacts, and future in this interview with Founder and Executive Director Shane Mendez Windmeyer.
Thank you for supporting Campus Pride Team and our ongoing efforts to uplift and empower the LGBTQ+ community.
MAKE A GIFT TODAY IN HONOR OF FOUNDER'S DAY – Campus Pride remains firmly dedicated to our mission of building future leaders and creating safer, more inclusive communities. Campus Pride's commitment to eradicating anti-LGBTQ+ prejudice, bigotry, and hate is unwavering now more than ever. Donate $20 to help us celebrate!