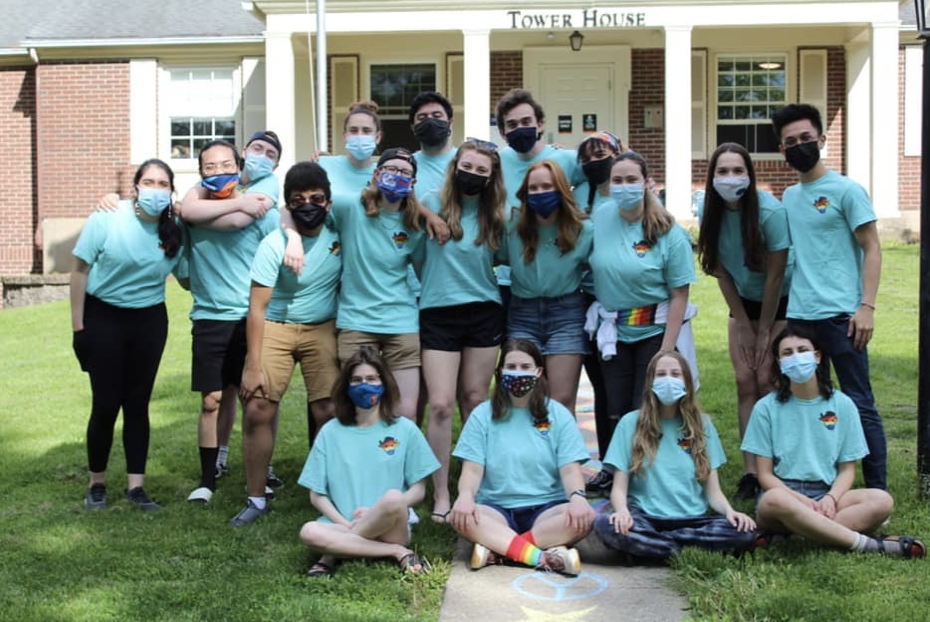 (May 25, 2021) Bucknell University has been actively investigating a "horrific incident" on campus. On the evening of May 13, a group of members of an unrecognized fraternity attacked the property and harassed the students of Fran's House affinity residence, Bucknell's on-campus housing for LGBTQ students. Seniors involved in the incident have been banned from attending Bucknell University's commencement ceremonies, but it is not clear how many students were affected by this decision. 
Until two years ago, Fran's House, also known as the Tower House, was home to the Beta Mu chapter of Tau Kappa Epsilon (TKE), a Greek organization that is now unrecognized by Bucknell University. The university banned the chapter for student conduct violations and hazing of chapter members. Bucknell students came together to protest the actions of these fraternity members in a March Against Toxic Masculinity on Saturday, May 15. 
Fran's House is named after the late Fran McDaniel, former director of the university's Office of LGBT Awareness and personal friend of Shane Windmeyer, Executive Director of Campus Pride. "It's scary to see such overt violence against LGBTQ students. No student should be made to feel unsafe on their campus. Fran's House is meant to be a safe space for queer and trans students to live and express themselves at Bucknell," said Windmeyer, "Safety is earned based on trust and feeling welcome. I know it will take some time for the Bucknell LGBTQ community to recover from this traumatic event."
A group of students from Fran's House issued a statement to the university with their demands for the administration to establish Fran's House as a permanent residence for LGBTQ students on campus. Campus Pride stands with the students of Fran's House in their requests to have a permanent safe space for LGBTQ students on campus. Furthermore, Campus Pride urges the administration to hold the students involved accountable and address the inappropriate response from the university's Department Public Safety. 
Bucknell University, a private liberal arts college in Pennsylvania, currently boasts a three out of five stars on the Campus Pride Index, an "overall indicator of institutional commitment to LGBTQ-inclusive policy, program and practice" for college campuses across the country. Campus Pride is the leading national organization for LGBTQ students and has previously had a good relationship with Bucknell University. To see how your college ranks up, visit www.campusprideindex.org. 
"Campus Pride encourages Bucknell University to recommit to their LGBTQ students by ensuring their campus will be at 5 stars by 2023 within two years," said Windmeyer. "This is the type of swift action, immediate response and commitment that is needed now by the administration to show that they are taking LGBTQ campus safety seriously.  Campus Pride is prepared to provide training, support and assistance to help make that happen."
Campus Pride is committed to "working to create a safer college environment for LGBTQ students." We have many resources that support college students in making their campus a more LGBTQ-friendly place. We promote bias and hate crime prevention with our educational initiative Stop the Hate. Students are encouraged to #ReportIt if they witness discrimination on their college campus by filling out a form at www.campuspride.org/reportit. 
We also offer safe space training for administrators, faculty, staff and students through our Safe Space Train the Trainer Program. To support LGBTQ students in Greek Life, members are encouraged to join our Lambda 10 National Greek Ally Network. For more information, please contact Campus Pride by phone at (704) 277-6710 or by email at info@campuspride.org.