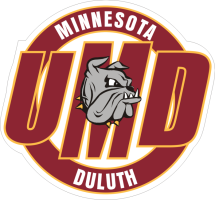 In mid-August of 2014, Campus Pride announced its list of the top-rated LGBTQ-friendly colleges and universities in the nation. For the second year in a row, the University of Minnesota Duluth (UMD) was on that list.  The annual listing features campuses which score high on the Campus Pride Index for LGBTQ-inclusive policies, programs and practices.  After consultation with the campus LGBTQ community, Campus Pride has decided to suspend UMD from consideration in this year's list of top-rated LGBTQ-friendly colleges and universities.
Campus Pride cited the dismissal of Shannon Miller, who is serving her 16th year as the UMD Women's Ice Hockey Head Coach, as well as the subsequent actions to let go her coaching staff who all happen to be gay or bisexual.
Athletic Director Josh Berlo had informed Miller that her contract, and those of her entire coaching staff, would not be renewed, citing budgetary restraints as the primary reason for her dismissal.  Coach Miller was a former coach of Team Canada recruited by former UMD Chancellor Kathryn A. Martin to start UMD Women's Division I Ice Hockey program, and has become the most successful NCAA women's hockey coach in Frozen Four tournament wins (11) and NCAA Division I national championships (5).  Canada's Globe and Mail quoted Miller on January 29th stating, "As a strong, successful woman who is also gay, I feel they had other reasons – I can't speculate on them, but I just know how I've been treated."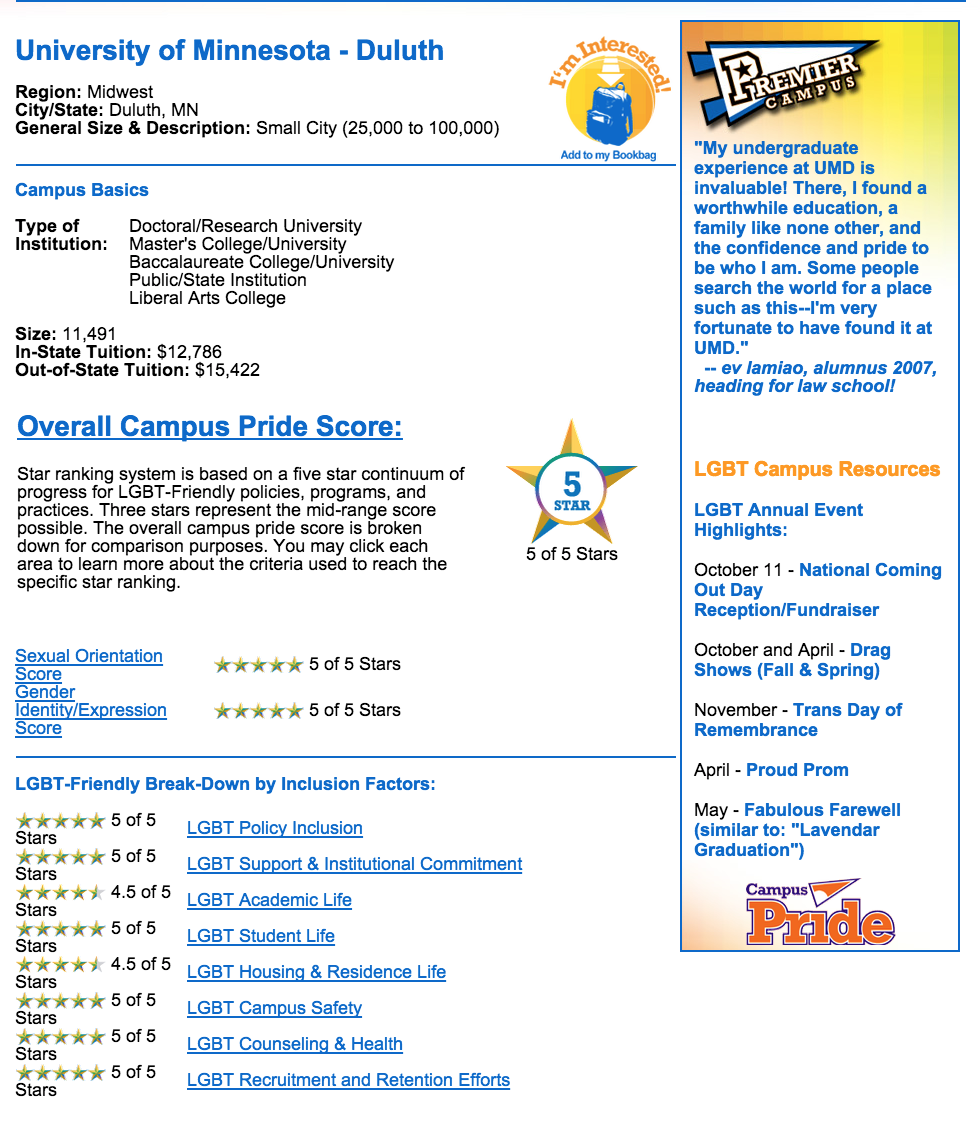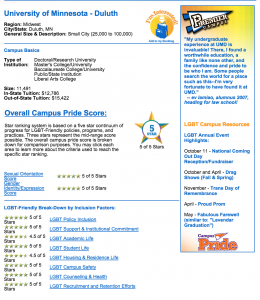 When informed about the suspension, Angela Nichols, 15-year founding Director of UMD's GLBT Services Office, said, "I'm not surprised."
Nichols said, "The climate, particularly in Athletics, has taken a turn for the worse and has tarnished UMD's hard-earned reputation."
Nichols explained, "Our campus-wide GLBTQAI Commission met with Athletic Director Josh Berlo the week before he announced the non-renewal of the entire Women's Hockey Coaching staff, all of whom are gay or bisexual. It's difficult to say we're a top-rated LGBTQ institution and behave this way."
Despite the negative attention the Athletic Director has drawn to UMD, Nichols maintains that UMD will continue to make progress wherever they can. At the meeting with Athletic Director Berlo, Nichols explained what the new standards would be for intercollegiate athletics. She stated bluntly that the UMD Athletic Department needed to improve the climate for LGBTQ people in order to meet basic standards set by Campus Pride.
The next week Athletic Director Berlo publicly announced the non-renewal of four coaching staff, including part-time Director of Operations for Women's Hockey, Jen Banford, who is in her 10th and final season as the UMD Women's Head Softball Coach.  Two women's sports teams have been adversely affected by this decision.
"The UMD Athletic Director's handling of this matter is cause for grave concern.  LGBTQ safety is shaped by incidents like this and if they are handled openly and transparently by administrators. Our hope is to see the UMD Chancellor, who has said he values LGBTQ diversity, to resolve this matter in the best interest of its LGBTQ students and overall campus climate," said Shane Windmeyer, Executive Director of Campus Pride and the creator of the Campus Pride Index. "It is in the best interest of the integrity of our annual listing to not consider UMD this year."
UMD will be the first campus to be  suspended from consideration in the Campus Pride annual listing of top-rated LGBTQ-friendly colleges and universities.  UMD may still participate and be in the search for the Campus Pride Index. The campus Athletic Department may also participate in the new Campus Pride Sports Index to be launched later this Spring.  The new sports index asks specifically about LGBTQ-inclusive employment practices and whether there are out LGBTQ coaches and staff as a benchmark for LGBTQ inclusion among other national criteria.
Follow the Facebook efforts to reinstate Coach Shannon Miller and the coaching staff of the UMD Bulldogs Women's Ice Hockey and also read the petition online.  Individuals who wish to support UMD Coach Miller may do so on Twitter @StandWithMiller
Campus Pride is the leading national educational organization for LGBTQ and ally college students and campus groups building future leaders and safer, more LGBTQ-friendly colleges and universities. The organization provides resources and services to thousands of college students and nearly 1400 campuses annually. Learn more online at CampusPride.org