LGBTQ Equality Game & Awareness Event to further LGBTQ inclusion in sports and bridge gap between campus life, athletics and LGBTQ inclusion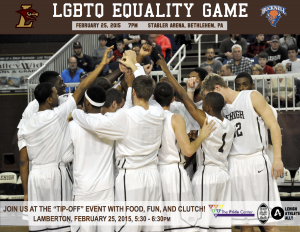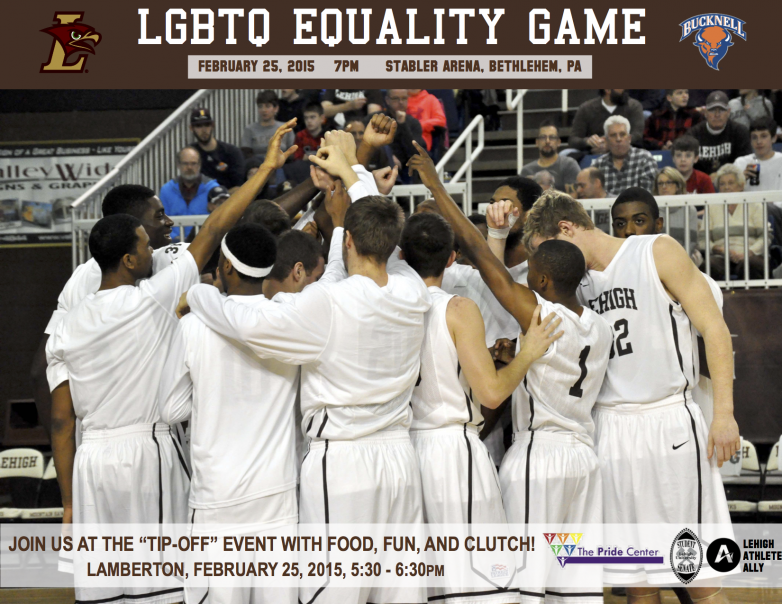 According to the Campus Pride 2012 LGBTQ National College Athlete Report, LGBQ student-athletes are twice as likely to experience harassment, experience a negative campus climate, and have their athletic and academic success derailed by discrimination.
Lehigh University and Bucknell University intend to bring the issues surrounding LGBTQ athletes to light by hosting a social event around the Lehigh University Men's Basketball game against Bucknell University on Wednesday, February 25, 2015. LGBTQ Equality Game is hosted by Lehigh University Pride Center and Athletics Department.
"Removing the burdens of fear, shame, and stigma allow LGBTQ-identified athletes the opportunity to play to their full potential, and makes our teams, leagues, and sports better and stronger," said Trish Boyles, Director of Lehigh University's Pride Center for Sexual Orientation and Gender Diversity, "We ask the Lehigh community to stand together in the belief that students and athletes everywhere – regardless of their sexual orientation, gender identity, or gender expression – should have the same opportunities to pursue their dreams and passions, on and off the court."
Campus Pride commends both campuses for this unique event, in an effort to bridge the gap between campus life, athletics and LGBTQ-inclusion. Campus Pride will be providing the "Campus Pride Spirit Statement" as an insert into the sports program to encourage a "safe, welcoming sports climate for everyone." The spirit statement is a simple way to send a message of sportsmanship and inclusion to fans and the statement is available complimentary to collegiate sporting events across the country.
"We believe that involvement in sports, as a participant, spectator, or fan can and should provide a context for truly understanding the principle of mutual respect and the value of differences," said Joe Sterrett, Dean of Athletics at Lehigh University.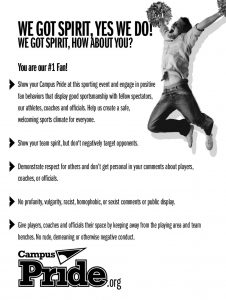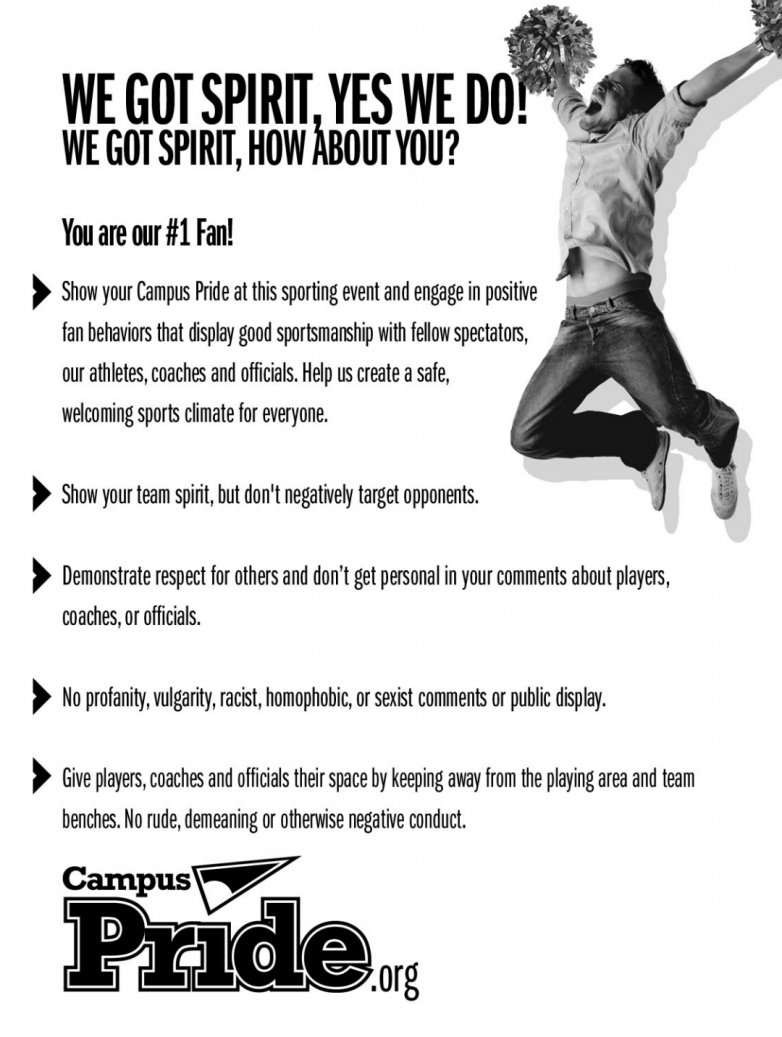 The LGBTQ Equality Game is designed to bring students, athletes, faculty, staff, families and supporters together in one place to show solidarity between the campus and LGBTQ student-athletes. At 5:30pm a Tip-Off event will precede the basketball game provide information from the LGBTQ organizations on campus.
To learn more about how your campus can come out as LGBTQ-friendly on campus and in athletics visit the Campus Pride Index and Campus Pride Sports Index in Spring 2015. As an FYI, Bucknell University has 4.5 stars and Lehigh University has 4 stars on the Campus Pride Index, so its neck and neck already to be LGBTQ-friendly… GO!
Follow Lehigh Pride Center and Men's Basketball team on Twitter.
Join the LGBTQ Equality Awareness Tip-Off Event and LGBTQ Equality Basketball Game on Facebook.
Campus Pride is the leading national educational organization for LGBTQ and ally college students and campus groups building future leaders and safer, more LGBTQ-friendly colleges and universities. The organization provides resources and services to thousands of college students and nearly 1400 campuses annually. Learn more online at CampusPride.org.