Campus Pride vows to continue shedding light on the Shame List and the anti-LGBTQ religion-based bigotry of these campuses
Campus Pride confirmed today with the U.S. Department of Education that a total of 57 campuses have applied or pending review for a Title IX exemption to discriminate against LGBTQ youth.
On December 1, Campus Pride launched the national listing of colleges and universities that requested Title IX exemption to ban LGBTQ students.   Campus Pride titled the list the "Shame List" for the purpose of calling out the harmful and shameful acts of religion-based prejudice and bigotry.  The list has grown by 21 campuses since December 1.    View the full list online – CampusPride.org/ShameList
"Religion-based bigotry is careless and life-threatening," said Shane Windmeyer, Executive Director of Campus Pride. "LGBTQ young people face high rates of harassment and violence, especially our trans youth and LGBTQ youth of color.  The schools on this list have requested Title IX exemption based on religion-based bigotry targeting LGBQ and transgender people for no other purpose than to discriminate, expel and ban them from campus.  It is shameful and wrong."
The list names each institution that has requested a Title IX exemption to openly discriminate against LGBTQ people due to their anti-LGBTQ religion-based bigotry. An educational institution that is "controlled by a religious organization" may apply for a Title IX exemption if it "would not be consistent with the religious tenets of such organization."
"Families and young people deserve to know that this list of schools is not loving, welcoming, safe spaces to live, learn and grow – and taxpayers should definitely not have to pay for a private college to openly discriminate against anyone," said Windmeyer. "We will continue to update this list and bring attention nationally, calling these acts out unloving and blatant discrimination."
Reporter Andy Birkey with The Column was the first to report "Dozens of Christian schools win Title IX waivers to ban LGBT students".  The Column article details each campus request for Title IX exemption and in some cases extends to "discipline, admissions, hiring, and employment decisions, in matters such as employment leaves for pregnancy, childbirth, and elective termination of pregnancy, or on the basis of pre-marital sex, unmarried pregnancy, extramarital sex…"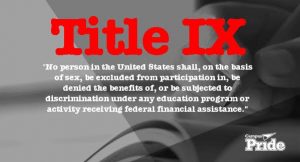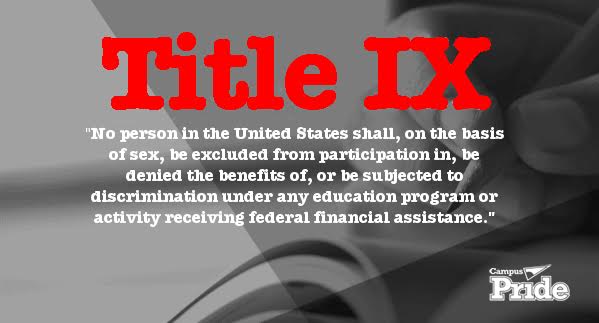 The Human Rights Campaign (HRC)  issued this report on December 18, 2015 titled "Hidden Discrimination: Title IX Religious Exemptions Putting LGBT Students At Risk" and calling on the U.S. Department of Education to take action on the issue.  The HRC cited Campus Pride's groundbreaking LGBTQ higher education research study from 2010 which speaks to the discrimination and harassment faced by LGBTQ youth.
Half of the campuses on the list are in the Southern region of the United States – North Carolina, Texas, Tennessee, South Carolina, Georgia, Alabama, Louisiana, Kentucky, Mississippi and Arkansas.  According to Windmeyer, Campus Pride has been working alongside LGBTQ students of faith as well as faculty, staff and alumni of religious campus communities for awhile now; however, "much more work and funding is needed on these college campuses in the South."  Windmeyer continues: "Our commitment to LGBTQ and ally communities is steadfast at these anti-LGBTQ campuses, where basic safety and support is needed the most."
Campus Pride recently launched the #LGBTQNotaSin Campaign in partnership with Faith In America. The partnership's aim is to remove the stigma of LGBTQ people being considered a sin within the Christian faith as well as bring visibility to LGBTQ-affirming Christians.
Students who find their campus on the "Shame List" are encouraged to reach out to Campus Pride and may file a formal complaint with the U.S. Department of Education's Office of Civil Rights.  Prospective students and families who are looking for LGBTQ-friendly campuses are encouraged to check out the Campus Pride Index for a free online search database.
Campus Pride is the leading national educational organization for LGBTQ and ally college students and campus groups building future leaders and safer, more LGBTQ-friendly colleges and universities. The organization provides resources and services to thousands of college students and nearly 1400 campuses annually. Learn more online at CampusPride.org.