Recognizing trans students is a step in the right direction, but we must go further using inclusive language and adding specific gender identity as well as sexual orientation questions
CHARLOTTE, N.C. — Today, Campus Pride responded to changes made by The Common Application, the admissions form used by more than 900 colleges and universities to facilitate the college application process. This week, the Common App announced that it is changing its question on "sex" to "legal sex" and adding questions that enable students to indicate the name and pronouns that they use for themselves. Campus Pride applauds the Common App for these changes, but we are concerned by the inappropriate language apparently being considered for the new questions and are critical of the Common App for still not including questions that ask gender identity and sexual orientation. 
"We are encouraged that the Common App is finally adding questions to make their application platform more accessible to prospective trans students. With these changes, colleges will now have the correct name and pronouns for applicants without those applicants having to go through deadnaming, misgendering and the often onerous processes to request these corrections to their files," said Shane Windmeyer, Executive Director of Campus Pride. "It seems that the Common App is trying to make right what has been wrong with their platform for some time, and we applaud their efforts. However, we urge the Common App to seek further guidance to ensure that the language they are using in making these corrections does not continue to alienate the trans community, and we urge them to make other needed changes to make their platform more welcoming to other members of the LGBTQ community."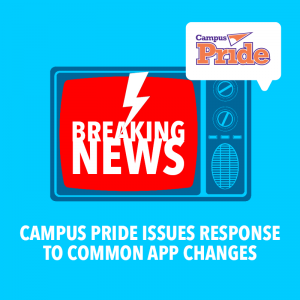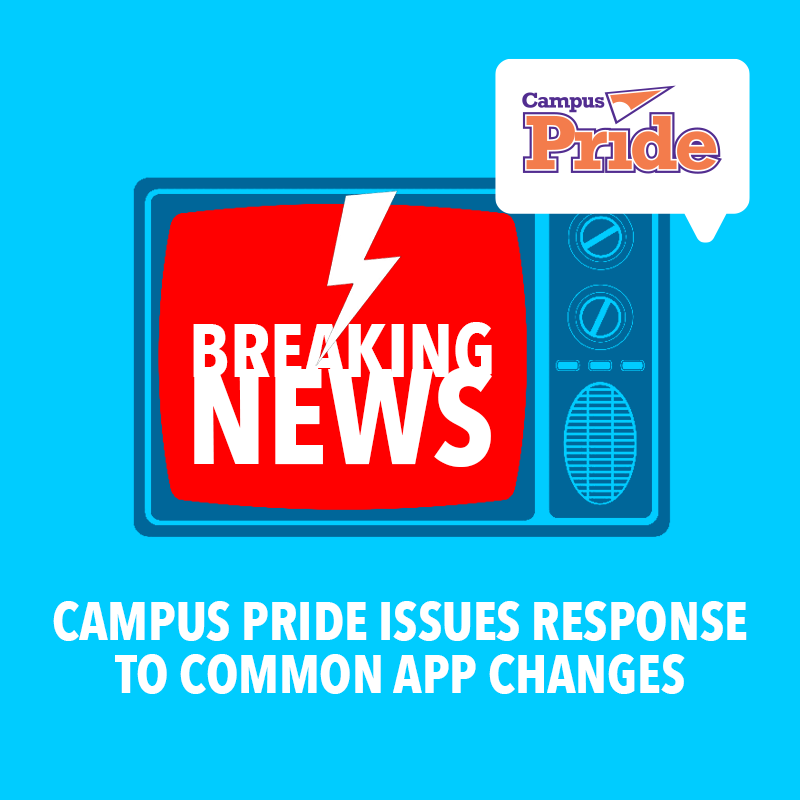 "While asking 'legal sex' is less confusing than asking 'sex,' the Common App also needs to have a question that asks about "gender identity" like the Universal College Application (UCA) added in 2016 at the urging of Campus Pride," said Dr. Genny Beemyn, Campus Pride Trans Policy Clearinghouse Coordinator. "The Common App's current practice of giving students the ability to explain their gender identity in the 'sex' question is not sufficient, and Campus Pride is here to help the Common App to correct these concerns and avoid this lack of understanding of trans lives."
In addition, Beemyn is troubled to hear reports that the Common App may be using the terminology "preferred first name." 
"This language is not recommended by Campus Pride, as the name that trans people use for themselves is not a preference," says Beemyn. "We urge the Common Application to use trans-supportive wording for these questions and we are here to help."
"The Common App continues to make small incremental changes. We do hope they will work with us to improve these updates and continue to work on other LGBTQ inclusive changes," continued Windmeyer. "The Common App  still has not added an optional sexual orientation question that we proposed in 2011. This question is also essential to address important safety and inclusion concerns for the LGBTQ community that remain at-risk." 
#  #  #  
BACKGROUND
Now in its 20th year, Campus Pride has been at the forefront advocating for LGBTQ inclusion and safety within colleges and universities, specifically efforts to give students the ability to indicate the name and pronouns they use for themselves on course rosters and other campus records so that students are not misnamed and misgendered.  
Since 2011, Campus Pride has repeatedly asked that the Common App add LGBTQ optional identity questions. In 2015, Campus Pride authored a letter asking the Common App to include gender identity and sexual orientation questions on the college admissions standard form. 
Campus Pride worked with Common App competitor The Universal College Application (UCA) powered by ApplicationsOnline, LLC to standardize its form ifor greater trans inclusion efforts, launching for the 2016-17 academic year.  Similar to the Common App's change this week,  the UCA already had modified its question related to the sex of an applicant from simply asking "sex" to  asking "Legal Sex." Additionally, the UCA went a step further than the Common App is going by asking a question about gender identity.
Despite inclusion and safety concerns brought forward by Campus Pride in 2011, the Common Application still today does not ask a standardized demographic question on sexual orientation as an option. Campus Pride serves as a resource within higher education to create safer, more inclusive policies, programs and practices.  The organization tracks nationally colleges and universities with LGBTQ Identity questions as an option on admission applications & enrollment forms. Learn more at CampusPride.org/TPC