Campus Pride Earns $28,501 in National Give OUT Day Competition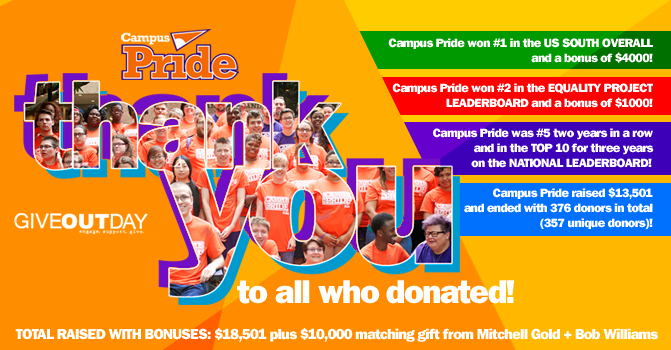 Give OUT Day was an outstanding success for Campus Pride and for LGBTQ nonprofits throughout the country. Thanks to you, Campus Pride raised $28,501 in the National Give OUT Day for LGBTQ nonprofits in donations, prizes, and matching gifts.
Give OUT Day is a national day of giving for the LGBTQ community. This 24-hour online fundraising competition allows a diverse array of LGBTQ nonprofits to raise the funds needed to support LGBTQ community centers, art groups, organizing efforts, clinics, student organizations, sports leagues and more. Campus Pride is proud to participate in Give OUT Day, and congratulates all the other amazing organizations that made the day a true success.
Throughout Give OUT Day on May 21, 2015, Campus Pride received donations from 376 donors, totaling $13,501. These donors helped Campus Pride to place fifth overall in the National Leaderboard for the second year in a row and among the top 10 for the third year!
These totals granted Campus Pride additional bonus prizes, including:
$4,000 for placing first in the US South Overall Leaderboard
$1,000 for placing second in the Equality Card Project Leaderboard
Campus Pride would like to thank Mitchell Gold and Bob Williams for an additional matching gift of $10,000.
Campus Pride appreciates you and your support of our valuable work involving campus communities and building LGBTQ youth leaders. Because of you, we are able to do more to help LGBTQ youth.
Please continue to stay up to date with us online at CampusPride.org and on social media. There are so many great things to come.
Allison Marie Turner is an alumnus of the University of North Carolina at Chapel Hill, where she studied journalism and mass communication and women's and gender studies. She is a 2015 Summer Fellow for Campus Pride. Follow her on Twitter @AlliMTurner.