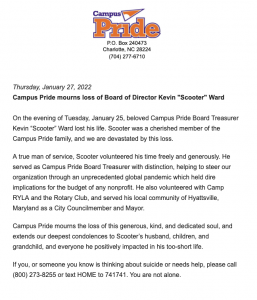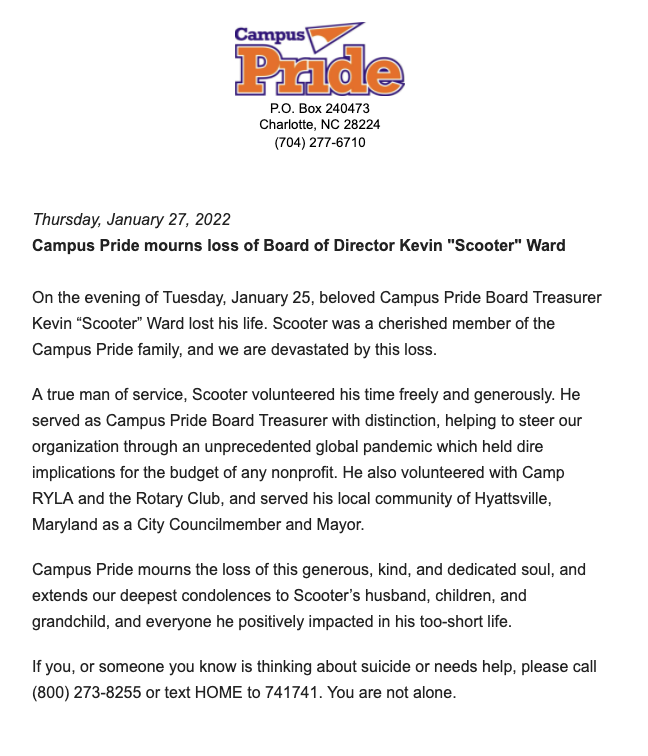 On the evening of Tuesday, January 25, beloved Campus Pride Board Treasurer Kevin "Scooter" Ward lost his life. Scooter was a cherished member of the Campus Pride family, and we are devastated by this loss.
A true man of service, Scooter volunteered his time freely and generously. He served as Campus Pride Board Treasurer with distinction, helping to steer our organization through an unprecedented global pandemic which held dire implications for the budget of any nonprofit. He also volunteered with Camp RYLA and the Rotary Club, and served his local community of Hyattsville, Maryland as a City Councilmember and Mayor.
Campus Pride mourns the loss of this generous, kind, and dedicated soul, and extends our deepest condolences to Scooter's husband, children, and grandchild, and everyone he positively impacted in his too-short life.
If you, or someone you know is thinking about suicide or needs help, please call (800) 273-8255 or text HOME to 741741. You are not alone.
Washington Post published article: