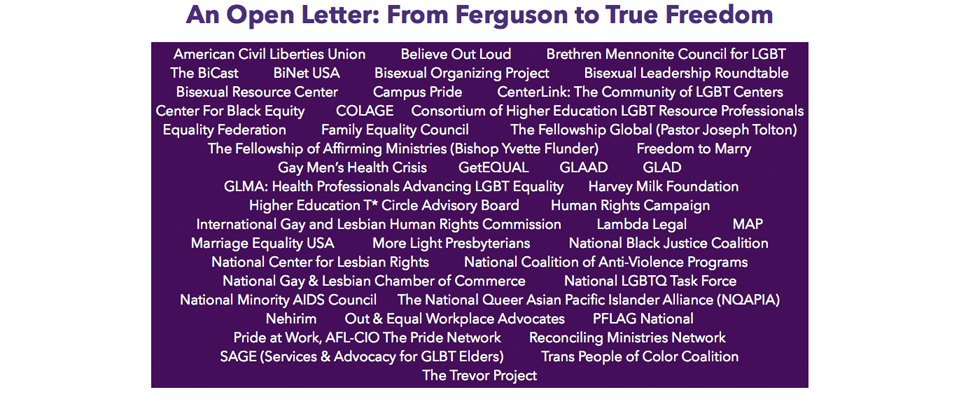 Charlotte, NC, December 9, 2014 — Campus Pride, in coalition with other national lesbian, gay, bisexual and transgender organizations, today issued the following open letter:
An Open Letter: From Ferguson to True Freedom
Words cannot begin to describe the depth of feeling we all share about the unfolding tragedies in Ferguson and New York City. Words cannot relieve the suffering of Michael Brown and Eric Garner's loved ones nor can words alone salve the pain nor quell the anger of millions. It's action we need and we need it now.
As LGBTQ national organizations, we proudly stand in solidarity with the civil rights organizations and local activists — including the actions of an amazing, fierce, brilliant cadre of youth leaders, many of whom are queer identified — in demanding fundamental systemic change that tackles the root causes of racial and economic injustices once and for all. From political accountability for the deaths of Michael and Eric to the immediate passage of federal legislation that completely bans racial profiling across this land to ensuring that local police departments are representative and fair arbiters of safety and protection for everyone and who — through their actions — are continually working to earn the trust, confidence and respect of the entire community.
We too must speak louder than words and take more action — to change more hearts and minds and fight even harder for the policies and practices that make statements such as this one obsolete.
We urge you to:
·Join the March Against Police Violence in Washington, called by the National Action Network, on Saturday December 13th, 10:30am;
·Organize and participate in peaceful protests in cities across the nation;
·Attend public meetings in your city or town to show your support or share your experience with elected officials; and
·Create your own actions for change in person and online — at home, at school, at work, in the corridors of power, and in places of worship.
Everyone, everywhere in our nation can do more to end racism and racial injustice. Everyone, from the Department of Justice that must do more to deliver justice for the Brown and Garner families to the high school principal who could do more to engage and educate students about racism and the need for justice.
Even those of us who have devoted our lives to this cause need to redouble our efforts to reach out to more people — including those people who are on the wrong side of this issue.
If we as a nation are to end racism and racial injustice once and for all, everyone must be part of an ongoing and sustainable process of change — a process that builds on all the progress we've made, a process that aims to recruit everyone, and a process with the specific mission of delivering lived equality, justice, and freedom for all.
American Civil Liberties Union
Believe Out Loud
Brethren Mennonite Council for LGBT
The BiCast
BiNet USA
Bisexual Organizing Project
Bisexual Leadership Roundtable
Bisexual Resource Center
Campus Pride
CenterLink: The Community of LGBT Centers
Center For Black Equity
COLAGE
Consortium of Higher Education LGBT Resource Professionals
Equality Federation
Family Equality Council
The Fellowship Global (Pastor Joseph Tolton)
The Fellowship of Affirming Ministries (Bishop Yvette Flunder)
Freedom to Marry
Gay Men's Health Crisis
GLAAD
Gay & Lesbian Advocates & Defenders
GLMA: Health Professionals Advancing LGBT Equality
Gay, Lesbian & Straight Education Network
Harvey Milk Foundation
Higher Education T* Circle Advisory Board
Human Rights Campaign
International Gay and Lesbian Human Rights Commission
Lambda Legal
MAP
Marriage Equality USA
More Light Presbyterians
National Black Justice Coalition
National Center for Lesbian Rights
National Coalition of Anti-Violence Programs
National Gay & Lesbian Chamber of Commerce
National LGBTQ Task Force
National Minority AIDS Council
The National Queer Asian Pacific Islander Alliance (NQAPIA)
Nehirim
Out & Equal Workplace Advocates
PFLAG National
Pride at Work, AFL-CIO
The Pride Network
Reconciling Ministries Network
SAGE (Services & Advocacy for GLBT Elders)
Trans People of Color Coalition
The Trevor Project
–30–
Campus Pride is the leading national educational organization for LGBTQ and ally college students and campus groups building future leaders and safer, more LGBTQ-friendly colleges and universities. The organization provides resources and services to thousands of college students and nearly 1400 campuses annually. Learn more online at CampusPride.org