Campus Pride is one of nearly 30 LGBTQ organizations who have joined together in solidarity to show support for Michael Brown, youth gunned down by police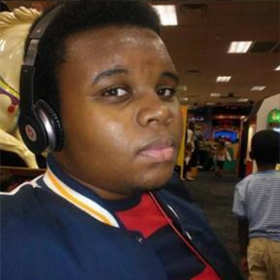 Campus Pride joins LGBTQ leaders across the nation to co-sign an open letter of solidarity in response to the tragic killing of Michael Brown, 18-year-old college student who was unarmed and shot to death by police in Ferguson, Missouri on Saturday.
"Youth should have the opportunity to learn and grow," said Shane Windmeyer, Executive Director of Campus Pride. "This young life was taken too early and unjustly. We speak out as a community in solidarity alongside each other to take a stand."
Read the full letter below and download the full letter here.
August 12, 2014

When communities experience fear, harassment and brutality simply because of who they are or how they look, we are failing as a nation. In light of the recent events in Missouri, it is clearer than ever that there is something profoundly wrong in our country.

The lesbian, gay, bisexual and transgender (LGBTQ) community cannot be silent at this moment, because LGBTQ people come from all races, creeds, faiths and backgrounds, and because all movements of equality are deeply connected. We are all part of the fabric of this nation and the promise of liberty and justice for all is yet to be fulfilled.

The LGBTQ community stands with the family of Michael Brown, who was gunned down in Ferguson, Missouri. We stand with the mothers and fathers of young Black men and women who fear for the safety of their children each time they leave their homes. We call on the national and local media to be responsible and steadfast in their coverage of this story and others like it–racialized killings that have marred this nation since the beginning of its history. We call on policy makers on all levels of American government not to shrink from action, and we are deeply grateful to Attorney General Eric Holder and the Department of Justice for their immediate commitment to a thorough investigation.

At this moment, we are inspired by the words of Dr. Martin Luther King, Jr.: "In the end, we will remember not the words of our enemies … but the silence of our friends."

ACLU

AIDS United

Bisexual Resource Center

Campus Pride

Center for Black Equity, Inc.

Courage Campaign

Equality Federation

Gay & Lesbian Advocates & Defenders (GLAD)

Gay, Lesbian & Straight Education Network (GLSEN)

GLAAD

GMHC

GLMA: Health Professionals Advancing LGBT Equality

Human Rights Campaign

National Black Justice Coalition

National Center for Lesbian Rights (NCLR)

National Center for Transgender Equality

National Gay and Lesbian Task Force

National Minority AIDS Council

National Queer Asian Pacific Islander Alliance (NQAPIA)

PFLAG National

Pride at Work, AFL-CIO

Services and Advocacy for GLBT Elders (SAGE)

Soulforce

Southerners on New Ground (SONG)

Trans People of Color Coalition

Transgender Law Center

Trevor Project
Campus Pride is the leading national educational organization for LGBTQ and ally college students and campus groups building future leaders and safer, more LGBTQ-friendly colleges and universities. The organization provides resources and services to thousands of college students and nearly 1400 campuses annually. Learn more online at CampusPride.org.