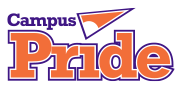 Charlotte, NC
— Today, Campus Pride, the leading national organization for LGBTQ+ young adults on college campuses, responded to the recent actions yesterday by the West Texas A&M President Walter Wendler to cancel a campus drag show calling drag "derisive, divisive and demoralizing misogyny."
The President sent an email with the subject line RE: A Harmless Drag Show? No Such Thing on Monday, March 20 to all the students, faculty and staff. The email stated his decision and compares drag to "blackface."   The President further references his life as a Christian, his wife and kids and then shares Biblical scriptures for his reasoning. 
Campus Pride Founder & CEO/Executive Director Shane Mendez Windmeyer (and also the nationally known drag entertainer Buff Faye) released the following statement: 
West Texas A&M President Walter Wendler calling drag 'derisive, divisive and demoralizing misogyny' is blatant ignorance.  His statements stoke fear against queer people, attack drag queens and create an unsafe learning environment — putting LGBTQ+ students in danger.

Drag has nothing to do with the horrific racist history of 'blackface' as he suggests. Drag is celebratory. Drag is art. Drag is expression. Drag is for everyone.  I know firsthand as a drag entertainer myself, that drag builds community, creates a Safe Space for LGBTQ+ people and saves lives.  Drag queens are cisgender men and women, transgender, queer, nonbinary, old, young, all races, all sizes. Drag has a long, deeply rooted history within our LGBTQ+ community — and our society dating back to the 1800s.   

President Wendler in choosing to cancel the campus drag show, in the email cites his reasons using personal religious beliefs and quotes the Bible.  Texas Governor Greg Abbott added to the Texas Education Code in December 2020 the 'Protected Expression on Campus' which is intended to 'insure that all persons may peaceably assemble on campuses of institutions of higher education for expressive activities.'   President Wendler's actions, regardless of his personal religious convictions, discriminate against the LGBTQ+ students planning the show and other marginalized students attending the public university. 

 This is the textbook example and definition of privilege and discrimination: When cis white heterosexuals pretend to know about our diverse LGBTQ+ community, our queer history, our lives. Then they use their voice, their power to cancel a student drag show meant to build community and raise money for suicide prevention and mental health support for LGBTQ+ youth.  

I invite West Texas A&M administration including President Wendler to become educated about drag, our diverse queer history, take Campus Pride's Safe Space training and, most importantly, focus on improving the West Texas A&M campus climate for all LGBTQ+ students.  Please note that your campus is not on the Campus Pride Index for LGBTQ+ friendly campuses – the national benchmarking tool for universities to improve LGBTQ+ policies, programs and practices.   

Now is the time to create a safer, more inclusive campus community and to show support for your LGBTQ+ students – some of which are drag queens too. It is not the time to demonize, make false misleading statements and share an offensive racist historical misnomer. 

President Wendler, your actions only make LGBTQ+ students feel unwelcome and unsafe and continue to harbor hostility toward the LGBTQ+ community. Presidents should know better, should do better.
_______________________________________
Since 2001, Campus Pride has been the leading national organization building future LGBTQ+ and ally leaders as well as creating safer communities at colleges and universities.  Learn more at www.CampusPride.org. 
Shane L. Windmeyer, M.S., Ed. (they/he) is a best-selling author, LGBTQ campus pioneer and civil rights champion. Windmeyer is founder and executive director of Campus Pride, the leading national LGBTQ organization for student leaders and campus organizations working to build future leaders and create safer campus communities.  In drag, they are better known as the Buff Faye, a former National Entertainer of the Year and an active, visible leader raising money for local and national charities.