U.S. Reps. 

Sharice

 Davids (KS-3) and Chris Pappas (NH-1) to deliver commencement remarks to the Class of 2020
CHARLOTTE, NC —  On Saturday, May 23 at 3 p.m. ET / 12 p.m. PT, Campus Pride in partnership with PFLAG National will host a national "Lavender Graduation" for lesbian, gay, bisexual, transgender and queer (LGBTQ+) and ally graduates of the Class of 2020 to celebrate and honor their achievements. This free, live streaming event will feature commencement remarks from openly LGBTQ+ U.S. Congressmembers Sharice Davids and Chris Pappas along with Billy Bean, Major League Baseball's Vice President of Social Responsibility and Inclusion, and Ronni Sanlo, founder of the Lavender Graduation movement. Over a dozen LGBTQ-inclusive colleges & universities will be spotlighted during the program alongside the aspirations of the Class of 2020 LGBTQ+ and ally college graduates. Viewers can tune in at CampusPride.org/2020, on Campus Pride's social media channels, and on PFLAG National's Facebook page.
"Everyone deserves access to higher education and a welcoming, safe space to learn, live and thrive. It is most appropriate, in this time, to honor the Class of 2020 who deserve to be celebrated for their achievement," said Shane Windmeyer, the Executive Director of Campus Pride. "This virtual Lavender Graduation is one way we can tell LGBTQ+ and ally graduates of the Class of 2020 that we see you – and that you matter, your achievements matter."
2020 marks the 25th anniversary of the very first Lavender Graduation organized at University of Michigan. Sanlo, who created the program, is a pioneer of campus organizing for LGBTQ+ people within higher education. Since 1995, Lavender Graduation has been a commencement tradition for LGBTQ+ and ally college students that is now included in many universities across the United States.
"Graduation is not a given. It takes drive, tenacity, and support from family and friends to achieve, which is doubly true for LGBTQ+ students. To members of the Lavender Class of 2020, PFLAG families across the country swell with pride in you," said Diego Sanchez, who, in addition to serving as Director of Advocacy, Policy, and Partnerships for PFLAG National, was the first in his family to have attended college, first to graduate, and was the first openly transgender person to serve as senior legislative staff on Capitol Hill.
Campus Pride's Lavender Graduation digital event is being made possible with support of the Palette Fund. All are invited to watch the event at CampusPride.org/2020.
###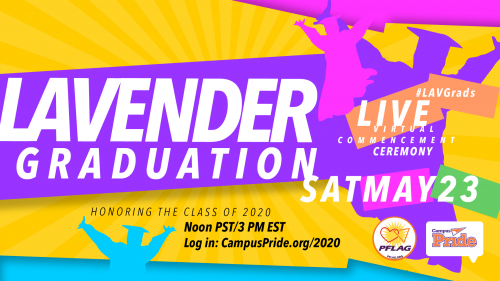 What: Campus Pride Class of 2020 Virtual Lavender Graduation Ceremony
Who: Youth representing the Class of 2020, speakers including Ronni Sanlo, performers, and more!
When: LIVE ONLINE: Saturday, May 23, Noon PST/3 PM EST
Where: Log in: CampusPride.org/2020 and streaming live across Campus Pride (@campuspride) and PFLAG National (@pflag) social media platforms
Cost: Free online event: Everyone is welcome.
Sponsors: Campus Pride in partnership with PFLAG National
More: Class of 2020 graduates interested in speaking at the commencement may still do so by completing the brief interest form online at CampusPride.org/2020  Contact: info@campuspride.org or 704-277-6710 ext 1
_______________________________
ABOUT CAMPUS PRIDE
Since 2001, Campus Pride is the leading national organization building future LGBTQ and ally leaders as well as creating safer communities at colleges and universities. The Campus Pride Index annually helps 80,000 people find LGBTQ-inclusive colleges and universities.  In addition, the organization has specifically tailored programs and resources to support LGBTQ youth and campus communities. Learn more at CampusPride.org
ABOUT PFLAG
PFLAG is the first and largest organization for lesbian, gay, bisexual, transgender, and queer (LGBTQ+) people, their parents and families, and allies. With over 400 chapters and 200,000 members and supporters crossing multiple generations of families in major urban centers, small cities, and rural areas across America, PFLAG is committed to creating a world where diversity is celebrated and all people are respected, valued, and affirmed. To learn more, visit pflag.org, like us on Facebook (/pflag), or follow us on Twitter (@pflag) or Instagram (@pflag).