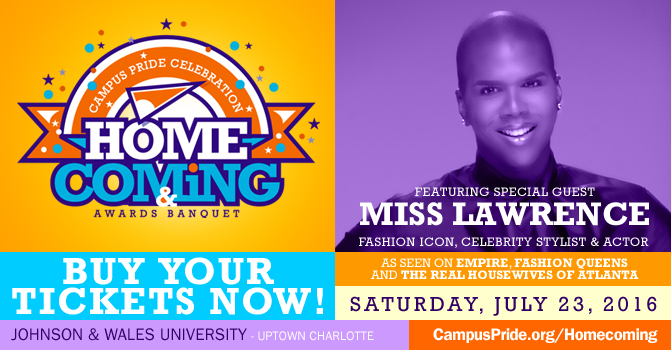 Tickets on sale for Campus Pride Homecoming & Awards Banquet, Saturday, July 23, 2016 featuring fashion icon, Miss Lawrence
Campus Pride is proud to announce its Homecoming & Awards Banquet to celebrate the 10 Year Anniversary of Camp Pride LGBTQ Leadership Academy and the 15 Year Anniversary of Campus Pride. Campus Pride's Homecoming will take place on Saturday, July 23, 2016 at Johnson & Wales University in Uptown Charlotte.
Featured special guests include fashion icon, celebrity stylist and actor, Miss Lawrence, as seen on Empire, Fashion Queens and the Real Housewives of Atlanta. More special guests and speakers will be announced leading up to the event.
Campus Pride Homecoming & Awards Banquet will give special awards and recognitions to honor LGBTQ youth, alumni and their advocates.
2016 Camp Pride and Advisor Bootcamp attendees will participate in Homecoming as part of the Camp Pride program. Register online for Camp Pride today.
Camp Pride is the nation's premiere LGBTQ Leadership Academy for undergraduate LGBTQ and ally students. Join us to develop your social justice and leadership skills. Advisor Bootcamp is for professionals working with LGBTQ college students on campuses. Expand your knowledge, enhance your skills as well as collaborate with others who share your passion for advising and creating safer, more welcoming communities.
Tickets for Homecoming on sale now. Seats are limited.
Location
Johnson and Wales University, Uptown Charlotte
Tickets
General Admission: $85.00
Camp Pride Alumni/Current Student (w/ student ID): $42.50
Table Sponsor (10 seats): $650.00

Campus Pride is the leading national educational organization for LGBTQ and ally college students and campus groups building future leaders and safer, more LGBTQ-friendly colleges and universities. The organization provides resources and services to thousands of college students and nearly 1400 campuses annually. Learn more online at CampusPride.org.