2016 marks the first time LGBTQ nonprofit chosen for SEED20 Class competing for up to $55,000 in Charlotte region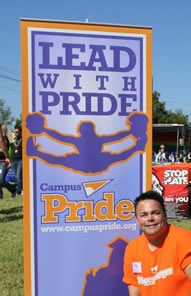 Campus Pride founder and executive director Shane Windmeyer was selected for the 2016 SEED20 Class of nonprofit Charlotte-area entrepreneurs.  SEED stands for Social Entrepreneurs EmpowereD. The "20" represents the twenty organizations or individuals who are chosen annually.
Social Venture Partners created the annual SEED20 program for social entrepreneurs. The program is in its fifth year and this will be the first time that a LGBTQ-specific nonprofit has been chosen for the program.   Campus Pride was one of twenty local nonprofits chosen for their relevance, innovation and potential for tangible community impact to Charlotte area.  Other organizations in the SEED20 Class includes 1sTouch, Inc., American Pit Bull Foundation, Arts for Life Charlotte
, Catapult Concepts,
Code For Charlotte, Croquet Records, Digi-Bridge,
F.L.O.C.K.,
Fashion & Compassion,
Focus Charlotte,
I AM not the MEdia, Inc.,
Kids in Technology, Inc.,
LAWA
, NewGen, Peacebuilders,
Redeeming Joy, Inc.,
Southside Rides Foundation,
The Key Resale Shop,
The Male Leadership Academy of Charlotte and
Transformation Educational Services, Inc.
The goal of SEED20 is to identify, spotlight, and support twenty of the region's most innovative ideas for tackling pressing social challenges and provide support to these nonprofit entrepreneurial leaders. Over the course of seven weeks, SEED20 participants receive training, coaching, feedback, and mentoring on how to succinctly and powerfully "tell their story." Through this program, they have the opportunity to share thei

r compelling work with the community and gain:
Valuable strategic advice and resources
Greater confidence and effectiveness when making presentations
Opportunities to cultivate long-term relationships with sponsors, businesses, other nonprofits, and community leaders
Access to new donors and funding opportunities
Exposure to a large audience, a strong social media community and potential volunteers
Marketing and communications assistance and assets (photos and videos)
A succinct and compelling pitch
Membership into the SEED20 Alumni Network, with opportunities to attend workshops and networking events with other SEED20 participants.
The SEED20 program culminates in SEED20 OnStage!, a high-energy event where up to ten SEED20 participants compete to win cash awards totaling up to $55,000. Each participant makes a three-minute presentation or "pitch" to a panel of judges and an audience of business and nonprofit leaders, foundation executives, and other members of the area's entrepreneurial community. SEED20 OnStage! includes a showcase reception following the presentations where the audience can interact and network with the entire SEED20 class to learn more about their mission and opportunities for support and engagement.
This year the OnStage! event will be held on Monday, April 11 at Knight Theater in Uptown Charlotte.  Tickets will go on sale in January online at www.seed20.org.
Social Venture Partners is a global network of strategic philanthropists joined by passion and purpose. SVP tackles social problems through venture philanthropy, a model of giving where its members not only provide grants, but also give their collective expertise and time to support the vital work of high-impact nonprofit organizations in Charlotte.
Campus Pride is the leading national educational organization for LGBTQ and ally college students and campus groups building future leaders and safer, more LGBTQ-friendly colleges and universities. The organization provides resources and services to thousands of college students and nearly 1400 campuses annually. Learn more online at CampusPride.org.