Campus Pride fully supports the California State Assembly Bill 1888 (AB 1888) authored by Assemblymember Evan Low.   We call upon the California State Assembly to pass this bill in support of LGBTQ youth in California and set an example for others.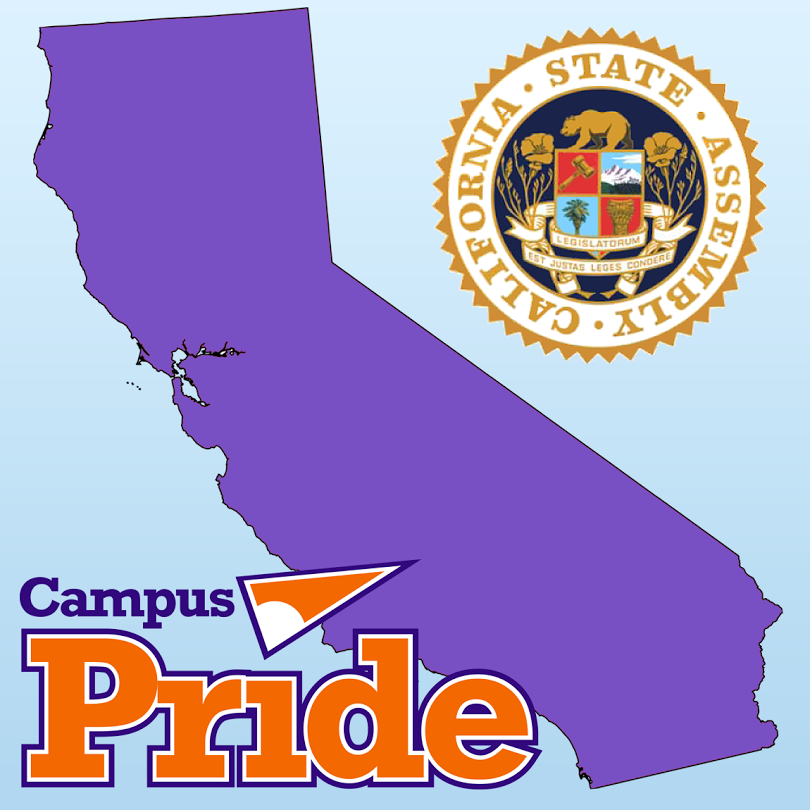 Assembly Bill 1888 strengthens the safety of LGBTQ students and employees at religious colleges and universities. By ensuring academic institutions that discriminate on the basis of sexual orientation or gender identity cannot receive support through the publicly funded Cal Grant Program, AB 1888 presents a significant step forward in protecting LGBTQ students and employees from discrimination.
"As we know, it is already illegal for California government organizations to offer public services that refuse service to people based on their status as a protected class of citizens. However, private higher education institutions continue to use religion as a guise for discrimination against LGBTQ people in applying for and acquiring Title IX exemptions to justify discrimination on the basis of sex, sexual orientation, gender identity, and gender expression," said Shane Windmeyer, Executive Director of Campus Pride.  "Using religion as a means to discriminate goes against California law and should not be supported with state funds or taxpayer dollars."
Campus Pride works with religious schools to ensure the safety of all students, including several colleges in California that currently have applied for or received Title IX exemptions such a William Jessup University, Biola University and Fresno Pacific University. At these schools, we have seen transgender students unable to gain access to housing and restroom facilities that align with their gender; students expelled and employees fired for their sexual orientation or gender identity; students denied the rights to form LGBTQ clubs or organizations; and even the promotion of dangerous and unlawful reparative therapy practices.
"In my experience at Westmont College, a private Christian college in Santa Barbara, no safe spaces exist on campus for LGBTQ students, even those who attempt to obey the college's mandate that LGBTQ people remain celibate," said Donald Scherschligt, campus organizer for Campus Pride. "I know students who have received threats of violence and have been fired from student jobs because of their sexual orientation. Many students don't even feel safe to come out of the closet because no one on campus receives any sort of training on how to handle LGBTQ people. Rather than grapple with the existence of LGBTQ people on campus, Westmont instead seeks to discriminate against us so that we would rather just leave the college. I can't even imagine how much worse it is at colleges that have received exemptions to Title IX."
According to Campus Pride, the practices used by these religious institutions to discriminate against LGBTQ people are wrong and dangerous to LGBTQ youth. They directly impact and harm the livelihood and education of LGBTQ people on campus and actively seek to eliminate LGBTQ visibility on campus.
"Religion should never be used as a tool for injustice, and the state should not fund any school that attempts to use religion in such a way," Windmeyer said.
You can see a full list of the colleges and universities with Title IX exemptions to discriminate against LGBTQ youth on the Campus Pride #ShameList online.
Campus Pride is the leading national educational organization for LGBTQ and ally college students and campus groups building future leaders and safer, more LGBTQ-friendly colleges and universities. The organization provides resources and services to thousands of college students and nearly 1400 campuses annually. Learn more online at CampusPride.org.