Campus Pride has the tools and resources you need to organize and manage programs on campus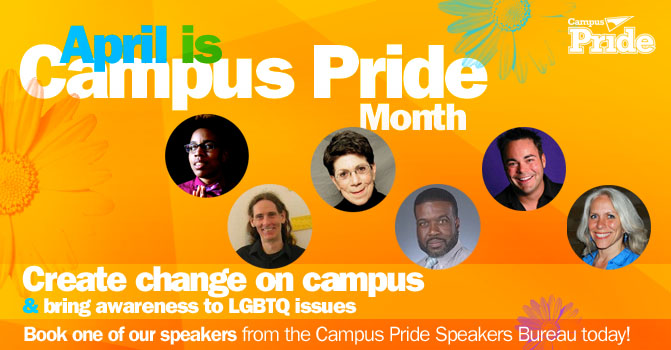 Spring time marks the launch of Pride festivals and national celebratory gatherings happening across the United States honoring LGBTQ culture and inclusion. College campuses are following suit by planning and supporting Pride Weeks on campus. Campus Pride can help your student organization plan the ideal events for your LGBTQ and ally community.
April is Campus Pride Month. We are hosting events and encouraging college campuses to participate by utilizing our resources and Speakers Bureau to amplify your Pride Week, LGBTQ events and plan ahead for your LGBTQ programming 2015-16.
Students can participate in Campus Pride Month through a variety of ways:
Learn about Campus Pride resources
Campus Pride offers free resources for students to access including tools to assist with Leadership and Organizing, Activism and Advocacy, and Event Planning and Fundraising.
Book a speaker through the Campus Pride Speakers Bureau
The new Campus Pride Speakers Bureau provides access to LGBTQ and ally speakers who specialize in LGBTQ issues such as Bias and Hate Crime Prevention, Bisexuality Awareness, Athletic Inclusion as well as singer/songwriters and entertainers.  Book your speaker now!
Plan an awareness event
Use Campus Pride tools and resources to organize students on your campus by creating events that bring awareness to LGBTQ issues. Use the Speakers Bureau and our leadership tools on the Campus Pride website to brainstorm and take action!
Join the digital conversation
During the month of April use the hashtag #ShowYourCampusPride to join conversations on Twitter, Facebook and Instagram. Post photos of your Pride Week and events, share what your campus is doing for Campus Pride Month and learn more about how Campus Pride can support your LGBTQ student needs.
Download the Student Action Kit
Use the Campus Pride Month Student Action Kit to get more details on how to get involved on campus. Show Your Campus Pride with us by participating all month long. Download the kit and get your student org to join in on the #Pride.
Plan to attend Campus Pride Events
March 27: Scarlet Fever
in remembrance of trans activist Blake Brockington
The University of North Carolina, Charlotte will be having their annual fundraiser for AIDS Walk Charlotte on March 27. Spectrum will be dedicating the show to late UNCC student Blake Brockington who left us in March. A portion of the proceed from Scarlet Fever will be donated to the memorial fund for the family surviving Blake.
Scarlet Fever is a diverse show including drag kings and queens, dancing acts, and singers. A portion of the proceeds will go to support the Regional Aids Interfaith Network (RAIN) and their efforts to fight against AIDS. The event will be in Student Union room 340 on March 27th and 7:30 p.m.
Hosted by UNCC Spectrum
April 10: National Youth HIV AIDS Awareness Day #NYHAAD
National Youth HIV & AIDS Awareness Day is a day to educate the public about the impact of HIV and AIDS on young people as well as highlight the amazing work young people are doing across the country to fight the HIV & AIDS epidemic.
April 10-11: Campus Pride Out & Greek Institute
in partnership with AFLV West in San Diego, CA
The Out and Greek LGBT & Ally Conference is the only conference of its kind for LGBT and ally fraternity and sorority leaders to share, network and learn strategies to create safer, more LGBT inclusive fraternity and sorority communities.
Now you can:
Learn how to become an effective straight ally
Share your story of coming out and being Greek
Network with other LGBT and ally fraternity and sorority leaders
Learn strategies for your organization and community to be safer and more LGBT friendly
April 10-12: Northeast LGBTQ College Conference (NELGBTC Conference) 
Join the 20th annual NELGBTC Conference with LGBTQ youth and professionals from across the nation and the Northeast. Campus Pride speakers joining the conference include Robyn Ochs, featured keynote speaker, and Lauren LoGiudice, presenting a workshop. Campus Pride is a proud ongoing sponsor of the NELGBTC Conference. The Northeast LGBTQ College Conference covers a broad range of topics like envision and continually work to prepare leaders able to build a more just and sustainable community.
Hosted by Campus Pride
April 24-26: Power of One Conference
Featuring: Campus Pride Board Member Brie Harrison, Campus Pride Speakers Robyn Ochs and J Mase III
This leadership conference educates students on intersecting identities while promoting social justice. The aim of this conference is to create a respectful, open, and widely accessible environment in which participants will be challenged to apply the things they learn into their lives after they leave the conference. The hope of this conference is to foster an understanding of difference that emphasizes discussion and social interaction, remembering that we are all at varying levels of knowledge and experience, and that those differences enhance our communities.
Hosted by University of Montana in Missoula, MT