LGBTQ affirmation event at Oklahoma Christian University
On February 14, 2022, alumni and community members at Oklahoma Christian University held an affirmation event outside of the campus's chapel building. The group of students handed out Pride flags and rainbow masks and held signs supporting the LGBTQ community. 
This event follows a petition from the student body in response to the university's recent ban on small chapel services in favor of a single daily chapel service. The small chapel services included a Safe At Home small chapel for LGBTQ students. Oklahoma Christian University eventually repealed the ban.
"My hope with the Affirmation Event is that the students know we love and support them and that the administration knows that there are people on the outside paying attention to what's going on. Denying LGBTQ students the right to exist as themselves goes against the very tenets of Christianity that OC preaches," said event organizer and Oklahoma Christina University alumni, Gael Williams. 
Oklahoma Christian University students also voiced their support for the affirmation event. 
"The Affirmation event was awesome because I finally felt like I could be who I am at OC. It was so much fun and made me feel loved and accepted even at a place like OC," said Elie Carter, current student.
"The affirmation event felt like it was meant for people like me because it was. I was given a pride flag for the first time ever during it, and I display it in my room because it makes me happy," said Logan Miller, current student.
Oklahoma Christian University and Campus Pride's Worst List
Oklahoma Christian University's administration has a history of disallowing LGBTQ groups to meet, including a Title IX religious exemption that allows them to discriminate on the basis of sexual and gender identity. The university is named on Campus Pride's 2021 Worst of the Worst List. 
For decades, Campus Pride has spoken out against religious exemptions that allow discriminatory practices and the use of public taxpayer dollars supporting these religious institutions. Every year Campus Pride publishes the Worst List, a comprehensive list of the "absolute worst campuses for LGBTQ youth." For a complete list of colleges and universities that openly discriminate against LGBTQ students and/or have requested religious-based Title IX exemptions, check out the updated Worst List at campuspride.org/worstlist.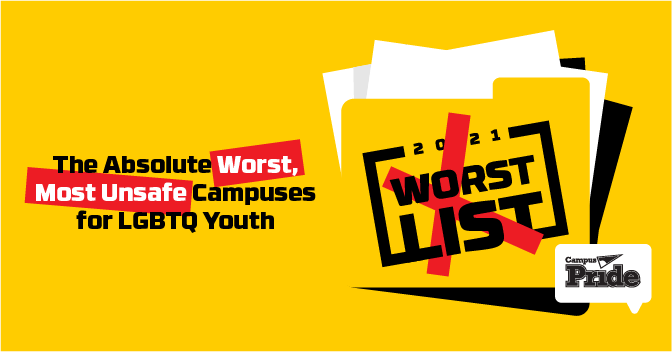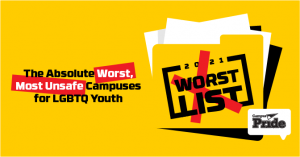 We evaluate safe and inclusive campus communities using our Campus Pride Index, an "overall indicator of institutional commitment to LGBTQ-inclusive policy, program and practice" for college campuses across the country. To see how your college ranks up, visit www.campusprideindex.org. 
# # #
ABOUT CAMPUS PRIDE
Celebrating its 20th anniversary year in 2021, Campus Pride is the leading national nonprofit organization dedicated to building future leaders and creating safer, more inclusive communities for LGBTQ people and allies at colleges and universities. Founded in 2001 by nationally-recognized LGBTQ civil rights leader and campus pioneer Shane L. Windmeyer, Campus Pride offers a wide variety of programs and resources for students and prospective students, including the Campus Pride Index, HBCU Clearinghouse, Trans Policy Clearinghouse, Lambda 10, Stop the Hate and Safe Space trainings, and the annual Camp Pride leadership camp. www.campuspride.org.