12.5 hours journey from Alma, a small little town surrounded by cornfields, a group of seven students traveled to Charlotte to embrace the full experience of Alma College Alternative Breaks and this one was focused on LGBTQ+ awareness and activism. Us seven students were diverse amongst each one having our own connection with the cause; some being part of community themselves, knowing someone who is or just wanting to learn more about the LGBTQ+ community and what it stands for.
The first day of service started with the GPS taking us through the busy intersections where the red lights seemed to go on for an infinity and we first-hand learned that we needed to plan more accordingly for travels for the future. When we arrived at Campus Pride we were embraced by Shane Windmeyer, the co-founder of the organization who enlightened us about the organization's roots and platforms they offered, some being the Campus Index, Lambda 10 Project, Camp Pride, and Stop the Hate. During this break the main project that we focused on was the Eureka Project, which helps bring awareness and helps Campus Pride further support the LGBTQ+ community For this project we gathered the Twitter handles and Instagram of contestants of RuPaul's Drag Race season one thru ten, hoping to have them support the Eureka Project T-shirts, which helps gain funding for Campus Pride events.  
For the Eureka Project our group was assigned to take pictures to endorse the shirts and advertise and support Eureka in Rupaul's Drag Race season ten. In order to do this we went to Freedom Park and used the LGBTQ+,  transgender and pansexual flags along with the black lives matter pride flag with the members that are represented by them wearing the shirts. We thought this would be a good perspective of the flags and the people that are signified by them. This was also good marketing aspect of the shirts instead of just going outside in the parking lot. Afterwards the we went to the Romare Bearden Park to get video for Eureka Project. We had everyone say the script we wrote, then we cut and edited the clips to make the video s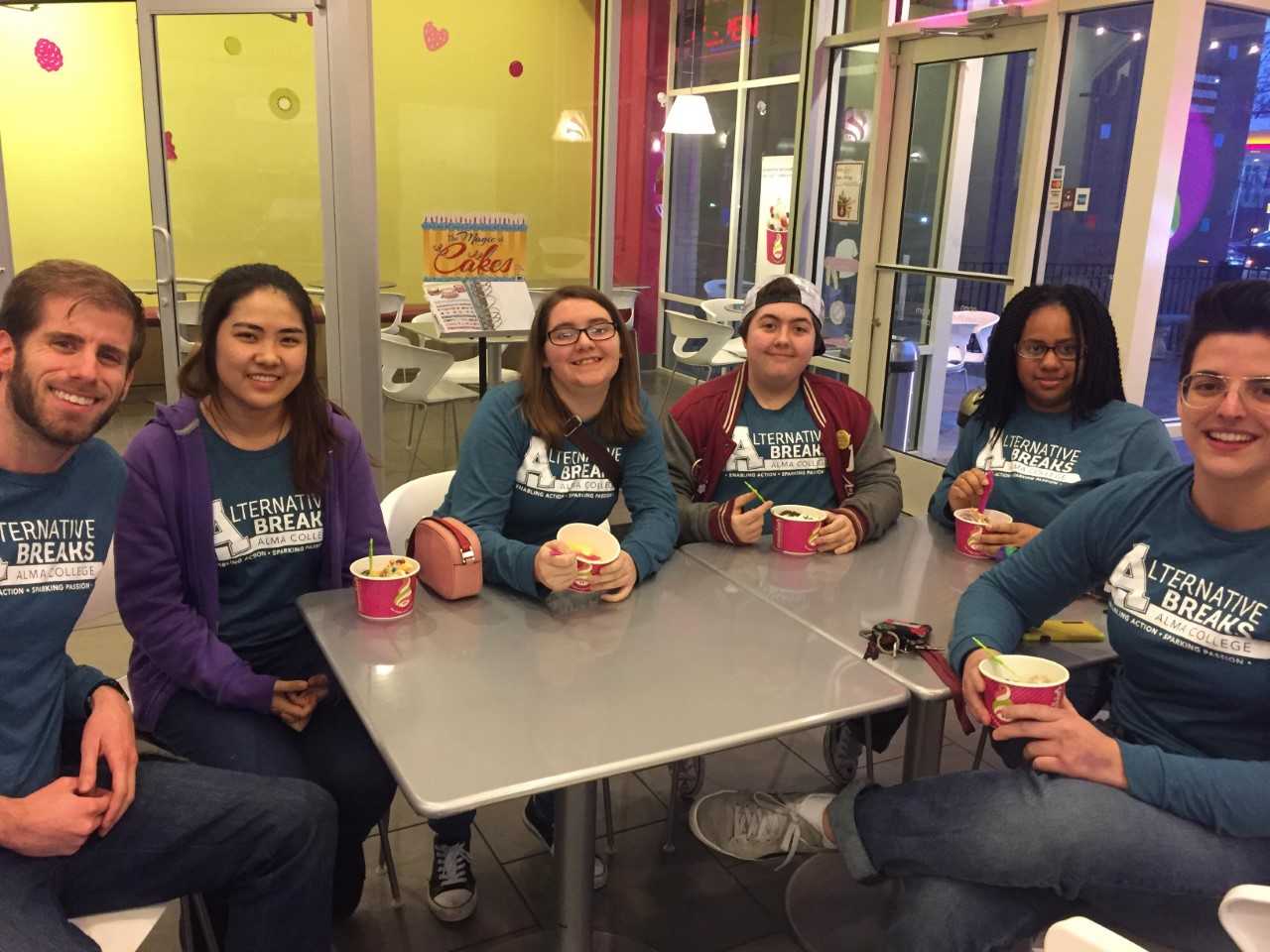 howcasing the shirts and supporting Eureka for everything she does for the LGBTQ+ community.  
The last couple of days of our experience in Charlotte were used to finish up our assigned projects, and also to have some fun as a group! One amazing opportunity we had was to write an article for USA Today talking about how finding support within your community really helps LGBTQ students to become more comfortable with their own sexuality and sexual orientation. This article is part of a campaign regarding campus safety when it comes to LGBTQ students. We also had a chance to experience a drag show at Boulevard 1820, and it was a blast! We enjoyed talking to the queens and taking pictures with them. Earlier that day, we had one of the queens come in the office and share her story with us and tell us her involvement with the LGBTQ+ community.
This experience has taught us so much about how to help LGBTQ+ youth, and how to create a safe environment for them as well. College is a very difficult time for many students who are struggling with their sexual identity and after this alternative break I believe all of us are more aware of how to address that problem on our own campus back home. Campus Pride is such a great initiative and provides such good resources for LGBTQ+ individuals who have a hard time finding information on how safe campuses around the USA are. We are very thankful for this opportunity and would like to thank everyone involved who inspired us to continue to support this amazing cause.
Campus Pride is the leading national educational organization for LGBTQ and ally college students and campus groups building future leaders and safer, more LGBTQ-friendly colleges and universities. The organization provides resources and services to thousands of college students and nearly 1400 campuses annually. Learn more online at CampusPride.org.