Five fair locations set across the country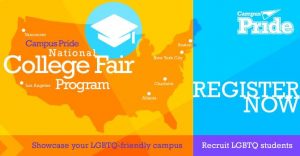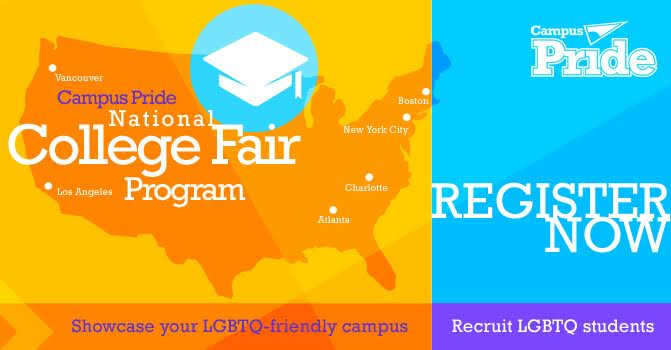 Campus Pride announces dates and locations for the upcoming National LGBTQ-Friendly College Fair Program 2017-2018 season. For the last eleven years, Campus Pride has held college fairs specifically for LGBTQ youth and their families to find the "Best of the Best" campuses with inclusive policies, programs and practices.  The college fairs are hosted across the country and are free for prospective students and their families to attend.  To RSVP, please go online to https://www.campuspride.org/collegefair/.
"Campus Pride has had a long-standing commitment through our national college fair program to ensure every LGBTQ young person has a pathway to post-secondary education. This includes highlighting the 'Best of the Best' campuses that are the most LGBTQ-friendly," said Shane Windmeyer, Executive Director of Campus Pride. "We are excited to have another year to continue providing greater access for all LGBTQ and ally youth."
The Campus Pride National College Fair Program is the only one of its kind in the country assisting LGBTQ and ally students and their families prepare for post-secondary education. The fairs provide nationwide access to essential information about LGBTQ-friendly campuses, scholarships and the college admissions process. The Campus Pride National College Fair Program is designed to address questions from LGBTQ and ally students related to academics, student life and campus safety.
Campus Pride has had over 240 different colleges participate in one or more of the college fairs since its inception in 2007-08. Each fair is hosted with local partner organizations for LGBTQ youth and other service organizations.
"Now more than ever, LGBTQ youth and families want to know what campus is the best when it comes to academics, safety and inclusion.  The college fairs have been that place to find the campuses who take responsibility for LGBTQ youth," Windmeyer said.
College admission representatives are invited to participate at the Campus Pride College Fairs by registering online at https://www.campuspride.org/collegefair/. Early registration discounts are available for a limited time.
Charlotte, North Carolina – Saturday, August 26, 2017
Atlanta, Georgia – Saturday, September 2, 2017
Boston, Massachusetts – Friday, October 13, 2017
Los Angeles, California – Sunday, October 29, 2017
New York, New York – Thursday, November 2, 2017
Campus Pride is the leading national educational organization for LGBTQ and ally college students and campus groups building future leaders and safer, more LGBTQ-friendly colleges and universities. The organization provides resources and services to thousands of college students and nearly 1400 campuses annually. Learn more online at CampusPride.org.