Congratulations to our 2011 Voice & Action Award Receipients: JeShawna Wholley (Spelman College) and Samuel Brinton (Kansas State University)!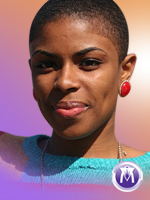 JeShawna Wholley
Spelman College
Class of 2011
Program of Study: Comparative Women's Studies
Intended Profession: Non-Profit Management
Age: 22
Home: Marietta, GA
"When I awoke to an email with the subject line: "CONGRATULATIONS! You have been selected as a Voice & Action Award Recipient," my immediate reaction was shock! I couldn't believe it. My induction into the world of social activism came about because I could never stand by and watch a group of people be marginalized and isolated; I was never concerned with recognition. So, to receive a national award honoring the work that I do out of simple love and dedication to my community is AMAZING! I am so grateful and honored."  ~ JeShawna Wholley
JeShawna Wholley is currently a senior at Spelman College studying Comparative Women's Studies expecting her Bachelor's of Arts in May 2011.
At Spelman College, JeShawna is the former president of Afrekete, the LGBTQ group, and with her fellow members they engage their campus community in conversations "against injustices and inequalities, ensuring an inclusive climate." However her involvement does not stop there, JeShawna served as the Project Coordinator for the Feminist Majority Leadership Alliance and volunteered her time with Choice USA, coordinating a call-in day for safe sex education; as well as the Feminist Majority Foundation, coordinating the national women of color conference at Spelman College. In addition, JeShawna is employeed as an Arcus funded student researcher in the Women's Research and Resource Center at Spelman College. Her work has not just been noticed by peers and mentors on campus; she has garnered the attention of President Obama which led JeShawna to be invited to the White House to attend the reception in commemoration of the 42nd anniversary of the Stonewall Riot.  Most in our communities have been impressed with President Obama's recognition of our Movement's efforts; JeShawna has had the great privilege of experiencing this first hand.
The Voice & Action Committee began to learn about JeShawna through her cover letter. She shared with us why she was called into the selfless work of achieving equality for all people. To begin to learn why she is a recipient, here is an excerpt from her cover letter;
"It wasn't until my Introduction into Women's Studies course when I finally experienced true intellectual stimulation at Spelman College. Here, I felt empowered and equipped against the forces of patriarchy and social injustices. As I learned about crusaders such as Toni Cade and Barbara Smith I knew that I wanted to politicize my lesbianism. I wanted this identity to be more than just my orientation or preference, but a statement against patriarchy and social norms. I wanted to be a lesbian activist.
I had no idea that my quest to improve the social climate on my college campus would result in me finding my calling as an activist programmer and organizer. Conceptualizing, planning and executing programs that raised awareness, provided safe and embracing spaces and cultivated a since of community on campus has been an enriching experience that has shaped my path for my future endeavors."
The committee is sure that her future endeavors will lead to nothing but brining about amazing positive change in any community JeShawna is a part of, we know this by reading her essay on what she views as the greatest challenges facing LGBT persons and our Allies. More importantly it is how these challenges will be met and the role everyone plays in meeting these challenges.
JeShawna explains ~ "Division is the greatest challenge that I see presently in the LGBT movement. For example, I have noticed that there is a lack of demographic spaces for African American Queer women here in Atlanta. With Atlanta being deemed "the gayest city in America" recently, I would imagine that there would be at least one acclaimed space that would serve as a safe haven and resource for this group. There are, however, several institutions in place that seem to cater to the gay male demographic (both of color and otherwise). In a casual conversation with a professor here on campus, I learned that the primary recipient of the services from one of the top foundations in Atlanta to cater to LGBT individuals with HIV/AIDS are actually queer-identified women. I was both amazed and sadden by this information, because the face of this well known non-profit organization is typically gay and male. I posed the question as to why would they deceive the people into thinking that women are not receiving access to their services. I would think they would want to flaunt the fact that they are catering to a group that is usually ignored in our greater society. My professor explained to me that the reason this is not public knowledge, the reason queer men are the face of this organization even though most of their services are provided to women, is due to the politics of federal and private funding. If people knew this information, the foundation would lose funding.
The only way that we (the LGBT community) are going to truly make and initiate change, is if we uplift each other. This means Gay men standing alongside Lesbian women in the fight for abortion rights. This means upper class members of the LGBT community coming together to support and fund grassroots activism for the movement. This means socially privileged members of the LGBT community acknowledging that the mechanisms of activism must account for the fact that the systems of oppressions can intersect across race, class and gender. Our role as the members and allies of this community entails knowing our neighbors in the struggle, identifying our individual privileges in any space and then utilizing the resources and access that we have to make the fight a little less difficult for our entire community at every tier."
We should, NO we MUST, follow JeShawna's lead! The only way we are going to ensure we live in a socially just world is having all people standing shoulder to shoulder supporting each other on the path to equality.
Now as we know, all great leaders have had their setbacks. For one of the essays we asked each applicant to describe a time they were unsuccessful at brining about positive change and what they learned from the experience. JeShawna shares a very candid perspective that reveals tremendous growth, which we all can learn from.
In JeShawna's own words ~ "I was asked to attend a panel discussion Morehouse's campus. Considering my past experiences with Morehouse "men", I was curious as to if this could be a constructive conversation about sexuality. I got into a heated debate with another panelist. I left the space drained, frustrated and felt as though I had wasted my time. No one seemed to be receptive to my message at all. I felt defeated and began to reenact the situation in my head in an effort to identify where it went wrong. I realized a few key things. First, I learned it is important to put positive energy into the universe. I went into the space doubting the progression of the audience based on my own prejudices against Morehouse. Second, I learned that passion skates a fine line between sincere expression and irrational articulation. I let my passion get the best of me. I was so enraged by the claims being made that I didn't allow myself to think critically, hear the opposing claim and articulate my point effectively. I lost the opportunity to make an impact because I internalized the attacks and they destabilized me."
The lessons that JeShawna learned from this experience is a lesson that takes some leaders years to learn and to fully understand. We can all learn something from JeShawna's experience – we need to ensure that we must remain calm at all times and try not to take opposing views as personal attacks. This will allow us to take every opportunity to educate those who are making claims that are based on misinformation. We thank JeShawna for sharing this experience with us!
So what do others have to say about JeShawna?
"JeShawna Wholley's passion for eradicating injustice and enlightening individuals on matters pertaining to the LGBTQ community has extended beyond the Spelman College campus and into our local and national community. Her leadership abilities and early resultant successes, further coupled with her respectful affability, mark her as the ideal awardee. She is wise, astute, creative, committed, and a strong leader. JeShawna brings maturity and a strong work ethic to any endeavor she undertakes." ~ Dr. Monica Melton, Assistant Professor in Comparative Women's Studies
"Essentially, JeShawna is a visionary. She is a concerned and empathetic student with an expansive imagination. It is this imagination that casts her ambitions into new and unexpected heights. She has goals to achieve safer spaces and a better climate for countless LGBT groups beyond Spelman College. I have no doubts that JeShawna's impact will be worldly and historical." ~ Soraya Watkins, Fellow Student Leader and President of Feminist Majority Leadership Alliance
Thoughts from the Voice & Action Selection Committee; "demonstrates courage in the face of great adversity," "Selfless application," and finally "She puts down a very concise thought."
We are so proud to be able to recognize JeShawna Wholley as one of the 2011 Campus Pride National Voice & Action Leadership Award recipients.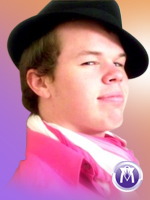 Samuel Brinton
Kansas State University
Class of 2011
Program of Study: Mechanical and Nuclear Engineering & Vocal Music Performance, Minor in Chinese
Intended Profession: International Nuclear Energy Policy and Law
Age: 23
Home: Manhattan, KS
"I can't believe they chose ME! I'm from KANSAS! They think I made a difference. I AM going to make a difference in this world. For a conservative university in the middle of Kansas, Kansas State University sure gave me the perfect chance to learn who I was – no matter who that was. A few years ago, I thought I was the only gay man on earth. With this Voice and Action Leadership Award, I will keep working to make sure no student ever feels that alone again." ~ Samuel Brinton
Samuel Brinton is currently a senior at Kansas State University studying Mechanical and Nuclear Engineering & Vocal Music Performance expecting his Bachelor of Science & Bachelor of Arts in May 2011. Sam also minors in Chinese Language.
At, Kansas State, Samuel is not only a passionate change agent for the LGBTQ communities on campus he is also a proven scholar in the field of Nuclear Engineering – 7 publications so far & counting! Samuel grew up as a missionary child living in such exciting locations as the Amazon jungle. He continued his international experience studying at Shanghai University during the Fall 2009 semester and attending international conferences of nuclear engineering in Japan, Belgium, Switzerland and South Africa.
When Samuel is state-side he continues his passion for LGBT equality through his progressive fraternity Delta Lambda Phi and serving with the local Flint Hills Human Rights Project and PFLAG. His peers recognized his passion and leadership by supporting Samuel as the President of LGBT and Allies of Kansas State. In addition (even though we know gay men are banned from giving blood) Samuel was active in the Red Cross Club as the Public Relations Director and through his leadership he assisted the organization to set records in blood donations.
One interesting fact about Samuel – he toured Europe as one of the top five high school singers in the United States.
However, to understand how his two passions of Nuclear Weapon Non-Proliferation and LGBT Equality come together one must read his story. The Committee began to learn his story by reading his cover letter, of which an excerpt is below.
"As a senior in Nuclear Engineering and Music, my life has always been one of balance and combination. I have used my engineering talents of organization to grow an organization (LGBT and Allies) from birth to over 30 members in a very conservative and religious community. I have used my musical passion for creativity to organize the Alternative2 Spring Break for LGBT and allied students to be able to serve their community regardless of orientation.
"I grew up as the son of Southern Baptist missionaries and without knowing what the word "gay" was (we just called them abominations) I asked my father why I was feeling attracted to my best friend, Dale. I don't remember the second punch but I do remember waking up in the emergency room for the third time asking the doctors not to send me back and telling them that I had not fallen down the stairs again. When "punching the gay out" didn't work we moved to conversion therapy. Being told I had AIDS and was going to die if the government found me was only the beginning. I would be strapped down with blocks of ice or heating pads placed on my hands while pictures of men holding hands were shown. The conversion ended when I told my parents I was straight to stop the electrocution by needles in my fingers while gay sex acts where shown to me. When I would later come back out to them for a second time I was told never to walk back in that house if I wanted to walk out alive.
"I tell you the story of my conversion therapy not for dramatic effect but to explain why I do what I do. I cannot let another child go through that torture because their parents think this is the only way to have a normal child. I will keep working through my political means until someday, when a student turns on the television, they will see a man just like them speaking to the United States Senate with a bright pink scarf on."
Samuel, we are impressed with your courage and determination to create a better world for LGBT Youth.
One of the essays, we asked each applicant to discuss how their work contributes in bringing about positive change for LGBT persons. Here is Samuel in his own words;
"My work for equality got a late start thanks to the issues discussed in my cover letter but thankfully it has blossomed into a life-long passion. Although I may not be joining the national LGBT advocacies as a full time employee after graduation, I intend to use my intellectual and emotional power to defend our rights as a lawyer while also fighting for the proper use of nuclear energy. As a student who felt alone for too long I work to make sure no student feels that way at my school regardless of their difference. Whether it is organizing the first pride march of Manhattan, KS to serving on a panel discussing LGBT Christianity my life has been changed to promote the understanding of LGBT issues since understanding leads to acceptance.
"It is hard to describe the impact I have had through my work for change. Ask 10 people around campus and probably eight of them will know me and my crazy positive attitude and work for diversity at KSU. The other two have seen me riding by with my pink scarf waving in the wind. That is how I know there is an impact. I am just a young man who will make you remember that no matter who you are; you deserve to be respected."
No matter where Samuel goes he will be a fierce advocate in the quest to ensure equality for all people. In addition, we can see he is going to use his passion for creating positive change to guide our world in becoming a place that is safe for all people. The issue of nuclear energy use is not blind to the issues facing the LGBT Communities. Samuel understands that he has to ensure we have our planet intact so we can continue our quest of equality.
With that being said when the Committee read Samuel's essay discussing the greatest challenges the LGBT Movement is currently facing we were struck by the realness of his answer. It caused us to pause and reflect on the fact we know all too well – not all areas of this country are at the same place in our quest of equality. When we tell our youth that it does get better, we must understand the environment they are in to ensure we give our youth realistic hope and goals. Samuel explains;
"In a world where I can be told "You are fired", "Get out of my store", or "You have a week to leave this apartment" because of who I love; how am I supposed to tell my peers it gets better? Sure my life has improved from the destructive harm of conversion therapy my parents forced upon me but the pressures of searching for a company that accepts me for who I am and having to not consider opportunities due to the lack of protections offered in an area can be just as disheartening. In Manhattan, KS we are working to add these protections within our city limits. The amount of effort this simple step has taken helps me realize why my work fighting for the Employment Non-Discrimination Act (ENDA) is so important. A federal effort to stop the discrimination felt by so many students as they enter the workforce is a task the LGBT persons and allies must unite in support of.
"I am certain if we show our passion for simply having the same rights and responsibilities as heterosexuals then we may have a chance to grow up as a normal part of society. The issues of marriage, DADT, and hate crimes are much easier to deal with when you can speak openly without the fear of losing your job or your home. As an activist I feel we need to have a very strong relationship with our elected officials. Their secretaries need to know us by name with not a week going by that we do not call asking them to support a specific initiative such as the repeal of DADT, the support of ENDA, or the support of the Matthew Shephard Act. Being from conservative Kansas, the common response by email may be thanks for the concern but they will not be supporting such measures on moral grounds. It is for this reason that we must work to bring those who do support us into office. And since this is not always feasible in some states, working to show just how simple gays rights to house and livelihood truly are must also be accomplished. When working to pass LGBT protections in Manhattan … I generally start with the statement that this isn't about whom I love, but instead about letting me find who I love in an environment just like any other student. Equality must begin in simple forms to grow to into its final state."
We thank Samuel for reminding us that we still have a lot of work ahead of us, however as a movement we have the ability to make solid positive change in the lives of all people – not just in the United States, but the citizens on the World.
So what do others have to say about Samuel?
"Sam can do it all! He currently has a 3.7 on a 4.0 scale double majoring in Mechanical Engineering (Nuclear option) and Vocal Music Performance, along with a minor in Chinese. Sam is a very gifted student and is well liked by his professors and peers. In my 20 years in academia, I have never met a student with the broad base of talent (Engineering and Music) displayed by Sam Brinton.
"Sam has made a huge impact on our campus. He is extremely well respected, has superb leadership skills, and is fun to be around. His leadership for gay rights and inclusiveness on our campus will have a profound effect on Kansas State University for years to come." ~ Kirk H. Schulz, Kansas State University, President
"Ever since Sam Brinton has graced K-State's Student Governing Association (SGA) with his presence, the body has truly experienced a face-lift. Not only has Sam figuratively and literally added more color to our weekly meetings, but he has also added a certain dimension that our leadership had not yet experienced.
"It has been a fun and rewarding honor to work alongside Sam for these last couple of years on SGA. While he will be missed when he graduates this year, his impact will have lasting effects. Sam has paved the way for present and future LGBT students looking to become leaders at K-State and he has instilled a legacy of equality and inclusion throughout this small Kansas town." ~ Annie Oliver, Kansas State University SGA, Vice President
Thoughts from the Voice & Action Selection Committee; "Demonstrates a commitment to the common good and tremendous courage," "Wow! Powerful! Passion!!," "Overall an amazing young man, passionate advocate," and "He is changing the "college town" beyond his college's walls."
We are so proud to be able to recognize Samuel Brinton as one of the 2011 Campus Pride National Voice & Action Leadership Award recipients.
Edited and written by: Christopher Bylone, Voice & Action Selection Committee, Chair