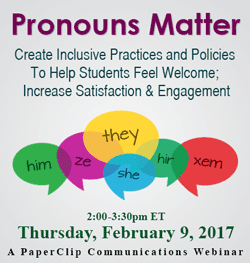 Pronouns Matter: Create Inclusive Practices and Policies To Help Students Feel Welcome; Increase Satisfaction & Engagement
Thursday, February 9th • 2-3:30 pm (ET)
Click Here To Register
"With major universities announcing the option for students to use pronouns other than him or her and the American Psychological Association (APA) formally adjusting their style guidelines to include "they" as a singular, gender neutral pronoun, the next generation is growing up with an entirely different understanding of gender." (Jenifer O'Ryan)
Does your campus respect the gender identities of its trans members by consistently using the name and pronouns they use for themselves?
Language matters! Little changes in grammar and vocabulary can affect how your institution recruits, admits and retains trans and non-conforming members to its community. Avoid frustration and marginalization of your community members by ensuring inclusive language is used in institutional policies and practices to combat traditional identity language.
Join your colleagues from across the country for an interactive webinar where you will learn how to interact with students on your campus to create, adapt and implement strategies for enabling community members to indicate their pronouns safely and with respect. These changes will help your community members feel welcome, increase satisfaction, encourage engagement — and will reflect positively on your institutions reputation.
For more information about this webinar click here to go to the website
---
Moderator:
Shane L. Windmeyer, M.S., Ed. is a best-selling author, LGBTQ campus pioneer, and civil rights champion.
Panelists:
Genny Beemyn, Ph.D., is the director of the Stonewall Center at the University of Massachusetts, Amherst, and the Trans Policy Clearinghouse coordinator for Campus Pride.
Luca Maurer is the founding program director of The Center for Lesbian, Gay, Bisexual & Transgender Education, Outreach, and Services at Ithaca College, and co-author of The Teaching Transgender Toolkit: A Facilitator's Guide to Increasing Knowledge, Decreasing Prejudice & Building Skills, which was honored with the 2016 Book of Year Award from the American Association of Sexuality Educators, Counselors, and Therapists.