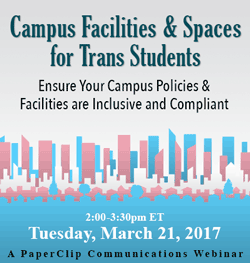 Campus Pride partners with PaperClip Communication to present on a webinar about how campuses are currently mandated to foster and create campus facilities that are safe, inclusive and in compliance with Title IX and campus non-discrimination policies. Building new campus facilities and renovating older facilities can be huge projects with many intersecting interests, priorities and requirements — make sure you are addressing the social, legal, political and financial issues before you start!
Campus Facilities & Spaces for Trans Students:
Ensure Your Campus Policies & Facilities are Inclusive and Compliant
 Tuesday, March 21, 2017  2:00pm-3:30pm
Click here to register
---
Moderator:
Shane L. Windmeyer, M.S., Ed. is a best-selling author, LGBTQ campus pioneer and civil rights champion.
Panelists:
Genny Beemyn, Ph.D., is the director of the Stonewall Center at the University of Massachusetts, Amherst, and the Trans Policy Clearinghouse coordinator for Campus Pride.
Claire K. Hall, J.D. is an attorney and Principal at UECAT Compliance Solutions, where her work focuses on providing Higher Education compliance, training and investigation services for colleges and universities.