What is Trans Joy?
Broadly speaking, it is the feeling that your trans identity is a gift rather than a burden. It can be experienced and expressed in a variety of ways.
       Examples:
Find a community of other trans individuals

Medically transitioning if desired

Someone using the right pronouns for you

Clothing expression

Doing stereotypically masculine/feminine activities
Why is Trans Joy important?
It is a form of resistance when trans identities are being targeted.

It can instill confidence and a voice for trans individuals to advocate for themselves 

Trans individuals experience

exacerbated mental health struggles,

trans joy can provide some solace

It is powerful, it keeps people going and shows that a trans existence is not one of eternal suffering

When living with intersections of multiple identities, trans joy can strengthen one's whole identity
_______________________
Activities to Encourage Trans Joy in Yourself:
REFLECTION – LETTER WRITING
Write a letter to your current self from the perspective of your younger self. Focus on how far you have come.
What do they think? Are they confused? Happy? Angry? Sad? Why?

It is important to reflect on your transition and how far you have come. This reflection can help one recognize the power of being trans and the journey they have taken. Even if your younger self is confused or scared, part of them will be in awe at who you have become.
COLLAGE!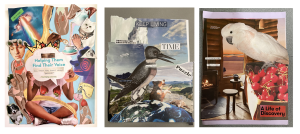 Cut out things from magazines/pamphlets/printed images that capture how you feel trans joy. 

Using a creative outlet, create a collage that captures what trans joy is to you! This can be anything from just a collage of colors, to specific words, to photos of things that make you feel trans joy! There is no wrong way to do this.
POSITIVE SELF-TALK
Gratitude toward yourself

Being trans can be very difficult today. Show yourself compassion and practice positive self-talk. If you wouldn't say something to a friend, don't say it to yourself. Try saying three nice things to yourself every day. 
_______________________
Encourage Trans Joy in Others:
Take steps to affirm someone's gender beyond the bare minimum of using their desired name/pronouns.
Examples include:
Go shopping for clothes with them

Celebrate important milestones 

Stand up for them

Create a safe space for them to express ALL emotions
Being trans can be exhausting. To be an effective ally, don't force someone to speak on something they have to deal with every day. Treat a trans person with compassion and kindness without making their identity such a big deal that it diminishes other facets of themselves.
_______________________
Ways to Spark Trans Joy on College Campuses:
Create social events for trans people (not just support groups!). These should be fun and positive spaces! Specific discussions of transness are not required, sometimes that can be exhausting! Simply having a space for trans people to be themselves and meet other trans people with common interests can be enough!

Ideas: Gender-minority literary magazines, comedy groups, intramural sports teams, and pre-professional groups.

Creating social spaces for trans individuals to simply exist among a trans community can be vital in sparking trans joy.
_______________________
Share your Trans Joy with Campus Pride:
_______________________
Madison Greenstein (they/them) is a sophomore at Tufts University studying sociology. They are a 2023 Campus Pride Intern. Outside of school, they can be found playing guitar, hanging out with their dog, and doing crossword puzzles.