"I am giving $1000 and ask my fellow fraternity & sorority professionals to meet my match and give what they can $10, $50 or more."
_________________________
I'm a straight ally and a believer
and supporter of Campus Pride.
I regularly work with college students, especially ones who are in a fraternity or sorority. Whether you realize it or not a lot of our students are struggling with their identity and are in need of this kind of support.
That is why I am participating in the Campus Pride 30 Day Giving Challenge leading up to Giving Tuesday, December 2. Any dollar amount raised between now and December 2 will be matched up to $10,000.
I am giving $1000 and ask my fellow fraternity & sorority professionals to meet my match and give what they can $10, $50 or more.
Please join me in supporting Campus Pride's mission and supporting our students. Learn more online at CampusPride.org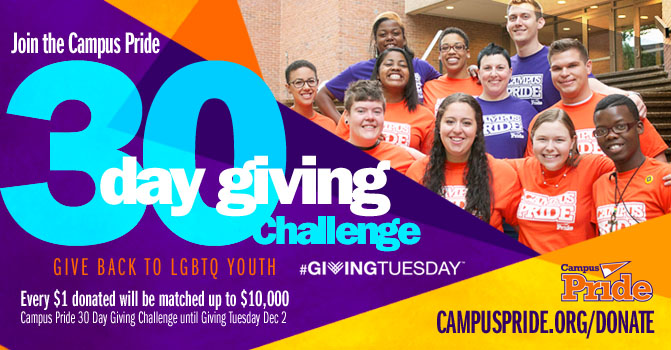 Campus Pride is the leading national educational organization for LGBTQ and ally college students and campus groups building future leaders and safer, more LGBTQ-friendly colleges and universities. The organization provides resources and services to thousands of college students and nearly 1400 campuses annually. Learn more online at CampusPride.org