According to stastics compiled by the Federal Bureau Of Investigations, educational institutions are the third most common place where reported hate crimes are committed. College campuses should be home to the free exchange of ideas and beliefs and they should welcome the differences that nationality, race, religion, sexual orientation, and gender bring to the community.
Our educational campaign is designed to prepare student leaders, faculty, administrators, and staff to create a safe campus where students can learn and staff can work. The work we do empowers campuses to promote the free expression of ideas and difference.
For more information about how create a safe campus, download our Fraternity & Sorority Action Guide here.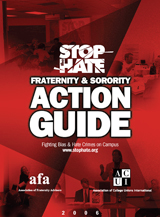 STOP THE HATE launches a national campus campaign to address issues of anti-gay hate and "internalized homophobia" through this public service announcement in collaboration with Campus Pride and Lambda10.org. The PSA has aired on MTVu to over 700 universities and 5.5 million viewers. The 30 second spot is available for free to download for usage on your college campus thanks to the generous support of TDA Advertising, Inc.