With improvements made across the country, for the first time ever, Campus Pride can assemble a list of the most welcoming places for trans students to go to college.
by Dr. Genny Beemyn and Shane Windmeyer, reprinted with permission from The Advocate (2012)
Transgender people within higher education continue to be an invisible, often forgotten community. Only about 10% of colleges and universities have trans-inclusive nondiscrimination statements. Research suggests that trans people face higher rates of harassment when compared to cisgender lesbian, gay, and bisexual people and are three times more likely to fear for their physical safety on campus.  In the last decade, however, a number of campuses have become stalwart leaders in creating trans-friendly policies, programs, and practices.
Campus Pride is proud to release this first-ever list of the "Top 10 Trans-Friendly Colleges & Universities" for students, faculty and staff.  The final top 10 list is based on the Campus Pride Index (www.CampusPrideIndex.org), which rates LGBTQ-friendly campuses across the country and our decade of research on LGBTQ issues.
These 10 colleges and universities have demonstrated their commitment to the trans community by implementing many trans-supportive policies, including adding "gender identity and/or expression" to their nondiscrimination policies; offering gender-inclusive bathrooms, locker rooms, and housing options; providing a means for trans students who have not legally changed their names or had gender confirmation surgeries to use a preferred name and to change the gender on campus records and documents; recognizing trans identities on campus forms; and covering hormones and surgeries for transitioning students as part of student health insurance.
Not surprisingly, the top 10 list favors large, public four-year colleges and universities in the Northeast and West Coast where there are more politically progressive and trans-visible areas.  Each college on the top 10 has a demonstrated commitment to providing resources and support to trans students.  The ultimate lesson to be learned from this top 10 list and the biggest commonality among the campuses is that "persistence pays off."  All of the colleges and universities listed have dynamic LGBTQ centers or resource offices, which are either directed by trans people or longtime trans advocates.  These administrators have worked diligently for years with students and other staff members to transform their campuses into welcoming and safer places for members of the trans community.  Let the collective work of these top 10 colleges be the measure for future trans progress for all colleges and universities.
Read the complete list in alphabetical order below.
Ithaca College
Ithaca, N.Y.
Campus Pride Index LGBTQ-Friendly Rating: 5 out of 5 Stars
Gender Identity/Expression Score: 5 out of 5 Stars
Although its LGBT center is only a decade old, Ithaca College (IC) has quickly become one of the best small colleges for trans people.  Since most students live on campus, housing is a critical concern, and Ithaca College offers both an LGBT residence hall community and a gender-inclusive housing option.  But IC has also instituted a special housing process, whereby a trans student can indicate the best living situation for them, and the college will seek to accommodate their request.  "We want to make sure our trans and genderqueer students are able to fully access all the housing opportunities that all our students have, and avail themselves of all Ithaca College has to offer," states Lis Maurer, the director of the college's LGBT center.  IC has further distinguished itself by establishing a speech pathology clinic in 2011 to assist both MTF and FTM trans people who are transitioning to have their voices sound more like other people of their gender.  The clinic is free to staff, faculty, and students.
New York University
New York, N.Y.
Campus Pride Index LGBTQ-Friendly Rating: 4.5 out of 5 Stars
Gender Identity/Expression Score: 4.5 out of 5 Stars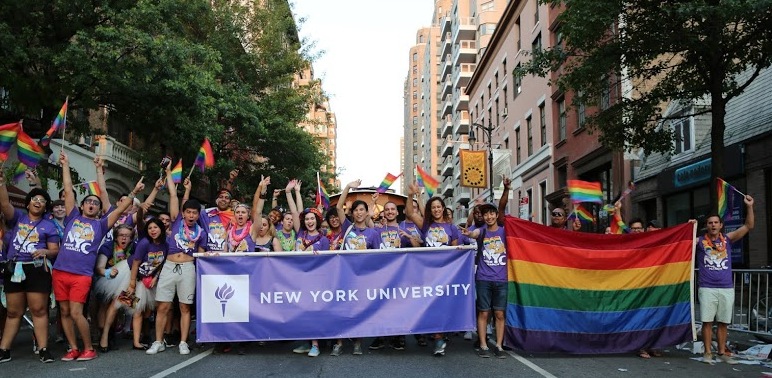 The "T-Party" means something very different at New York University (NYU) than it does elsewhere in the country. The T-Party is the university's trans student group, and it is just one of many opportunities available specifically for trans and ally students to be involved on campus.  NYU offers a Trans Awareness Week to call attention to the needs and experiences of trans people, as well as sponsors popular trans-focused social events like NY Drag U and the Gender Bender Ball.  Being in New York City, of course, also provides NYU students with a wealth of events and groups in which they can participate.  On the policy front, NYU has been a leader in creating accessible and supportive health-care services for trans students, which is detailed in a colorful brochure available on its LGBTQ Student Center's website.
Princeton University
Princeton, NJ
Campus Pride Index LGBTQ-Friendly Rating: 5 out of 5 Stars
Gender Identity/Expression Score: 4.5 out of 5 Stars
Princeton University has become known for offering a lot of trans-specific programming and incorporating the experiences of trans people into all of its LGBT programming and services.  The university has hosted the New Jersey Statewide Transgender Day of Remembrance service for more than a decade, and there have been ongoing collaborations between its LGBT Center and the statewide trans rights group for many years.  The university's administration has been very open to the needs of trans students, which included creating a workgroup to assist campus offices in developing best practices to support trans students.  In addition, Princeton has several faculty members whose teaching and research incorporates the experiences of trans people and trans theory.
University of California, Los Angeles
Los Angeles, Calif.
Campus Pride Index LGBTQ-Friendly Rating: 5 out of 5 Stars
Gender Identity/Expression Score: 5 out of 5 Stars
University of California, Los Angeles (UCLA) was among the first schools to cover hormones and surgeries for transitioning students under its student health insurance, and the university has developed an easy process for students to be able to access these benefits.  In the last three years, more than a dozen students have benefitted from this coverage.  The campus is also very accessible to trans students, with gender-inclusive athletic facilities and more than 120 gender-inclusive bathrooms.  UCLA's LGBT Campus Resource Center is now developing a mobile app for people to be able to find these bathrooms easily, and the campus transgender and gender-nonconforming student group is working on a needs assessment to ensure that the population is best being supported.
University of California, Riverside
Riverside, Calif.
Campus Pride Index LGBTQ-Friendly Rating: 5 out of 5 Stars
Gender Identity/Expression Score: 5 out of 5 Stars
Although often in the shadow of the larger, more well-known University of California schools, UC Riverside (UCR) is one of the country's most active colleges in educating the campus about trans people.  Through its LGBT Resource Center, UCR offers an ally training program specifically about the experiences of trans people, and it commemorates the Transgender Day of Remembrance through a series of posters displayed around campus that feature individuals who have been murdered because of their gender identity or expression.  Complimenting this effort, the center is currently developing a poster project of important living trans figures, with a focus on trans people of color.  In 2005, UCR was the first public college in the U.S. to offer gender-inclusive housing for both incoming and returning students.  This year, the college collaborated with eight other campuses to organize the country's first intercampus retreat for trans/genderqueer and gender-questioning college students, building on a highly successfully trans retreat at UC Irvine in 2011.
University of Massachusetts, Amherst
Amherst, Mass.
Campus Pride Index LGBTQ-Friendly Rating: 5 out of 5 Stars
Gender Identity/Expression Score: 5 out of 5 Stars
University of Massachusetts, Amherst, the largest campus in the UMass system, has changed dramatically since arch trans hater Janice Raymond was a member of its faculty in Women's Studies (among the changes, it is now Women, Gender, Sexuality Studies).  In the last five years, the university has gone from having almost no trans-supportive policies in place to being at the forefront of trans inclusiveness, including developing a policy that supports the participation of trans students in campus sports.  The Stonewall Center, the campus LGBT center, produces many resources for trans students, most notably a resource guide of area trans-supportive service providers — everyone from therapists and physicians to cosmetologists and attorneys.  UMass Amherst also created the country's first LGBT and ally residence hall community, which is marking its 20th year this fall.
University of Michigan, Ann Arbor
Ann Arbor, Mich.
Campus Pride Index LGBTQ-Friendly Rating: 5 out of 5 Stars
Gender Identity/Expression Score: 5 out of 5 Stars
In 1971, the University of Michigan became the first college in the country to establish an LGBT office, and the university continues to be a pioneer on trans support.  It was the nation's first to develop any easy process for trans students who want to use a name other than their legal first name on campus records, so that the students are not outed when a professor calls the roll or someone looks them up in an online campus directory.  Trans students are also visible on campus, which makes it easier for other trans students to identify openly, as well as helps educate cisgender people at Michigan.  "It is important to have out trans-identified students, faculty, and staff," states Jackie Simpson, director of the Spectrum Center, the campus LGBT center.  "This shows that the university is truly committed to this population, and ultimately requires that the university and campus community be responsive to their needs."
University of Oregon
Eugene, Ore.
Campus Pride Index LGBTQ-Friendly Rating: 5 out of 5 Stars
Gender Identity/Expression Score: 5 out of 5 Stars
While most schools are reactive to the needs of trans students and only take action when there is a problem, the University of Oregon reaches out to trans students and supports them without advocacy.  "Colleges have to lay the groundwork with policies, spaces, and community-building so that the environment is not a hostile space to folks who are differently gendered," says Chicora Martin, the director of the university's LGBT Education and Support Services Program, who has led the effort that has made Oregon one of the country's most trans-inclusive schools.  "Offices can't wait until trans students arrive to make it better."  Typical of the climate there, the rec center incorporated gender-inclusive locker rooms without Martin having to advocate for them.  Most buildings on campus have gender-inclusive bathrooms, and a new initiative will place signage below the gendered bathrooms directing individuals to the gender-inclusive ones.
University of Pennsylvania
Philadelphia, Pa.
Campus Pride Index LGBTQ-Friendly Rating: 5 out of 5 Stars
Gender Identity/Expression Score: 5 out of 5 Stars
Any discussion of the very best schools for trans students would have to include Penn.  Besides having all of the major trans-supportive policies and services in place, its LGBT Center has its own two-story building, a renovated 1870s carriage house.  The center not only hosts LGBT events, but many other campus activities, which contributes to an environment where trans students do not feel marginalized.  Unlike the situation at many campuses, identifying as trans at Penn is not a big deal and many cisgender people get it.  Being an urban, Ivy League school means that faculty members tend to have a basic knowledge of trans identities or are willing to learn.  In addition, Penn's student health service has many trans-aware staff members who work to ensure that trans students receive quality health care, and they and other people at Penn can take advantage of the Philadelphia Trans-Health Conference, one of the country's largest trans conferences.
University of Vermont
Burlington, Vt.
Campus Pride Index LGBTQ-Friendly Rating: 5 out of 5 Stars
Gender Identity/Expression Score: 5 out of 5 Stars
One would be hard pressed to find a more trans aware campus than University of Vermont (UVM).  Since the school added "gender identity/expression" to its nondiscrimination policy seven years ago, its LGBTQA Center has conducted "Trans 101" training sessions for many of the university's staff members.  The campus has also become more educated about the experiences of trans people through offering the Translating Identity Conference, a student-run trans conference that will be marking its tenth anniversary this fall.  In addition, UVM was one of the first schools to change to its management system software to enable students to use a name other than their legal first name on campus records, and the university offers their software solution for free to other schools with the same management system.
CAMPUS PRIDE is the leading national educational organization for LGBTQ and ally students and campus groups working to create safer, more welcoming colleges and universities.  Want to find LGBTQ-friendly colleges and universities?  Learn more online about Campus Pride (www.CampusPride.org) and the Campus Pride Index for LGBTQ-Friendly colleges and universities (www.CampusPrideIndex.org).
About The Authors
GENNY BEEMYN is on the advisory board of the Campus Pride Index and is part of the research team of Campus Pride's Q Research Institute for Higher Education. Beemyn has published and spoken extensively on the experiences and needs of transgender people, particularly the lives of gender-nonconforming students. Ze has written or edited eight books/journal issues, including special issues of the Journal of LGBT Youth on "Trans Youth" and "Supporting Transgender and Gender-Nonconforming Children and Youth" and a special issue of the Journal of Homosexuality on "LGBTQ Campus Experiences." Genny's most recent work, written with Sue Rankin, isThe Lives of Transgender People, which was published by Columbia University Press in November.
SHANE L. WINDMEYER, M.S., Ed., is a leading author on gay campus issues, national leader in gay and lesbian civil rights and a champion for LGBTQ issues on college campuses. He is cofounder and executive director of Campus Pride, the only national organization for student leaders and campus organizations working to create a safer college environment for LGBTQ students. Released Fall 2006 by Alyson Books, Windmeyer is the author ofThe Advocate College Guide for LGBT Students, the first-ever college guide profiling the "100 Best LGBTQ-Friendly Campuses." He is also the editor ofBrotherhood: Gay Life in College Fraternities and co-editor of the books Inspiration for LGBTQ Students & Allies, Out on Fraternity Row: Personal Accounts of Being Gay in a College Fraternity and Secret Sisters: Stories of Being Lesbian & Bisexual in a College Sorority.
Campus Pride 2013