Reprinted with permission. The Advocate, August 13, 2014
Just a few steps would make any campus a more welcoming place.
by Genny Beemyn
Let's face it: most colleges and universities do not do enough to support trans students. To their credit, more than 620 colleges have added "gender identity or expression" to their nondiscrimination policies. But beyond a nondiscrimination clause, few campuses have taken further steps to ensure that trans students do not experience institutional discrimination.
For a campus to be truly trans-inclusive, it must change policies and practices that exclude trans students or place them in unsafe or uncomfortable situations. This August, Campus Pride launched the Trans Policy Clearinghouse to identify trans-supportive policies and practices being implemented at colleges and universities across the country. It also provides resources to help students better advocate for trans-supportive changes at their colleges. The following six best practices come directly from research determining what campuses are doing to become more trans-friendly as well as from the detailed resource listing provided on the policy clearinghouse.
1. Gender-Inclusive Bathrooms
Colleges should create and publicize the location of gender-inclusive bathrooms — that is, restrooms available to people of all genders — in order to provide a safe, comfortable place for trans people to "pee in peace." At the University of Oregon, most buildings have gender-inclusive bathrooms, and a new initiative will place signage below the gendered bathrooms directing people to the gender-inclusive ones. Ithaca College has developed a mobile app for people to be able to find all-gender bathrooms more easily, while other colleges, including the University of California, Los Angeles; North Carolina State University; and the University of Minnesota, Twin Cities, offer an online map to trans-friendly campus bathrooms. To identify its inclusive bathrooms, Macalester College has created signage that uses an image of a toilet rather than the gender binary of male and female stick figures: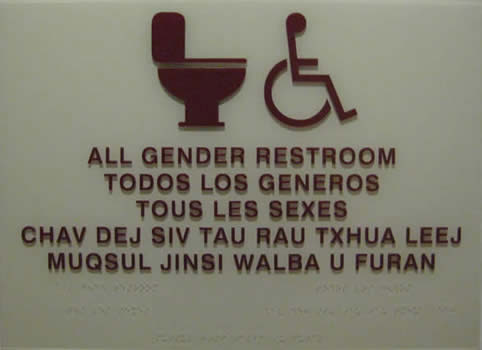 2. Gender-Inclusive Housing
Along with safe bathrooms, trans students need a welcoming place to live. Currently, more than 120 colleges offer a gender-inclusive housing option, in which students can choose to live with other students of any gender on campus. This option should be open to both incoming and returning students and offered in different parts of campus and, if possible, in all types of housing. Gender-inclusive housing should also be separate from an LGBTQ-themed floor or living community, as not all trans students identify as lesbian, gay, bisexual, or queer, and would feel at home in such an environment. Ithaca College, for example, offers both LGBTQ and gender-inclusive floors, and encourages trans students to live anywhere on campus through a special housing process. In this way, trans students can choose their best living situation, such as a single-sex floor, a first-year residence hall, or a living-learning community for students in their major, and need not be separate from other students. Similarly, Amherst College makes gender-inclusive housing available in all residence halls.
3. Hormone and Gender-Affirming Surgery Coverage
With more and more youth coming out publicly as trans, those who want to modify their bodies through hormones and surgery are often looking to do so in college. Colleges need to remove the standard clause that excludes coverage for transition-related expenses in student health insurance policies and add language that provides coverage for mental health care, hormones, and surgery for trans students without a cap. More than 40 colleges currently offer such coverage, including Emory University, where students have been able to see both in-network and out-of-network providers, including some of the country's leading trans health care specialists, without a coverage limit. Other colleges that provide gender-affirming surgeries with no annual or lifetime cap include UCLA and Pennsylvania State University.
4. Name and Gender Change on Records and Documents
Trans students who go by a name other than their legal one should be able to use that name on college documents, such as course and grade rosters, online directory listings, unofficial transcripts, and ID cards. Otherwise, the student is at risk of being outed as trans. Students should also be able to easily change the gender marker on college records, so that they are recognized as the gender with which they identify in choosing housing, joining fraternities and sororities, and participating on intramural teams, or other situations where gender might come into play. Currently, 70 colleges offer a non-legal name option, and more than 40 will change the gender maker on internal student records without requiring evidence of medical intervention. The University of Vermont was one of the first schools to change to its management system software to enable students to use a name other than their legal first name on campus records, and the university offers the software it developed for free so that other colleges can follow its example and not be deterred by the expense. The school also allows students to specify the pronoun they use, which will appear on class rosters and adviser lists. Students can choose from "she," "ze," "he," and "prefer name only." At Princeton University; the University of Texas, Austin; the University of Minnesota, Duluth; and the University of California, Riverside, students can change the gender on their campus records simply by requesting it; they do not need to provide supporting documentation or have changed the gender on other forms of identification first. Case Western Reserve University allows students not only to change their gender marker but also to choose "other" instead of just "male" or "female."
5. Gender-Inclusive Recreational Facilities and Intramural Sports
Trans students should have safe and convenient access to bathrooms and locker rooms in rec centers and other athletic facilities and have the right to participate in intramural and rec sports programs in keeping with their gender identity. Miami University of Ohio has a model policy, which states that trans individuals "shall not be forced to use the locker room corresponding to their gender assigned at birth" but be able to use "accommodations that best meets the needs and privacy concerns of all involved." Miami University as well as Bates College, Emory University, the University of Vermont, and the University of Massachusetts, Amherst, have policies that allow trans students to compete in intramural sports in accordance with their gender identity.
6. Educating About Trans People
Students, staff, and faculty are generally much less aware of the experiences of trans people than they are of cisgender LGB people. As a result, colleges should develop trans-specific ally trainings and programs and not just rely on an LGBTQ Safe Space or Safe Zone programs to address the educational needs of the campus community. For example, the University of California, Riverside, has created an additional Trans Allies Safe Zone Seminar for individuals who have attended an LGBTQ allies training session to learn more about supporting trans people. The University of Illinois at Chicago offers a Safe Zone certificate, which individuals can earn after attending four trainings, one of which is "Transgender Safe Zone 102," a session that provides a more in-depth discussion of trans communities and experiences.
GENNY BEEMYN is the director of the Stonewall Center at the University of Massachusetts, Amherst, and the coordinator of Campus Pride's Trans Policy Clearinghouse. For more information and resources, please visit the Campus Pride Trans Policy Clearinghouse at CampusPride.org/TPC.