Campus Pride announces the 14th annual Camp Pride Summer Leadership Academy will now be conducted online with a digital three-day livestream on  Friday, July 24, Saturday, July 25 and Sunday, July 26, 2020.  This year Campus Pride is offering the first 100 registrants free access to the private livestream. Others may watch across Campus Pride's social media channels in a limited capacity.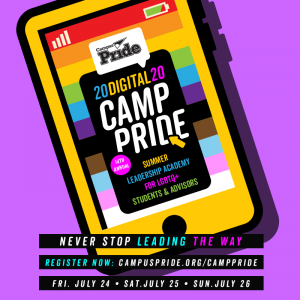 ___________________________

Full and partial scholarships are available on a limited-bases. Scholarship recipients will be selected starting in April and then on a rolling-basis thereafter. Applicants who have  registered and paid will be refunded any scholarship monies if selected for a scholarship. Due to a limited capacity, we do encourage you to register ASAP. Campus Pride seeks a diverse cohort of student leaders/advisors and these scholarships assist in this commitment across race, sexual orientation, gender identity/expression, socio-economic and geographical boundaries.
Please Note: Campus Pride has general scholarships for everyone. We also have donors and funders who support our efforts for outreach and diversity to ensure representation of specific communities and identities, please check ALL that apply to you. This information will NOT be shared with your name/identity beyond this application for any other purpose. You do NOT have to check anything that you do not feel comfortable sharing on this scholarship application. These questions do not reflect an exhaustive list of identities or communities. Our priority is to create a diverse LGBTQ and ally movement and we add to this list every year. Please send your ideas and suggestions to info@campuspride.org along with any donors or funders to provide more scholarships. Thank you.
Scholarship Application
Learn more about Camp Pride & Advisor Academy on the Camp Pride details page.