#AskMe is a video collaboration asking LGBTQ students directly what they want and need on campus.   
The #AskMe video doc is competing for the People's Voice Webby under the "News & Politics: Individual Episode" category.  The doc was produced by The Chronicle of Higher Education featuring voices of LGBTQ college students from across the country. The video was produced in collaboration with Campus Pride during their 9th annual Camp Pride Summer Leadership Academy with video journalist Julia Schmalz.
"Plea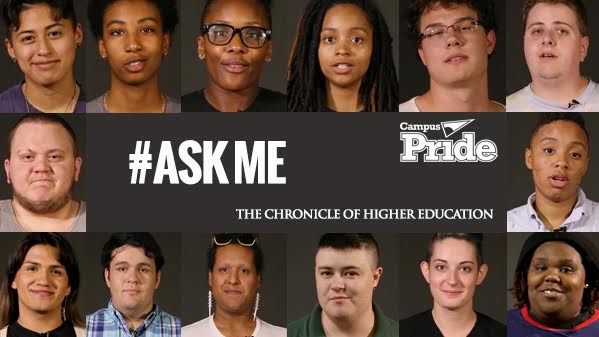 se vote for LGBTQ youth to win this Webby!  The #AskMe video doc is an excellent teaching tool and resource for campuses, representing a diversity of the voices from our LGBTQ college students attending Camp Pride," said Shane Windmeyer, executive director of Campus Pride. "It is the responsibility of all colleges to create a safe learning environment for every student. We must do better."
Please take a few minutes and VOTE NOW! Tell your friends!