Campus Pride & Faith in America share this Holiday letter to create dialogue this Christmas around faith and being LGBTQ with your family
The Holidays are coming, finals are almost over and you're about to head home for winter break. There can be some anxiety around going home for the holidays if you're going to a home that isn't welcoming for you because of your sexual orientation or gender identity.
Sometimes the gift we want from our family is one that takes more than time. It takes an awareness and knowledge of who we are and, for those who have families of faith and religion, it takes an understanding of how our faith impacts us.  Campus Pride and Faith in America offers this tool for Christian youth to help engage family and loved ones in a meaningful conversation around faith and being LGBTQ this Christmas.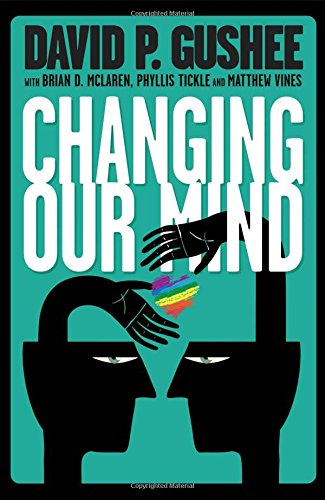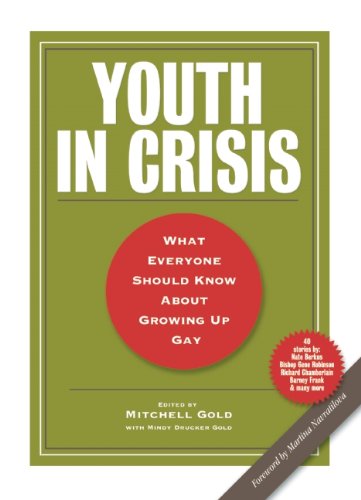 This  letter offers a way to dialogue with your family or loved ones by asking them to read these 2 books, which we highly recommend for Christian families of LGBTQ youth.  The letter is designed to spark understanding and love for families with a Biblical foundation and an inclusive faith teaching. The first book, "Changing Our Mind" written by Rev. David Gushee declares that homosexuality is no longer a sin and shares the teachings of the Bible to understand contextually how LGBTQ people are fully loved – and who we are is not a sin. The second book, "Youth in Crisis: What Everyone Should Know About Growing Up Gay" written by Mitchell Gold includes forty stories from LGBT youth and adults. Each story shares the negative harms and turmoil resulting from religion-based bigotry.
First, we encourage you to read these books.  We believe they hold tremendous opportunity to create dialogue to open hearts and change minds.  Then write a letter (like this one) and give the books as a personal gift to your family and loved ones this Christmas. Ask your family and loved ones to read the books as a gift to you this Christmas to bring further understanding between fundamental Christian ideals and the realities of LGBTQ identities.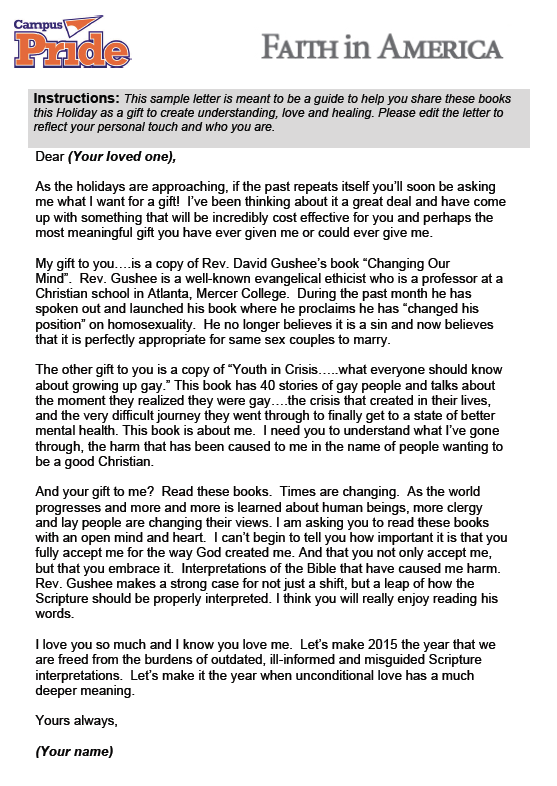 Download the letter and tailor it to your own voice, identity and family structure and gift it along with the books "Changing Our Mind" and "Youth in Crisis: What Everyone Should Know About Growing Up Gay." Our hope is that you will begin a new conversation with your family, or continue ongoing dialogue, in a way that can bring love, understanding and healing.
You can purchase copies of the books "Changing Our Mind" and "Youth in Crisis: What Everyone Should Know About Growing Up Gay" on Amazon and Barnes and Noble.
Visit Faith in America to view more resources on LGBTQ and faith. If you are looking for further resources or if you are in need of financial assistance to obtain copies of the books, please email info@campuspride.org.
Campus Pride is the leading national educational organization for LGBTQ and ally college students and campus groups building future leaders and safer, more LGBTQ-friendly colleges and universities. The organization provides resources and services to thousands of college students and nearly 1400 campuses annually. Learn more online at CampusPride.org.
Faith In America educates the public about the harm caused to gay Americans and works to eliminate the oppression and resulting harm of religion-based bigotry. Learn more online at FaithinAmerica.org