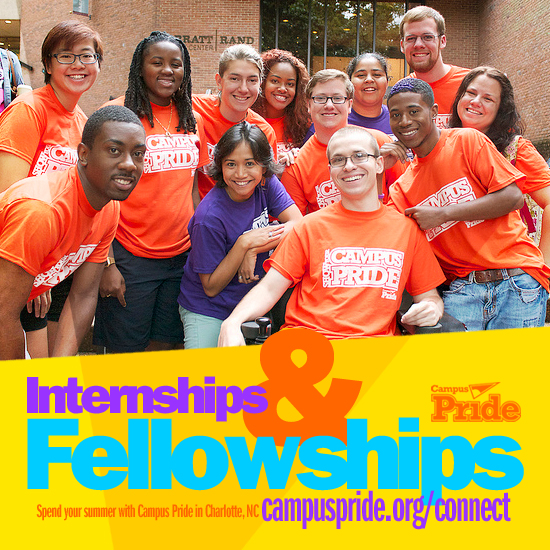 WE ARE NOT ACCEPTING APPLICATIONS FOR SUMMER FELLOWS AT THIS TIME.  HOWEVER, WE ARE HAVING NON-PAID REMOTE INTERN OPPORTUNTIES.  APPLY FOR INTERNSHIP.
_____________________________________
Campus Pride seeks college students with a desire to learn more about campus organizing and social justice issues to work as Summer Fellows in our home office based in Charlotte, NC. Summer Fellows have many opportunities to observe and participate in substantive work and develop resources to support student leaders across the United States.
The Campus Pride Summer Fellowship will run from Monday, May 20 through Monday, August 19 approximatley. You will be expected to relocate to Charlotte, NC where you will be placed in housing near the Campus Pride office. You will be expected to arrange your own transportation to and from the office Monday through Friday. For questions please email Campus Pride.

Submit Your Application
1 cover letter detailing your interest and qualifications
1 professional resume
Recommendations
Summer Fellow Details:
40 hours/week
Works from the office in Charlotte, NC.
Requires strong writing, editing, and communication skills, as well as adaptability, self-motivation, and knowledge about the various Campus Pride programs.
Monthly stipend with shared host housing.
Vehicle is necessary for transportation.
Summer Fellow responsibilities include:
Special project work based on organization priorities.
Assisting the Programs Manager and staff with the daily operations of the office, including email and phone correspondence (including checking voicemail).
Preparing for Camp Pride summer leadership camp in July.
Updating web pages and social media websites.
Writing and editing blog pieces.
Contacting potential advertisers, sponsors, and donors.
Planning Campus Pride programming for the upcoming academic year.
Working with staff to coordinate interns and volunteers.
In charge of long-term projects related to Campus Pride programs such as the LGBTQ-Friendly College Fairs, Stop the Hate program, Camp Pride, the Campus Pride Index, Lambda 10, Speakers Bureau, etc.
Attends and supports Camp Pride in a to be determined capacity.
Attends annual Board of Directors meeting and monthly conference calls
Summer Fellows receive a monthly stipend of $650 pro-rated per month plus host housing accommodations. It is mandatory that Summer Fellows have transportation. Food is not provided.

---
PAST SUMMER FELLOWS
2017 Campus Pride Summer Fellow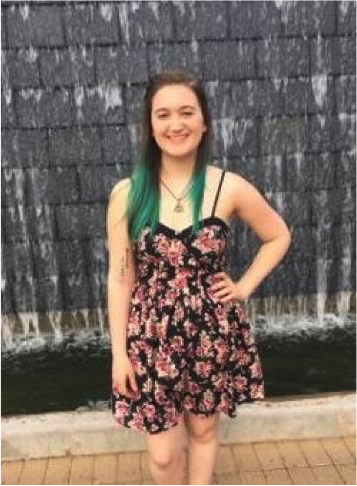 Elizabeth Ponds (she/her/hers) is a 21-year-old biromantic, asexual female who just graduated from Winthrop University in Rock Hill, SC.
She received a Bachelor's degree in English – Creative Writing with a minor in International Studies. She made the most of her three years at Winthrop by joining Winthrop's LGBTQ organization GLoBAL, editing and writing for Winthrop's newspaper The Johnsonian, and studying abroad in Ireland for a semester.
As a senior at Winthrop, Elizabeth was president of GLoBAL. She worked to create a supportive, intellectual environment for LGBTQ students in weekly meetings while raising awareness of lesser known LGBTQ issues and identities through educational events like a Queer People of Color panel, an Asexual and Aromantic panel, an Intersectionality panel, and Transgender Talks. Through working with her fellow queer folk, Elizabeth has realized her love of listening to people's diverse stories and helping them work through difficulties on their way to self-love and empowerment.
Because of this, she plans to get her master's in counseling and then work with LGBTQ youth through high schools or nonprofit organizations. As a creative writer, she is passionate about the power of literature to effect social justice, so publishing her creative nonfiction stories is a future goal as well. She is overjoyed to have the opportunity to work with Campus Pride this summer so that she can develop her activism and leadership skills while she learns how a nonprofit really works.
2016 Campus Pride Summer Fellows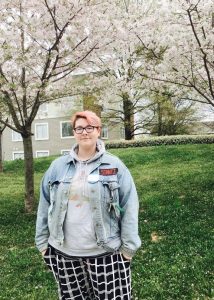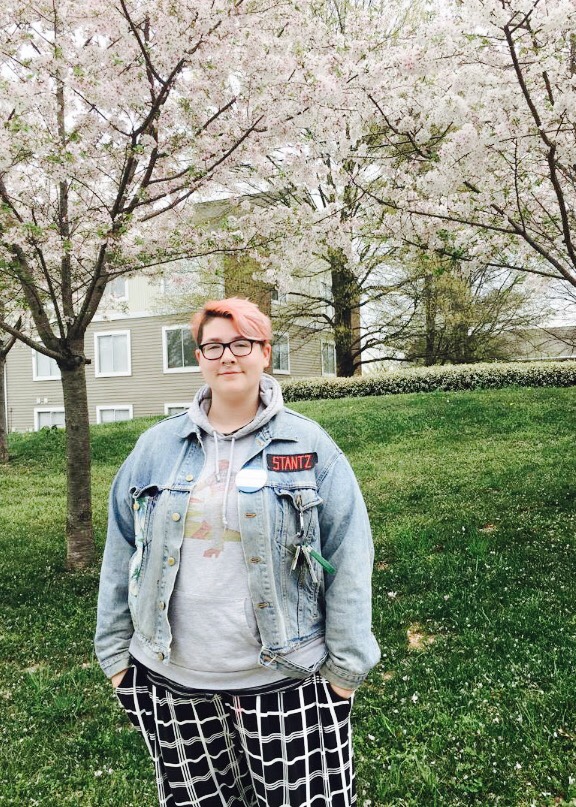 Jesse "Howie" Howie (they/them/theirs) is a 20 year old, agender, and asexual student leader. They are a Charlotte native currently studying Sociology with minors in Women's and Gender Studies and Film Studies at the University of North Carolina at Charlotte. They were an integral part of UNCC's trans support group, Trans'port, before it disbanded in 2015. They plan to restructure the club for the fall and partner with UNCC's LGBT+ group, Spectrum. Howie is passionate about inclusivity in Student Affairs and is currently a Resident Advisor at UNCC. They're extremely active in Housing and Residence Life and before becoming an RA they worked in orientation, where they came out to every incoming freshman at UNCC, insuring that the first face they saw on campus would be a queer one.
In April, Howie was featured in a Charlotte Observer article concerning HB2 and how it affects North Carolinian trans college students. They are a vocal trans activist who strives to inform and educate. They're thrilled to be working with an organization that's based in their hometown that has the same mission as them, to educate queer student leaders, and provide a safe and uplifting space for growth. Last year they attended Camp Pride as a camper and gained a passion for Campus Pride. They're thrilled and motivated to be working with Campus Pride this summer and especially as a bridge builder between the organization and their institution.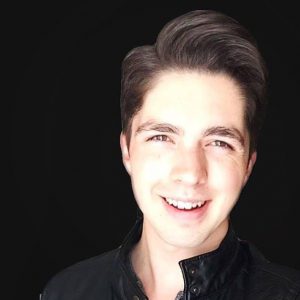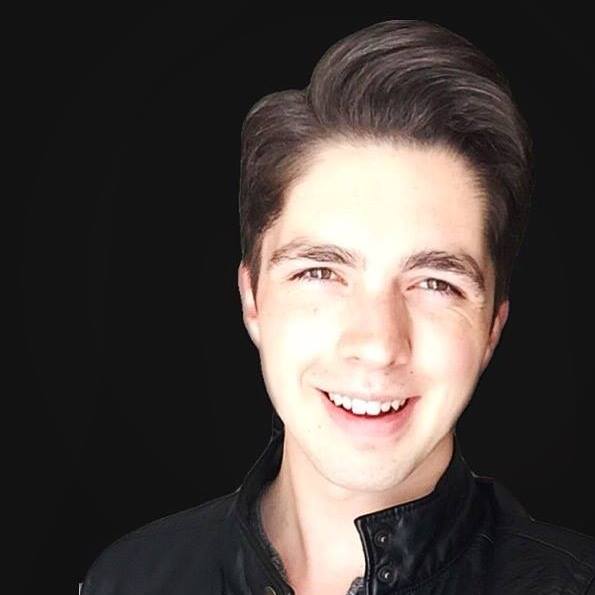 Spencer Spotts (they/them/theirs) is a rising senior at Colorado College where they are a Feminist and Gender Studies major with a minor in Race, Ethnicity, and Migration Studies. Spencer works on campus in both the Residential Life Office and the Office of Admission which has allowed them the platform to change multiple on-campus programs and policies affecting prospective and first-year students, particularly in regards to trans-inclusive housing, restrooms, and other campus facilities. They also work on projects through various organizations and offices to address the experiences of LGBTQ students who are at risk of losing housing, financial stability, and safety as a result of their identity and experiences at home and in their communities.
Spencer's main personal and professional interests exist at the intersection of LGBTQ identities and public health, particularly sexual health and anti-violence efforts. They lead peer-to-peer queer sexual education programs on their campus and work to create more nuanced conversations around the experiences of queer and trans survivors of sexual and intimate partner violence. After graduation, Spencer plans to pursue a Master's degree in either Community Health Education or Social Work in order to better serve survivors of sexual and intimate partner violence that are queer/trans identified, living with HIV, and/or currently engaged in sex work. They are ecstatic about spending the summer in North Carolina with the Campus Pride team and attending Camp Pride for the first time in July.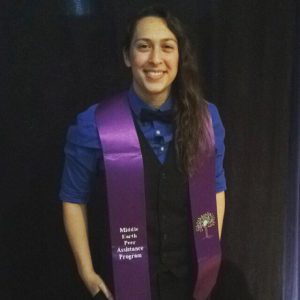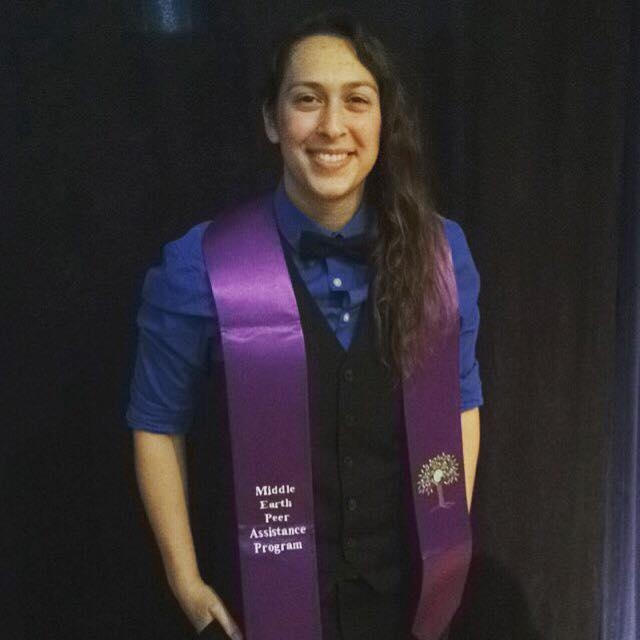 Lisa Warner (she/her/hers) is a recent graduate from the University at Albany in Albany, NY. She received a Bachelor of Arts in Sociology. During her college career, Lisa has held many leadership roles and positions. She interned for her university's Gender and Sexuality Resource Center and Hillel and succeeded in bridging together the LGBTQ and Jewish Community. She was also a head committee member for the Northeast LGBT Conference hosted at the University at Albany in 2015. She was a peer assistant hotline counselor for her university's Middle Earth Peer Assistance Program and later held a position on the organization's Executive Board as the Chair of Diversity and Equity. In this position, Lisa created interactive programs for youth at the local Jewish Community Center around self-image and initiated the process of working with the university to create a gender inclusive bathroom in both the Middle Earth Peer Assistance Program and Sexual Advocacy Center space.
She was selected to be a student representative for the 33rd Annual Sexuality Month Planning Committee and the President's Advisory Council on the Prevention of Alcohol and Other Drug Use and Related Risk Behaviors. Lisa received the Unsung Hero Award at her university's lavender graduation for her tremendous and unwavering commitment to gender and sexuality diversity at UAlbany and its impact on intersecting identities, as well as the President's Award for Leadership for her significant contributions to the quality of student life on campus. Lisa is extremely excited to be working as a Campus Pride Summer Fellow and to meet other people who share a similar passion for social justice.
Learn more about becoming a Campus Pride Summer Fellow and about previous Summer Fellows.
2015 Campus Pride Summer Fellows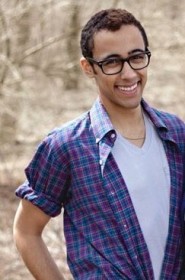 Tyler is a senior Interpersonal Communication major at Illinois State University with a plan to start working on his Master's degree in the Fall. Apart from his internship with ISU's School of Communication's Promotions and Development team, Tyler held the role of Director of Programming and Logistics for the 2015 Midwest Bisexual Lesbian Gay Transgender and Ally Collegiate Conference (MBLGTACC), the largest collegiate LGBTQIA conference in the nation. Tyler has a strong passion for social justice action and organizing with experience in event planning, programming, and volunteer coordination.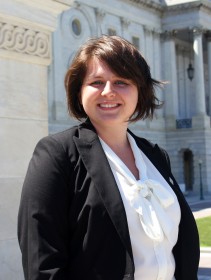 Allison Marie Turner is a recent graduate from the University of North Carolina in Chapel Hill. She received a Bachelor of Arts in Journalism and Mass Communication and a Bachelor of Arts in Women's and Gender Studies. She is a longtime member of a student activist organization, Feminist Students United, and was a co chair for the organization during her senior year. As co chair of Feminist Students United, Allison increased the presence of the organization substantially by implementing event series such as No Shame November. The series of events were focused on self-love and positivity and teaching the university communities about feminism and intersectionality.
2014 Summer Fellows

H. M. Finn Barton is a recent graduate from the University of South Carolina in Columbia, SC. He received a Bachelor of Arts in Media Arts. While attending the University, Finn held many leadership roles on campus. During his Senior year, Finn was the Logistics Director for the Bisexual Gay Lesbian Straight Alliance Board of Directors, Secretary for the Residence Hall Association Executive Board, and a member of the Sodexo Student Board of Directors. Finn was also involved in the Columbia community as a member of the Columbia Area Jaycees. His hard work and dedication within the Housing department and the Residence Hall Association lead to his induction into the University of South Carolina Hall of Leaders, which inducts less than 15 students per year. Finn became involved with Campus Pride in December 2013 as a Media Production Intern and is excited to be continuing media production as a Media Production Fellow for Campus Pride through the summer. Finn was later hired as the Campus Pride Programs & Administrative Assistant. Finn believes in bettering our world for those who will come after us and plans to use his skills with media and passion for LGBT equality to do so.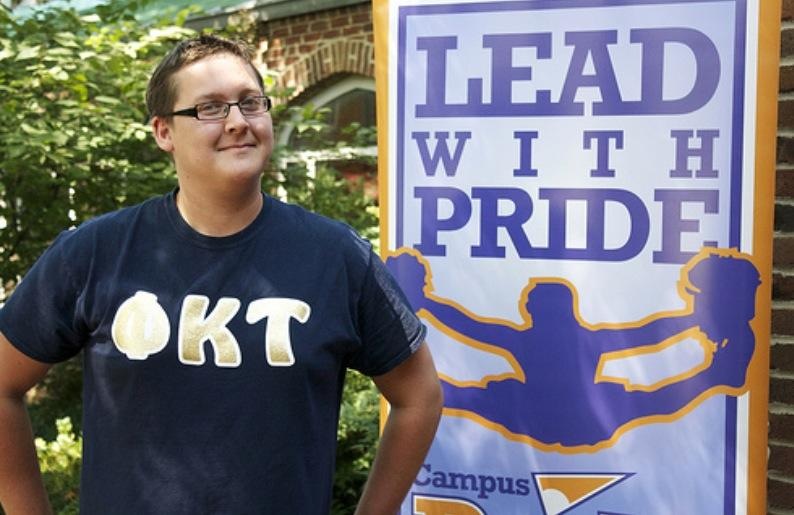 D. Andrew Porter is soon to graduate from Murray State University with a Bachelors of Integrated Science degree in Nonprofit Leadership and Human Service. Currently he serves as an intern for the Office of LGBT Programming where he is the student coordinator for Murray State University's Out Racers Program; a grassroots leadership development effort of LGBTQ and Ally leaders to better advocate for social change and equality.  During his undergraduate career, Porter has held many leadership roles within the Gay-Straight Alliance, his fraternity Phi Kappa Tau, university housing, student government, campus activities, freshmen orientation, and other student diversity offices.D. Andrew is ambitious, civic-driven, and passionate about social justice issues. Since attending Camp Pride in 2013 he has stayed involved with Campus Pride by serving as a liaison for Vanderbilt's Out in Front conference and a member of the planning committee for the 2014 Out and Greek conference. After graduation D. Andrew plans to pursue a career in nonprofit development and wants to eventually become an executive director of a nonprofit that works with leadership development and social justice issues. When he is not working or advocating, D. Andrew attempts to maintain a social life with close friends and a variety of hobbies.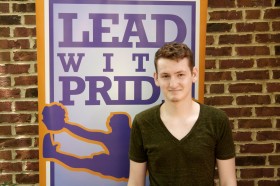 Andrew Salman is a fifth year undergraduate student at Western Kentucky University in Bowling Green, KY pursuing Political Science and Biology degrees with an emphasis in Citizenship and Social Responsibility.  He first got involved in Campus Pride as an attendee to Camp Pride in 2013, while serving as president of the university's only queer group, Student Identity Outreach, and as an organizer for the statewide Fairness Campaign and ACLU-KY.Coming from a rural and military background, his focuses in queer advocacy include fostering institutional support for inclusive communities and confronting queer bashing on college campuses.  Andrew also has a strong interest in promoting understanding for non-binary gender, sexual, and romantic identities both within and outside queer spaces.  He has an essay on his own non-binary queer identity published in Rec*og*nize: The Voices of Bisexual Men (2014).Andrew's passions include environmentally sustainable urban communities and he wrote his thesis on the Office of Sustainability's work remodeling a campus building.  He has also taught classes and created service learning projects to engage and educate his peers about the effects of nationality and class on the level of food security in Bowling Green, KY's international refugee resettlement program.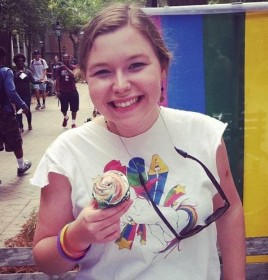 Isabel Williams is a rising senior at the College of Charleston majoring in Political Science and minoring in Spanish. She works as the student intern for the SafeZone program at her school in which capacity she has worked on an extensive audit of the College's restrooms in order to re-sign, create, and maintain gender neutral bathrooms on campus and led the organization of the first-ever Spring 2014 Lavender Ceremony for LGBTQ and Ally Graduates.She currently serves on the Gender Neutral Housing Task Force with Residence Life and is a Board Member of the newly created Gender and Sexuality Equity Center at the College of Charleston. Isabel is the president elect of the College of Charleston Gay-Straight Alliance for the 2014-2015 school year where she has served as Secretary from 2012-2014. Isabel's goal as an openly bisexual young woman born and raised in Charlotte NC is to empower schools and universities to support LGBTQ students in her home city, in the South, and across the country.Her efforts to improve access to a safe and fun campus for all students stems from her firm beliefs in the value to respecting and celebrating the intersectionality of all people. She is excited to spend the summer back in the Charlotte scene amongst some of her favorite restaurants, thrift shops, art locales, cats, and people. Isabel is also excited ("pumped") to be working to empower student leaders as a Campus Pride Summer Fellow and absorb the immense knowledge of the Campus Pride team like a sponge!
2013 Summer Fellows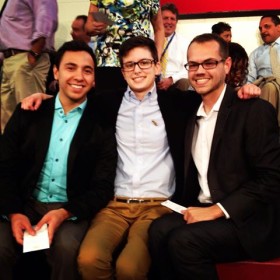 Gonzalo Agudelo graduated from UNC Charlotte in May 2013 with a Bachelors of Science degree in Meteorology from the University of North Carolina at Charlotte. During his undergraduate career, Gonzalo developed and invested his involvement with several student organizations. Having a strong passion for the sciences as well as LGBTQ issues, Gonzalo created gained leadership experience through UNC Charlotte Pride and the Student Organization of Meteorology (STORM). In addition his work on campus, Gonzalo volunteered his time to Campus Pride as a panelist and liaison at the 2012 Out to Innovate conference at The Ohio State University. Out to Innovate brings together LGBT students and professionals in STEM (Science, Technology, Engineering and Math) for a career summit, diversity training, mentoring, and other career-building opportunities. He also attended the 2012 Campus Pride & HRC Carolinas College Summit to network with other college students in the region, learn more about LGBT campus resources, and develop leadership skills. Gonzalo is eager to continue learning about Campus Pride resources and programs to share with others as a Summer Fellow.
Matthew French is a current graduate student at Old Dominion University in Norfolk, VA, in the Lifespan and Digital Communication Masters Program. A native of Pocahontas, VA, set in the foothills of the Appalachian Mountains, he has been living in Norfolk for the past six years. Since his time there he has been involved in many LGBTQ organizations at ODU and in the surrounding Hampton Roads area. His main philosophy in advocacy and activism is to create a common bond amongst those with different views/opinions and to build from those commonalities in order to create change. Through his experiences of coming from a rural town of less than 500 people, he knows that no matter the location there are always people who love and accept others for whoever they are. The support from his family and friends in his hometown has been a driving force behind his LGBTQ activities and advocacy. Matthew's interests include volunteering, comics, Lucille Ball and documentaries. He hopes to work as an LGBTQ Coordinator or at an LGBTQ Center on a university/college campus.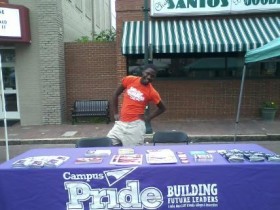 Romeo Jackson is a third year undergraduate student at Northern Illinois University pursuing a Bachelors of Fine Arts in Theatre Technology and Design.  Romeo's passions include intersectionality and Trans* equality, and he hopes to change the world one day. Romeo also likes to identity as that crazy feminist down the street which Romeo hopes only grows as he interns with Women's Resource Center this fall. Romeo participated in Campus Pride's Summer Leadership Camp in July 2012. Romeo's love for change began two years ago when he started college at NIU. Over the past two years, Romeo has served as Fundraising Chair, Community Liaison/Outreach Coordinator, and will serve as Vice President of Programming for Prism (his campus LGBTQ organization) this upcoming year. He also serves on the Presidential Commission on Sexual Orientation and Gender Identity and works for NIU's LGBT resource center as Coordinator for Straight Talk Speakers Bureau. In all these positions, Romeo always tries to being inclusive of queer people of color and Trans* folks, bringing them to the front of the conversation. This year Romeo co-presented a program at Creating Change titled "Beyond Outreach: Building Bridge with Queer Students of Color," and it was one of many highlights for Romeo this year. Romeo would like to leave you with this advice; find what pisses you off in the world and fight like hell to change it.
2012 Summer Fellows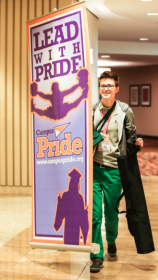 Jess McDonald graduated from Elon University in May 2012 with degrees in Sociology and History and a minor in Women's/Gender Studies. They grew up in the small town of Morehead City, North Carolina, and first got involved with Campus Pride as a Camp Pride attendee in 2010. On campus, Jess was the president of Elon's queer-straight alliance (Spectrum), student representative on the Sexual Assault and Gender Issues Council, and student assistant for the LGBTQ Office Coordinator. Jess played an important role in bringing the first ever LGBTQ Office to Elon,which opened in August 2012. While at Elon, Jess also wrote a thesis on the history of LGBTQIA student organizations, focusing on the universities with the oldest groups in NC – Duke University and UNC-Chapel Hill – and collecting oral history interviews with queer alumni. Jess currently serves as Campus Pride's Media, Communications & Programs Manager and will be pursuing a Masters of Education in Social Justice Education at the University of Massachusetts Amherst beginning in September 2013.