Apply Now
Campus Pride seeks college students with a desire to learn more about campus organizing and social justice issues to work as Summer Fellows in our home office based in Charlotte, NC.  Summer Fellows have many opportunities to observe and participate in substantive work and develop resources to support student leaders across the United States.
Please submit a cover letter (detailing your interest and qualifications), a professional resume and two letters of recommendations. These materials should be sent in one email to the Campus Pride Executive Director Shane Windmeyer at shane@campuspride.org. Deadline for consideration is Friday, March 21, 2014. Individual selected will be notified by April 4, 2014.  The Summer Fellowship goes from the week of May 12 through August 15, 2014.
Summer Fellow Details:
30-40 hours/week
Position responsibilities include assisting the Executive Director and staff with the daily operations of the office, including email and phone correspondence (including checking voicemail); preparing for Camp Pride summer leadership camp in July; updating web pages and social media websites; writing and editing blog pieces; contacting potential advertisers, sponsors, and donors; planning Campus Pride programming for the upcoming academic year; working with staff to coordinate interns and volunteers; and other assorted duties as needed.
In charge of long-term projects related to Campus Pride programs such as the LGBT-Friendly College Fairs, Webinar Series, Stop the Hate program, Camp Pride, the Campus Pride Index, Lambda 10, Speakers Bureau, etc.
Attends Camp Pride (July 15-20) as a staff person handling camp logistics (room prep, food, transportation, etc).
Attends annual Board of Directors meeting and monthly conference calls
Works from the office in Charlotte, NC.
Requires strong writing, editing, and communication skills, as well as adaptability, self-motivation, and knowledge about the various Campus Pride programs.
$650 month stipend with shared host housing; vehicle is necessary for transportation.
2013 Summer Fellows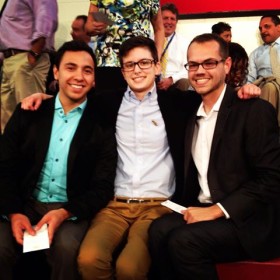 Gonzalo Agudelo graduated from UNC Charlotte in May 2013 with a Bachelors of Science degree in Meteorology from the University of North Carolina at Charlotte. During his undergraduate career, Gonzalo developed and invested his involvement with several student organizations. Having a strong passion for the sciences as well as LGBTQ issues, Gonzalo created gained leadership experience through UNC Charlotte Pride and the Student Organization of Meteorology (STORM). In addition his work on campus, Gonzalo volunteered his time to Campus Pride as a panelist and liaison at the 2012 Out to Innovate conference at The Ohio State University. Out to Innovate brings together LGBT students and professionals in STEM (Science, Technology, Engineering and Math) for a career summit, diversity training, mentoring, and other career-building opportunities. He also attended the 2012 Campus Pride & HRC Carolinas College Summit to network with other college students in the region, learn more about LGBT campus resources, and develop leadership skills. Gonzalo is eager to continue learning about Campus Pride resources and programs to share with others as a Summer Fellow.
Matthew French is a current graduate student at Old Dominion University in Norfolk, VA, in the Lifespan and Digital Communication Masters Program. A native of Pocahontas, VA, set in the foothills of the Appalachian Mountains, he has been living in Norfolk for the past six years. Since his time there he has been involved in many LGBTQ organizations at ODU and in the surrounding Hampton Roads area. His main philosophy in advocacy and activism is to create a common bond amongst those with different views/opinions and to build from those commonalities in order to create change. Through his experiences of coming from a rural town of less than 500 people, he knows that no matter the location there are always people who love and accept others for whoever they are. The support from his family and friends in his hometown has been a driving force behind his LGBTQ activities and advocacy. Matthew's interests include volunteering, comics, Lucille Ball and documentaries. He hopes to work as an LGBTQ Coordinator or at an LGBTQ Center on a university/college campus.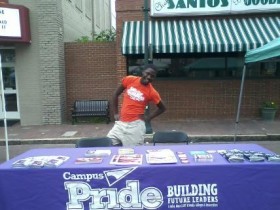 Romeo Jackson is a third year undergraduate student at Northern Illinois University pursuing a Bachelors of Fine Arts in Theatre Technology and Design.  Romeo's passions include intersectionality and Trans* equality, and he hopes to change the world one day. Romeo also likes to identity as that crazy feminist down the street which Romeo hopes only grows as he interns with Women's Resource Center this fall. Romeo participated in Campus Pride's Summer Leadership Camp in July 2012. Romeo's love for change began two years ago when he started college at NIU. Over the past two years, Romeo has served as Fundraising Chair, Community Liaison/Outreach Coordinator, and will serve as Vice President of Programming for Prism (his campus LGBTQ organization) this upcoming year. He also serves on the Presidential Commission on Sexual Orientation and Gender Identity and works for NIU's LGBT resource center as Coordinator for Straight Talk Speakers Bureau. In all these positions, Romeo always tries to being inclusive of queer people of color and Trans* folks, bringing them to the front of the conversation. This year Romeo co-presented a program at Creating Change titled "Beyond Outreach: Building Bridge with Queer Students of Color," and it was one of many highlights for Romeo this year. Romeo would like to leave you with this advice; find what pisses you off in the world and fight like hell to change it.
2012 Summer Fellow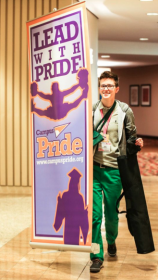 Jess McDonald graduated from Elon University in May 2012 with degrees in Sociology and History and a minor in Women's/Gender Studies. They grew up in the small town of Morehead City, North Carolina, and first got involved with Campus Pride as a Camp Pride attendee in 2010. On campus, Jess was the president of Elon's queer-straight alliance (Spectrum), student representative on the Sexual Assault and Gender Issues Council, and student assistant for the LGBTQ Office Coordinator. Jess played an important role in bringing the first ever LGBTQ Office to Elon,which opened in August 2012. While at Elon, Jess also wrote a thesis on the history of LGBTQIA student organizations, focusing on the universities with the oldest groups in NC – Duke University and UNC-Chapel Hill – and collecting oral history interviews with queer alumni. Jess currently serves as Campus Pride's Media, Communications & Programs Manager and will be pursuing a Masters of Education in Social Justice Education at the University of Massachusetts Amherst beginning in September 2013.