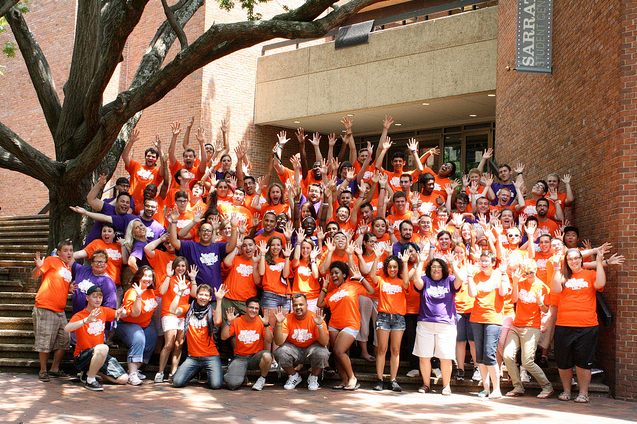 Campus Pride's 8th annual Camp Pride and the 4th annual LGBT Professional Academy for Advisors will take place July 15-20, 2014. Both Camp Pride for undergraduate students and LGBT Professional Academy for Advisors are hosted in tandem with each other. LGBT and ally students are encouraged to bring their staff advisors for the professional academy.
Camp Pride Summer Leadership Academy  
Let's go camp! Now you can develop friendships for a lifetime with other LGBT and ally college students, build your leadership skills, and take action as a social justice advocate for a safer and more inclusive campus. Learn More
Check back in late fall for information about registering for Camp Pride 2015
 _________________________________________
 _________________________________________
LGBT Professional Academy for Advisors (aka Advisor Bootcamp)
Now your advisor can go to camp by attending the LGBT Professional Academy for Advisors (aka Advisor Bootcamp). The five day skill-building retreat occurs in tandem with Camp Pride and is designed for professionals who work with and, or support LGBT and ally people/issues.  Learn More
Check back in late Fall for more information about Advisor Bootcamp 2015
 _________________________________________
 _________________________________________
Tell Us What You Want
Yes, part of what makes the camp so valuable is that you leave with answers to your questions. As a part of the registration process, Campus Pride ask participants to identify key challenges faced by LGBT & Ally student leaders as well as specific questions, issues and topics. These can be about anything you want to know — simply tell us what you want!
Fundraising
Raise $ to go to Camp
You won't believe how many dollars your campus spends for students like you to attend summer leadership camps, institutes, and trainings (athletes, religious groups, honors students, student government, etc). Plus, there are tons of ways to raise money within the LGBT and Ally community local groups. Need ideas? We've got your back: Camp Pride Fundraising Ideas.
Scholarships
Full and partial scholarships are made available every year by individual donations, grants and corporate sponsors. Apply Online Now
Please note that your completed registration indicates your understanding and full agreement to uphold and be held accountable for the following terms and conditions as outlined prior.
Registration & Camp Policies
1. Registration is limited to a specified number of participants and will be on a first- come, first-serve basis. You must be 18 years of age or older at the time of camp.
2. Upon written request, cancellations will be issued a partial refund. No refunds will be issued after June 1, 2014.
3. Leaving the camp site without permission, possession/use of alcohol, illegal/non-prescription drugs and drug paraphernalia, not abiding by host campus policies, or any behaviors that are disruptive to the mission and values of the camp will not be tolerated. Such actions will cause forfeit of your registration fee and are immediate grounds for dismissal. Participant is responsible for all costs associated with any early departure (i.e. cab, airport fees, etc).
4. All registration fees will be refunded if the training is canceled because of low registration. A determination and appropriate notice will be made by June 15. Nonrefundable airline tickets or any other nonrefundable expenses should not be purchased prior to June 15.
5. Checks or purchase orders should be made payable to Campus Pride, Inc,a charitable 501(c)(3) non profit organization, Federal ID #14-1969456.
6. Participants agree to hold harmless and indemnify Campus Pride, Inc.,the university, and, or any organization coordinating travel, its officers, agents and employees, from and against any harm or damage as well as all actions, suits, damages, liability or other proceedings,which may arise as the result of the events and occurrences of camp, including any associated travel and meals. Participants understand that participation in any camp trip or activity is voluntary. If participants have any concerns about personal health or ability to participate, participants agree to discuss concerns with a physician prior to camp or will not participate in said activity.
7. Campus Pride, Inc. is excused of any refunds or further obligations to the extent that such actions are the results of an Act of God, war, national emergency, labor dispute, riot, civil disturbance or other circumstance beyond the control of Campus Pride, Inc.
8. Campus Pride has the exclusive right to use video and other visual/audio portrayals of participants likeness taken during the camp in any medium of any nature whatsoever for any purpose, including advertising or promoting the services of Campus Pride, Inc. without any compensation. Any such portrayal shall be the exclusive property of Campus Pride, Inc.
9. Any disputes will be handled by a court of law in Mecklenburg County of the State of North Carolina. Campus Pride, Inc. will not be liable for any court-related expenses.
10. All fees are listed in U.S. dollars. Any details are subject to change.
More information or questions, please contact Campus Pride at 704.277.6710 or email info@campuspride.org.