Save $250
Pre-Register Now
Lowest Rate until December 13, 2013
Now you can PRE-REGISTER your college/university to attend the Camp Pride and the Advisor Bootcamp.  You may designate who will attend at a later time; however, to RESERVE YOUR SPACE and receive the LOWEST CAMP RATE, you must pay before the deadline.
$745 Special Discount Offer
Registration includes educational curriculum, all program materials, accommodation for five nights and meals as well as entertainment and activities.
After December 13, you will pay an early rate of $845 and a regular rate of $995. LIMITED CAPACITY, PRE-REGISTER NOW. 
Campus Pride's 8th annual Camp Pride and the 4th annual LGBT Professional Academy for Advisors will take place July 15-20, 2014. Both Camp Pride for undergraduate students and LGBT Professional Academy for Advisors are hosted in tandem with each other. LGBT and ally students are encouraged to bring their staff advisors for the professional academy.
Camp Pride Summer Leadership Camp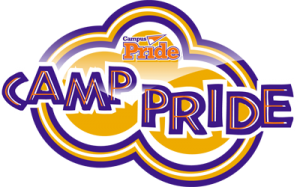 Let's go camp! Now you can develop friendships for a lifetime with other LGBT and ally college students, build your leadership skills, and take action as a social justice advocate for a safer and more inclusive campus. Learn More
 _________________________________________
LGBT Professional Academy for Advisors (aka Advisor Bootcamp)
Now your advisor can go to camp by attending the LGBT Professional Academy for Advisors (aka Advisor Bootcamp). The five day skill-building retreat occurs in tandem with Camp Pride and is designed for professionals who work with and, or support LGBT and ally people/issues.  Learn More
 _________________________________________
Camp Pride Testimony
Phat, Rhodes College, Memphis, TN
Rebecca, La Sierra University, Riverside, CA

"Campus Pride provides a safe, open space for new student leaders and for more experienced leaders alike. It is an extraordinary way to learn the basics of campus organizing as well as new strategies to create change."
–21 year-old, gay man
"Campus Pride rocks! When I first searched the website, I was amazed that everything I needed as a LGBT student leader was there. I go back often to find what's new and improved…"
–18 year-old, bisexual woman
"I no longer feel alone. Campus Pride helped me meet others who share the same issues, challenges and frustrations as a leader. I feel more empowered, now than ever."
–19 year-old, bisexual woman
"I have been to almost a dozen LGBT conferences and events over the years. Never did I feel more welcome and included as a trans-identified, gender queer person than in the dialogue shared and tools provided during this program. Thank you."
–22 year-old, transgender woman