Founder's Day: September 16, 2001 – present
Celebrating our Campus Pride Founder Shane Windmeyer
Written by Marisa Larson
An Activist Journey: From the Roots of our Founder to Who We are Today
When Campus Pride founder and executive director Shane Windmeyer attended college in the early 1990s, life for LGBTQ college students was lived mostly behind closed doors. It was following the height of the HIV/AIDS crisis and acceptance for the gay community was just starting to bud. It would take the work of LGBTQ advocates and allies to make societal acceptance bloom — work that continues to evolve and be necessary today and into the future.
The beginning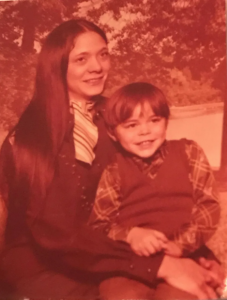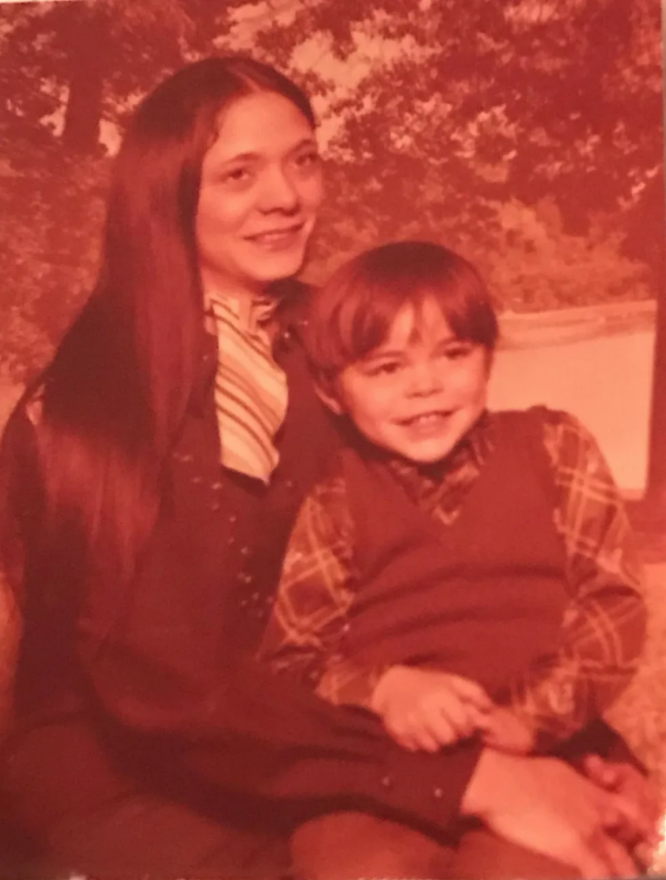 Shane Windmeyer was born to a strong, single mother in Hiawatha, Kansas — a rural town in the rolling hills of northeast Kansas. When Shane was still a baby, his mother, Diann Mendez married Fred Windmeyer. Diann's family was of Mexican and Iowa (Ioway) indigenous heritage. "My mom grew up on the 'wrong side of the tracks' per se, where the poor Mexicans and Blacks lived and it was not seen as a good thing. She and her ten siblings experienced a lot of racism during her childhood," Shane said. "The fact that my name changed from Shane Mendez, which it was on my birth certificate, to Shane Windmeyer when my mom married, I think ultimately changed how people viewed me because that Mendez name was perceived very different from the Windmeyer name. I was taught to assimilate early-on and to not necessarily share about my Mexican ancestry or the native/indigenous ancestry. So, it wasn't until college that I started to learn more about myself being gay, but also started to learn more about my ethnic heritage."
Shane's evolution into an advocate began in college. "When I went off to college, my freshman year I was very involved in the theater program," Shane said. "I met tons of out, gay people. I finally learned what gay was and that they weren't 'sinners, evil' or bad people, which was the impression I had at the time because of intense religious bigotry and stereotyping around HIV/AIDS. I didn't really have words for what I was feeling until I understood what it meant to be gay in college. That's when I slowly started coming out to myself, because I met others like me at Emporia State. I was able to come to terms with all of who I am."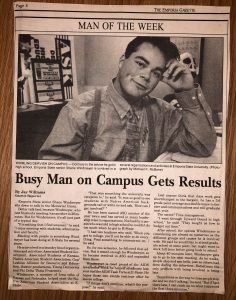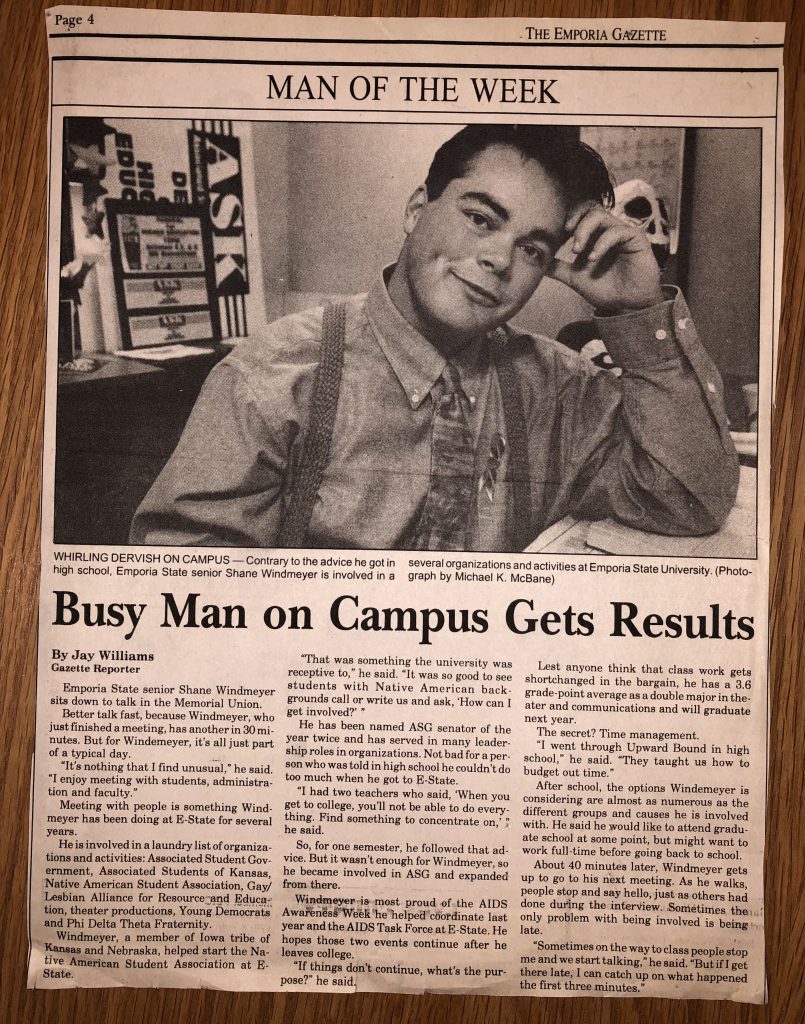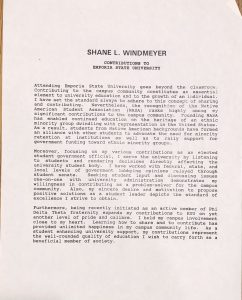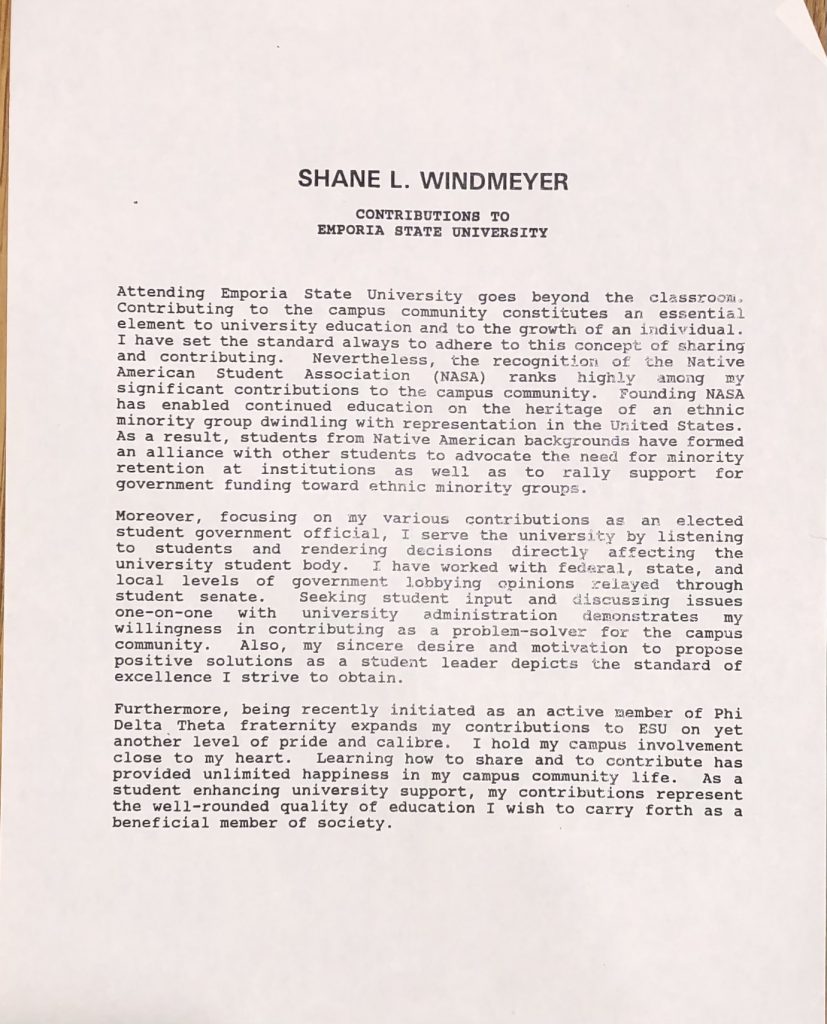 Shane expanded his campus involvement beyond theater to include student government, establishing the Native American student organization (the first of its kind on campus), and eventually joining a fraternity. "I was fascinated by fraternities. I was just coming out to myself and I wasn't out when I joined my fraternity," Shane said.
"In my head, I was exploring and still dealing with my sexuality. I wanted to join a fraternity as a way to get rid of my feelings. If I was a part of this heterosexual bastion of masculinity, then somehow I'd be okay, or these feelings would go away."
Turning point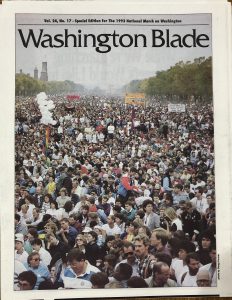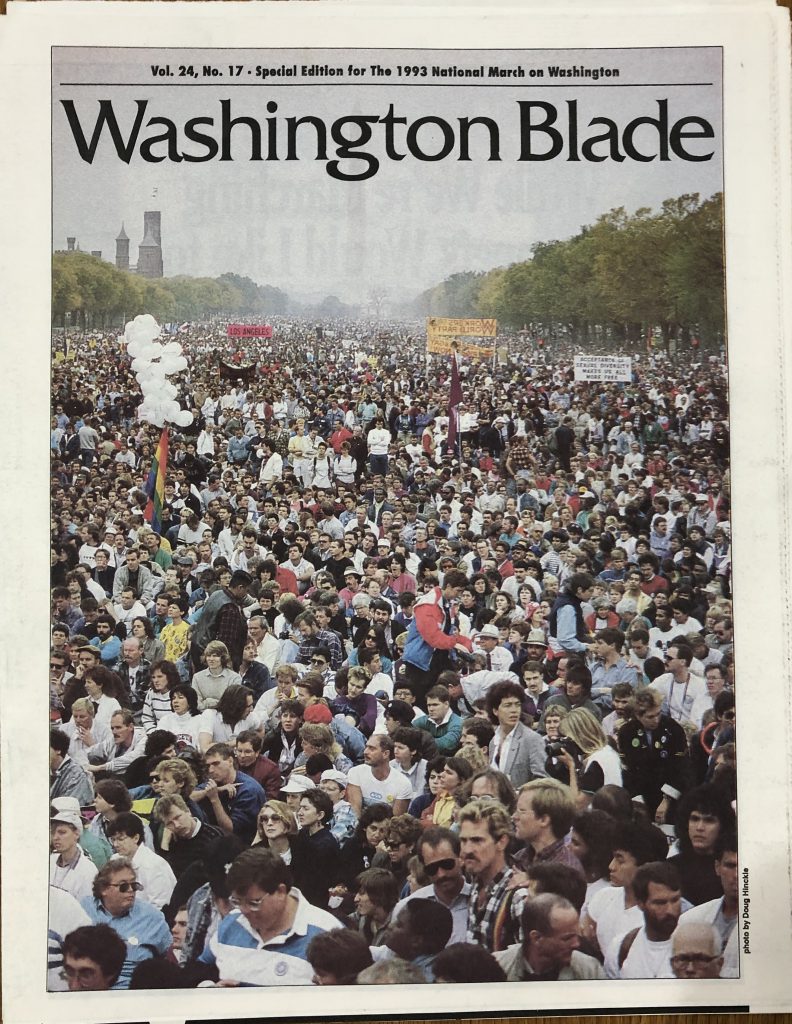 The March on Washington in 1993 was a turning point in Shane's life. He went to the march as a straight-ally member of Emporia State's Gay and Lesbian Alliance for Resource and Education (GLARE) but returned home with the full knowledge that he was gay. "That was the first time I ever kissed a boy," Shane said. "What could be better than a March on Washington in Dupont Circle back in 1993? It was amazing — gay people everywhere!"
Upon returning to Emporia State, Shane began to come out to his fraternity brothers. "I was vice president of the chapter when I came out. I was very invested in the fraternity," Shane said. "I came out to one brother at a time. The first response was positive, and the second response was positive. Some of the brothers didn't understand, but they understood that brotherhood was about accepting someone for who they are and having that respect and deep enduring friendship. There were brothers it was challenging for, but all of them had my back and were all very supportive and helped me grow."
Shane channeled his experience into a book, "Out on Fraternity Row", published in 1998 with his mentor Pamela Freeman. In the book, he shares his experience, as well as the experiences of others who were closeted or came out to their fraternities. The research for this book laid the groundwork for Campus Pride. "Campus Pride actually started as a fraternity and sorority outreach initiative called the Lambda 10 Project in 1995. This was possible due to my straight fraternity brothers and the acceptance I found on campus," Shane said. "My campus had a gay and lesbian organization and a non-discrimination statement, which was wonderful for back then, but there were not any other services. I thought, 'My campus needs help and so do many other campuses, so let's create resources.'"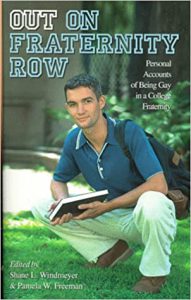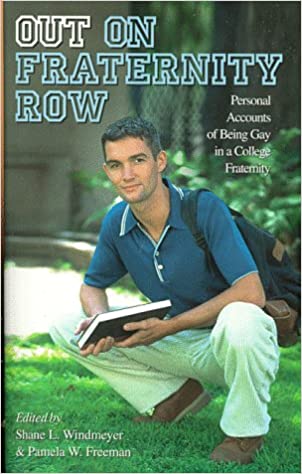 After graduating from Indiana University with his masters degree in higher education and student affairs, Shane published a second book titled "Secret Sisters" in 2001. Both of these books catapulted Shane into more educational work and public speaking. "As a professional within higher education, I always knew that you can make the most difference by doing something in an area that needs to be served," Shane said. "There was no one really serving college students in a meaningful, authentic way back in the early to mid-1990s from a national, organizational level. The LGBTQ movement, at that time, was very much about 'don't ask, don't tell,' and to some extent about marriage and employment discrimination. It wasn't about young adults, youth or anything related to queer young people."
Establishing a national organization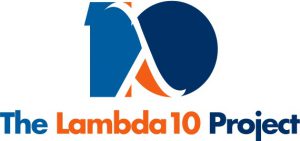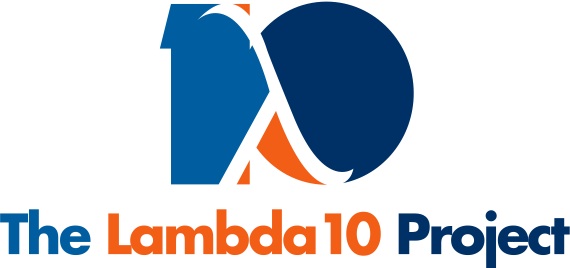 The first iteration of Campus Pride was a website in 2001, which was cutting-edge technology at the time. Campus Pride consisted of Lambda 10 Project, which was the fraternity and sorority information, and CampusPride.Net, an online gay clearinghouse for college students. "Organizationally, it was all about helping students who didn't have anyone. Nobody who was out on their campus. It was about giving students the ability to mobilize, the ability to form a student organization, fundraise, and learn how to do programming on their campus. CampusPride.Net was a way for everyone to share information across the country in a new accessible, affordable way."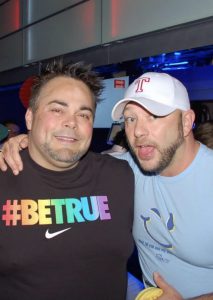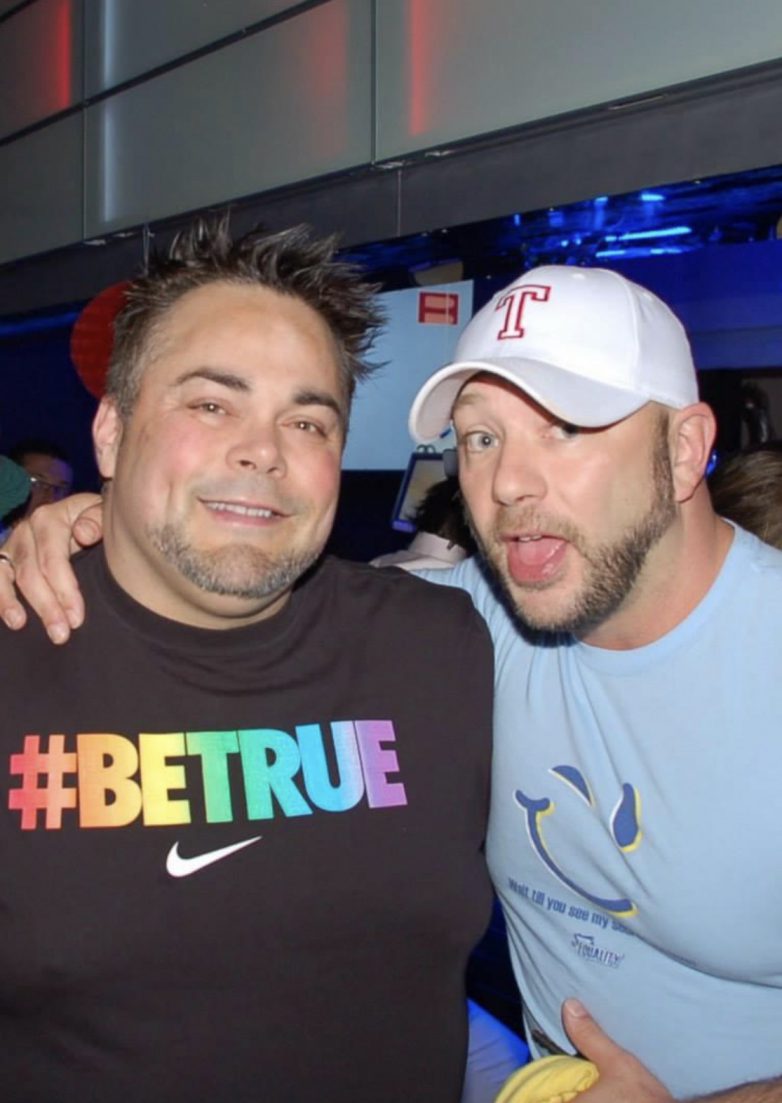 CampusPride.Net not only brought queer students across the country together, it also brought Shane and his husband Tommy Feldman together. Tom, a graphic designer and commercial artist, built the first website for the Lambda 10 Project in 1995 and designed the logos for Lambda 10 and Campus Pride.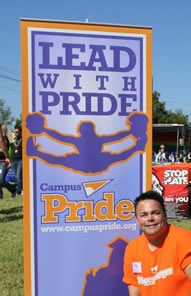 The tragic timing of national news events launched Shane and Campus Pride into the spotlight. Shane's book, "Out on Fraternity Row," came out around the same time as Matthew Shephard's murder (October 1998). At that time, a fraternity at Colorado State University mocked the hate crime on their homecoming float. "One of my mentors at Indiana University was now the director of student activities at Colorado State. He invited me to come speak to the fraternities and sororities there," said Shane. "My very first program was to 2,500 students who were forced, mandated to be there because of this horrific incident on campus. It was my largest audience sharing my story and talking about the experience of gay and bisexual men in fraternities. It definitely shaped my commitment and passion for the future."
This opportunity opened up doors and launched Shane's professional speaking on the college circuit. He took that success and channeled those resources back into Campus Pride. "That's the point at which I said, 'How do we make this bigger?' We took our first signature program, Lambda 10, and created another landmark program called Stop the Hate, which is a bias and hate crime prevention training, and we put that under the umbrella of Campus Pride. Shortly thereafter in 2006-07, we officially became a 501c3 nonprofit."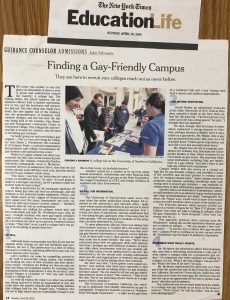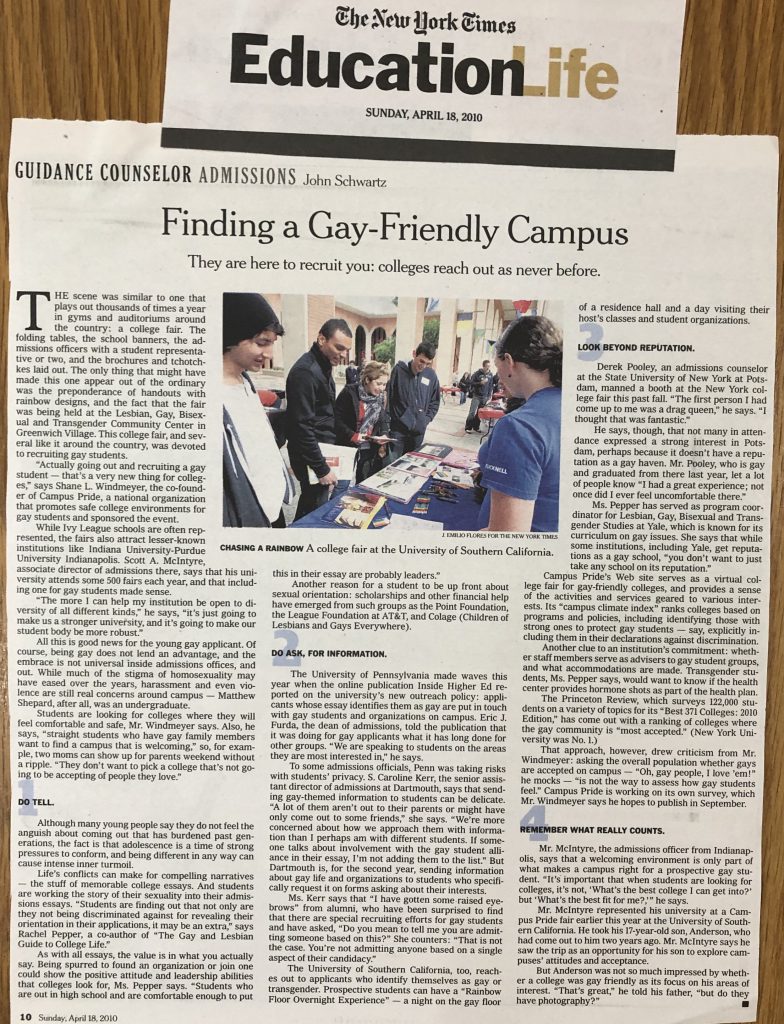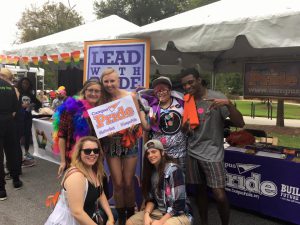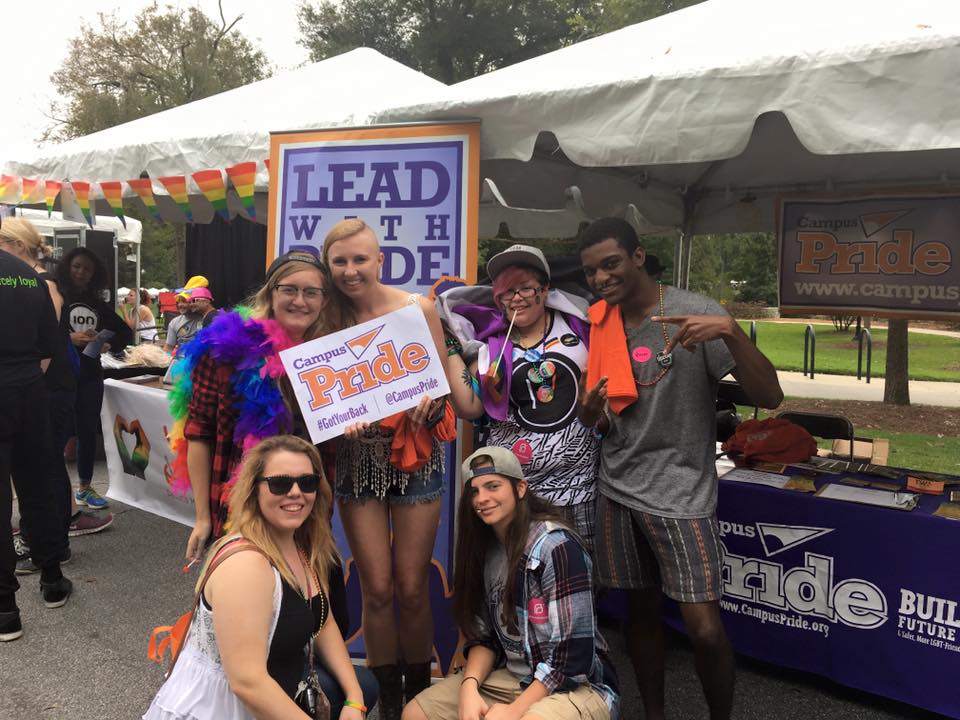 More signature, often pioneering programs were created. The Safe Space training is an academy for professionals who are advisers. Camp Pride is a summer leadership academy for LGBTQ and allied students. "That program started in 2007 and continued to grow. It has created our 'chosen family' that makes us truly special as a grassroots organization – and what Campus Pride is all about – leadership development and helping support queer young people to be their full authentic selves," Shane said. Another signature program that has transformed higher education since its launch in 2007 is the Campus Pride Index. The index is a national benchmarking tool that assesses and helps improve college campuses on their LGBTQ friendliness.
Another new program Shane created and has been working on during the COVID-19 lockdown is the Campus Pride Career Connect, which will help young people find mentors and professional career advice from employees who work for LGBTQ-friendly companies. "All these resources started with an idea of 'lets create resources to help' and I built them and worked with many other volunteers to make it happen," Shane said.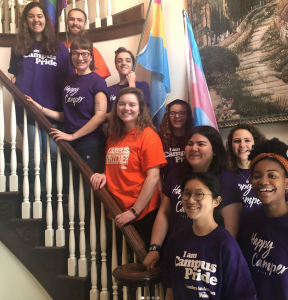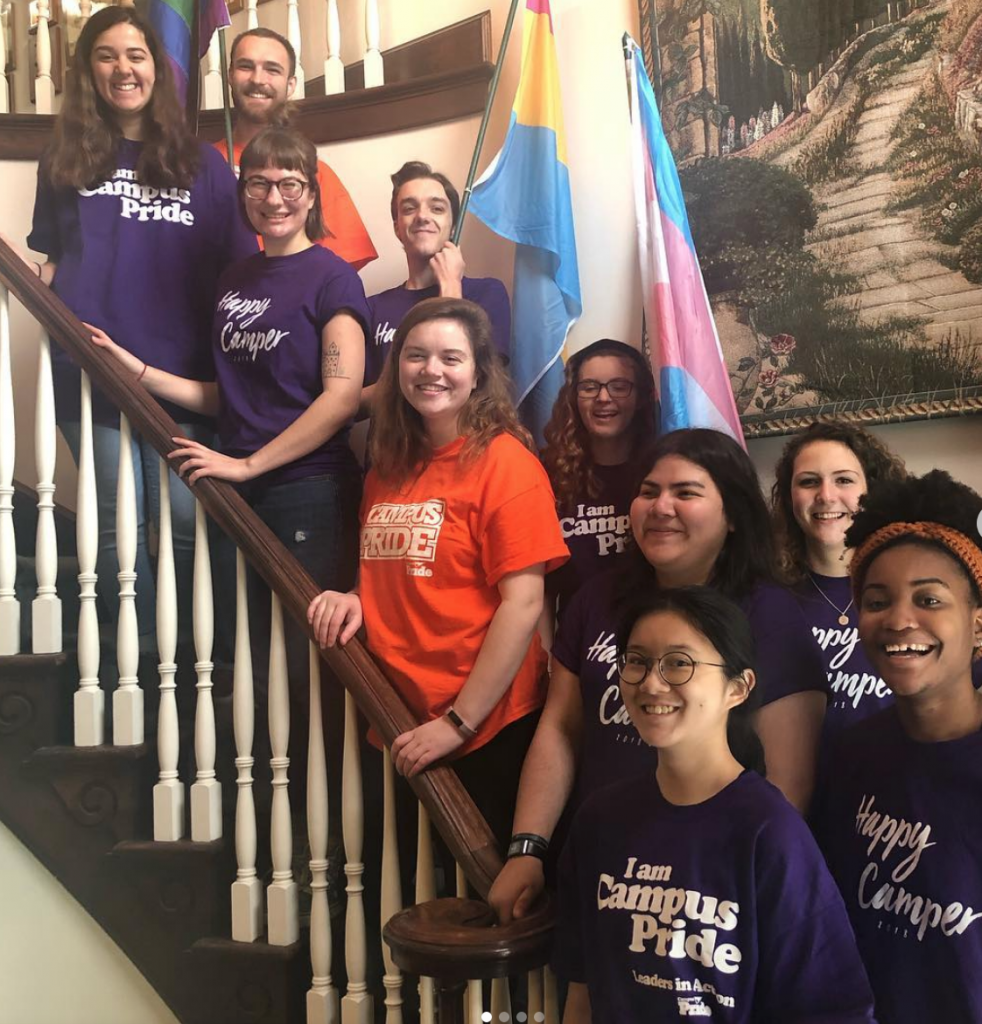 At its core, Campus Pride is family. "Campus Pride is a family of young people who have been a part of the organization for 20 years. I look back and fondly reflect on those 20 years, our roots, who we are as an organization and how we continue to change. Campus Pride is a place for everyone, those who may not have a place, who face discrimination, feel alone and, or still finding and exploring who they are. This very much relates to how I was brought up, my experience as a kid, the importance of family, and my life experience," Shane said. "It isn't about blood family but who you choose to interact with, build friendships with, and build these familial relationships with – bonds that will last a lifetime. People you can depend on as family."
The future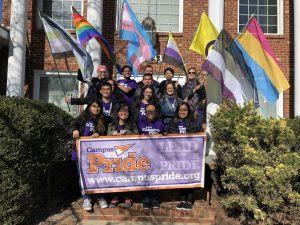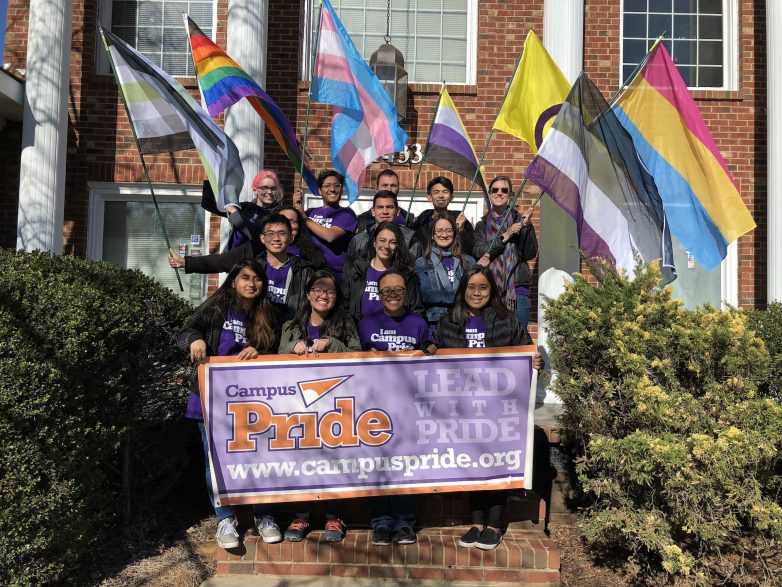 The future of Campus Pride is about adapting to the needs of the time. "The future of Campus Pride has to be about doing things better and doing things in a way that resonates with young people. Keep in mind, by saying young people, it's a population that is constantly changing and that change is what keeps Campus Pride relevant and making sure we're authentic to the population we serve," Shane said. "One of the things I've seen over the last two decades is a growing understanding and acceptance of the rainbow spectrum, but oftentimes there are aspects of that rainbow that are not fully embraced and accepted. That's sometimes regional, cultural or based on where they live. Sometimes that's based on what identity we're talking about, whether it be people who are non-binary or trans or someone who is asexual or pan-sexual. Understanding the true queer spectrum of sexuality and gender diversity is constantly what Campus Pride is trying to educate about, provide resources – and most importantly grow our family."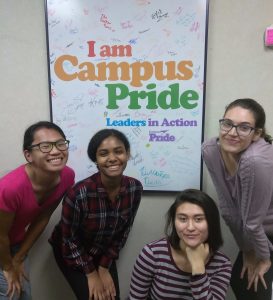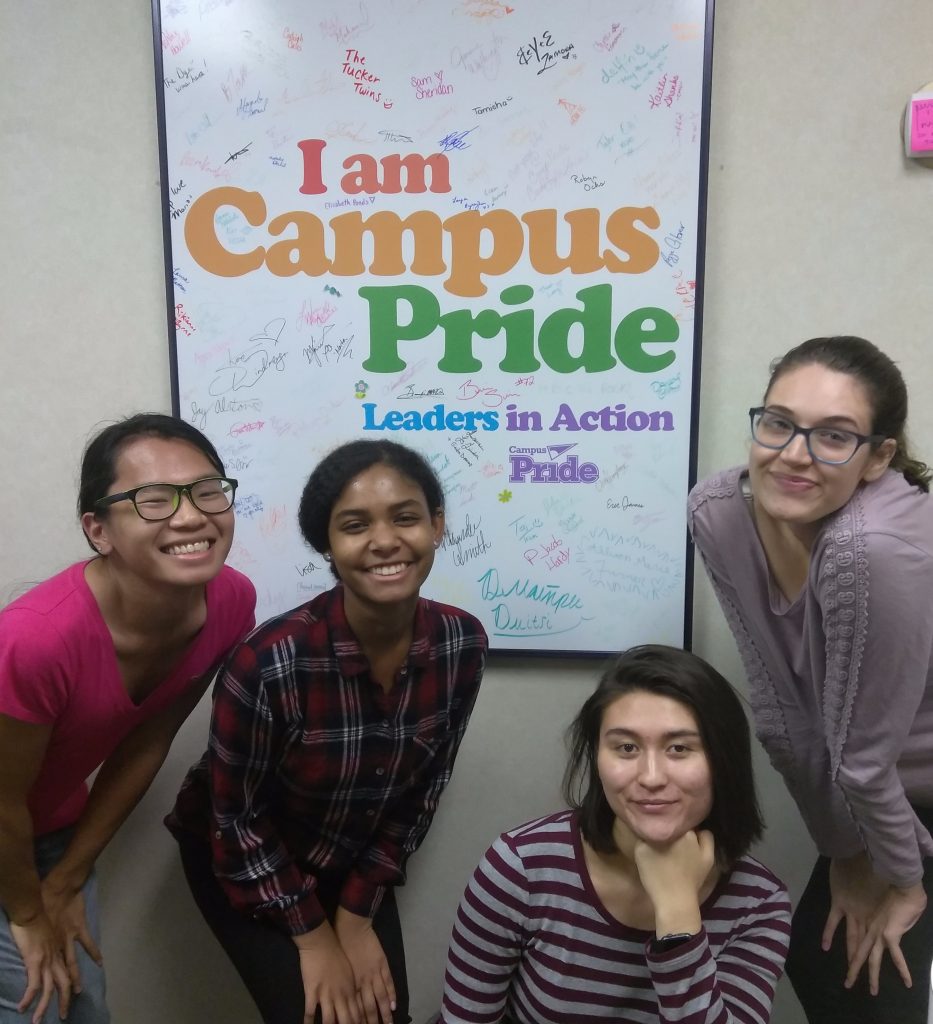 "It's my hope that what the organization can continue to be for people is a safe place to live, learn and grow and to find family," Shane said. "I think this world is becoming, at times, more divided around aspects of identity, aspects of community that are going to take organizations like Campus Pride to bring people together in a safe manner to listen and at least seek to hear each other. I think that's a real challenge, as people are not just LGBTQ. We're LGBTQ and people of color. We're LGBTQ and people of faith. We're LGBTQ and people with different abilities. That conversation is getting more robust and exciting because we're embracing all of our intersections. Campus Pride is an organization that brings people together, that builds bridges to at least listen and hear each other, and empowers people to be strong in their own identity. There's power in embracing your own authenticity and bringing that forward."
About Contributor
Marisa Larson is a writer and editor with more than 25 years of experience working in print, radio, TV, and higher education. She was a research editor and the Middle East editor at National Geographic magazine and is currently the editorial manager at Kansas State University Foundation. Marisa grew up in Hiawatha, Kansas, and performed with Shane Windmeyer in high school musicals and swing choir.
About Campus Pride
Celebrating its 20th anniversary year in 2021, Campus Pride is the leading national nonprofit organization dedicated to building future leaders and creating safer, more inclusive communities for LGBTQ people and allies at colleges and universities. Founded in 2001 by nationally-recognized LGBTQ civil rights leader and campus pioneer Shane L. Windmeyer, Campus Pride offers a wide variety of programs and resources for students and prospective students, including the Campus Pride Index, HBCU Clearinghouse, Trans Policy Clearinghouse, Lambda 10, Stop the Hate and Safe Space trainings, and the annual Camp Pride leadership camp. www.campuspride.org