2015 DETAILS FOR OUT AND GREEK WILL BE ANNOUNCED SOON

WHEN: April 10 – 13, 2014
Where: San Diego, California

Registration: Now Open

Registration includes OUT & GREEK LGBT & Ally Conference program resources, featured keynotes, educators in residence, workshops and special LGBT & Ally opening welcome reception.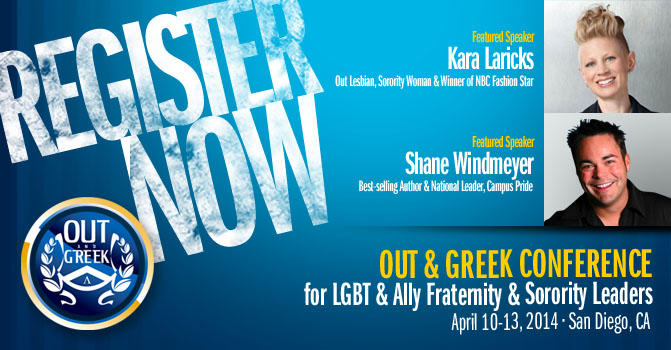 Last year,  the Association of Fraternal Leadership Values (AFLV) and Campus Pride announced a strategic partnership between the West Fraternal Leadership/National Cultural Greek Leadership Conference (WFL/NCGLC) and the Out & Greek LGBT & Ally Conference.
Campus Pride is the leading national educational organization for LGBT and ally college students and campus groups. The organization initiated its Lambda 10 Project in 1995 to create visibility and support of LGBT members of the college fraternity. The project works actively to develop resources and educational materials to educate on sexual orientation and gender identity/expression as it pertains to the fraternity/sorority experience.
The Out and Greek LGBT & Ally Conference is the only conference of its kind for LGBT and ally fraternity and sorority leaders to share, network and learn strategies to create safer, more LGBT inclusive fraternity and sorority communities.
Now you can:
Learn how to become an effective straight ally
Share your story of coming out and being Greek
Network with other LGBT and ally fraternity and sorority leaders
Learn strategies for your organization and community to be safer and more LGBT friendly
This year's conference takes place April 10-13, 2014 in San Diego, California.
Registration
Never before has there been a leadership conference to share, network, and learn strategies to create safer, more LGBT inclusive fraternity and sorority communities. CLICK HERE to register for Out & Greek 2014

2014 Keynote Speakers
Shane Windmeyer, CampusPride.Org
Shane is a leading author on gay campus issues, national leader in gay and lesbian civil rights and a champion for LGBT issues on college campuses. He is co-founder and executive director of Campus Pride, the only national organization for student leaders and campus organizations working to create a safer college environment for LGBT students. He is a member of Phi Delta Theta fraternity. Released Fall 2006 by Alyson Books, Windmeyer is the author of The Advocate College Guide for LGBT Students, the first-ever college guide profiling the "100 Best LGBT-Friendly Campuses." He is also the editor of Brotherhood: Gay Life in College Fraternities and co-editor of the books Inspiration for LGBT Students & Allies, Out on Fraternity Row: Personal Accounts of Being Gay in a College Fraternity and Secret Sisters: Stories of Being Lesbian & Bisexual in a College Sorority.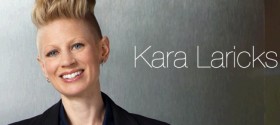 Kara Laricks, NBC Fashion Star Winner
Growing up in Kansas, Kara Laricks dreamed of  design, diversity, creativity and adventure in New York City.  Encouraged by her mother to make "secure career choices," she earned a bachelor's degree in Elementary Education followed by a master's degree in Curriculum and Instruction both from the University of Kansas where she was initiated into the Gamma Phi Beta Sorority.  Laricks went on to teach first in Kansas and later in California. While living in San Francisco, Laricks enrolled in the master's program in fashion design at the Academy of Art University and closed the Mercedes Benz Fashion Week graduate fashion show with her menswear inspired S/S 2009 collection.
In 2008 Laricks made her childhood dreams a reality and moved to New York City.  After landing an internship with a women's wear designer, she was quickly hired as an assistant designer where she remained for a year.  Never one to give up on her dreams, Laricks' entrepreneurial instinct kicked in as she launched an accessories line named Collar, Stand + Tie. Laricks designed and produced ties and scarves in her Lower East Side apartment and sold her wares at local markets throughout the city.
In 2011, Laricks learned of a new show casting emerging designers, NBC's Fashion Star. Thrilled at the opportunity to design in a public forum, Laricks excelled and won the first season of Fashion Star. Saks Fifth Avenue, H&M and Macy's all purchased her capsule collections each designed with her signature masculine meets feminine aesthetic. Laricks' designs have been featured on NBC's The Today Show as well as HBO's True Blood. Laricks debuted her Kara Laricks S/S 2013 women's wear collection during New York Fashion Week.   An educator turned designer, Kara is dedicated to supporting emerging designers and inspiring others to follow where dreams lead.

Learn more about Campus Pride here.
Past Conference Highlights
LGBT & Ally Welcome Reception, Sponsored by AFLV & Campus Pride
Workshop: Improving the Climate for LGBT Students in Fraternity and Sorority Life
Workshop: Queerly Divine Nine
Workshop: Trevor Project: Suicide, Why Mental Health Matters to LGBT People
Workshop: It Gets Better Project: How to do a Greek Community Video
Featured Speaker: Shane Windmeyer, "What's Your Gay Point Average?"
Workshop: Lambda 10 National Ally Program: Establishing an Ally Program on Your Campus
Workshop: Trans Issues 101