Written by Keisha Keaton, Central Michigan University, student writer
Everyone is guaranteed freedom of speech. It is a necessary right for all people to say what they think and stand up for what they believe in. However, there are limits to freedom of speech protections, especially when there is a clear, present danger to student safety on campus.
When someone starts to use freedom of speech to harass and intentionally harm someone, action needs to be taken. It is no longer an issue of freedom of speech but a real problem of student safety. Milo Yiannopoulos is someone who spreads a message that harms and threatens the safety of many people, namely transgender women.  All under the auspice of feeding his ego and getting national attention.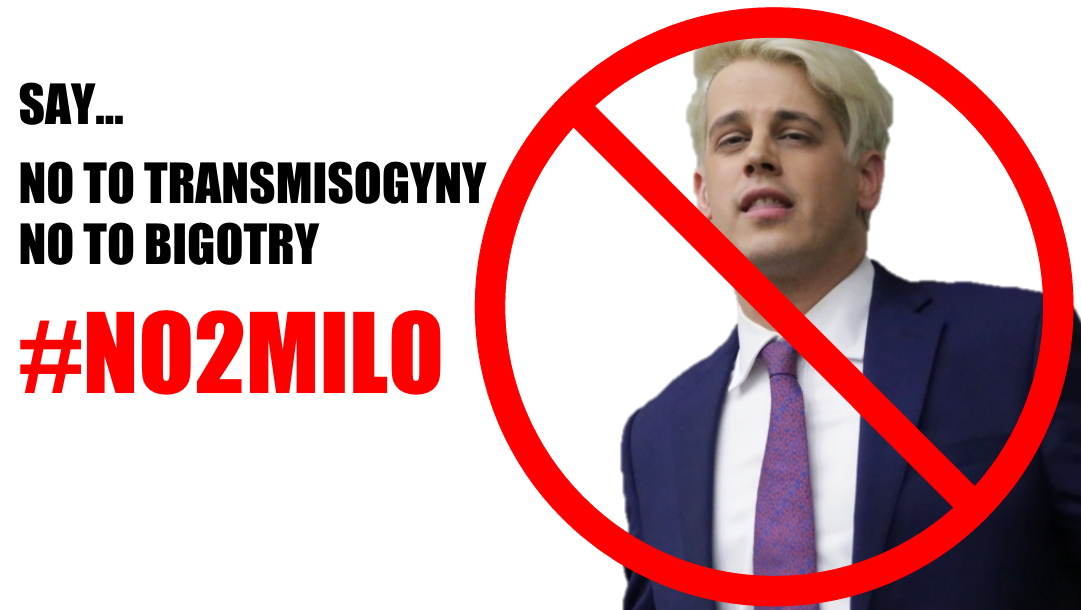 There are far too many examples of his bigotry; however, most recently Milo went after targeting a trans woman at Wisconsin-Milwaukee University's campus. Two weeks prior to Milo's appearance, this trans woman was featured in the local campus newspaper talking about the importance of allowing name changes for people who have transitioned. The student's name and picture were featured in the article. Milo chose during his speech to call her out by name and use her picture ridiculing and harassing this student to provoke the audience.  Milo specifically targeted her to speak out against the trans community and to gain more media coverage. His choice to target and harass a trans woman by name and with a photo is wrong and directly impacts the safety of trans people on campus and others in the LGB community. This is not acceptable by any means. No one deserves to be put in this position, especially at a college campus that should ensure a learning environment without fear of hostility.
Take action. Say #NO2MILO!  Do not let this happen on your campus.  Tell your administration about Milo Yiannopoulos and how toxic he is for any college campus that claims to create a safe learning environment for all students.  Targeting and harassing any student by name and with a photo directly incites hostility and destroys safety for that individual – and the campus community . No student should feel targeted on campus, especially, by an outsider.
You can stop Milo from coming to your campus.
"If you are neutral on situations of injustice, than you have chosen the side of the oppressor," -Demond Tutu  
Action Steps:
Demonstrate to your campus that you are upset about Milo coming and take a stand. Be bold. Be loud.

Consider creating a no harassment policy for any campus speaker or entertainer. This policy should be agreed upon in the rider stating that the speaker cannot directly harass students by name or using photos of students during a contracted event.

Find support from a faculty member who can help advocate for you.

Send emails to your administration

and inform them about Milo and the problems the real threat to student safety if he is brought to campus.

Collaborate with other campus organizations to help spread the word and to also speak out against Milo.  

Talk to your campus newspaper and tell them why Milo is bad for trans women and for all students and their safety. Share the examples online as to what he has said and done on other campuses.

Tweet #NO2MILO or use other social media platforms to also bring attention to this issue.

Contact local news to bring public attention against Milo and his bigoted actions.

Talk to the sponsoring organization to learn why they chose Milo. Share your concerns directly and ask them to cancel and/or not bring him to campus. Suggest choosing a different speaker that won't target or harass students directly.
Several campuses have already canceled Milo. New York University (http://reason.com/blog/2016/10/23/nyu-cancels-milo-yiannopoulos-feared-att) stated that they canceled Milo due to the threat he brings to their campus. NYU has a diverse population like many universities and felt that Milo's presentation would be "proximate" to their Multicultural Centers.
At other universities like the University of Miami; the organization and faculty (http://www.themiamihurricane.com/2016/09/21/milo-yiannopoulos-campus-visit-cancelled/) that invited him to come made the decision to cancel Milo because they saw the negative impact he was having nationwide.
Even if Milo does come to your university to speak your fight does not end there. At DePaul University (https://www.insidehighered.com/quicktakes/2016/05/25/disrupted-event-and-anti-mexican-graffiti-depaul-u) during Milo's presentation, student protesters walked up on stage and disrupted his speech. Later that year when Milo was asked back again the administration denied the request.
There are many steps students and other community members can take to put an end to Milo's verbal rampage. Do not just let this happen but stand for what your believe in and advocate for those who cannot speak up yet. You are part of a community and every person there deserves to feel safe and protected.
Sign a petition and learn more about Milo's campaign 
Follow Campus Pride, @CampusPride and check out their website at CampusPride.org to learn more and share the Actions you took to stop Milo.