What is WigOUT?
Starting July 15, book tickets for Campus Pride's WigOUT charity event on Saturday, October 23. The event will take place at the Midtown Ballroom in Charlotte, North Carolina. Buy tickets online at campuspride.org/wigout.
Celebrate Campus Pride's 20-year anniversary at our WigOUT party! Bid on custom wigs styled by local hairstylists, artists and salons at our silent auction supporting LGBTQ youth. Attend the outrageous WigOUT fashion show and wrap up the night with a live DJ and cocktail party. Learn more at campuspride.org/wigout.
"Wigs are a creative staple of the LGBTQ community. When I put on a crazy wig, I feel free to express myself in a fun and authentic way across the spectrum of gender and sexuality," says Campus Pride Executive Director Shane Windmeyer. "WigOUT celebrates the diversity and fluidity of self-expression. Come and 'wig out' with Campus Pride and support LGBTQ young people."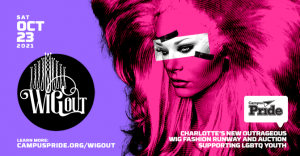 WigOUT event schedule
Date:
Saturday, October 23, 2021
Location:
Midtown Charlotte at Midtown Ballroom Venue located 1133 Metropolitan Ave #180, Charlotte, NC 28204
Evening Activities: 
6 p.m.  – VIP & Sponsor Cocktail Reception & Special WigOUT Showcase 
7 p.m. – General Admission Doors Open, WigOut Cocktail Reception, Entertainment & Silent Auction Begins
8 p.m. – 9:30 p.m. – WigOUT Runway Show & Live Auction
9:30 p.m. – 10:30 p.m. – Wrap-up WigOUT Closing Bids, Live DJ & Cocktails
 # # #
ABOUT CAMPUS PRIDE
Since 2001, Campus Pride has been the leading national organization building future LGBTQ and ally leaders as well as creating safer communities at colleges and universities. The Campus Pride Index annually helps 80,000 people find LGBTQ-inclusive colleges and universities.  In addition, the organization has specifically tailored programs and resources to support LGBTQ youth and campus communities. Learn more at CampusPride.org.