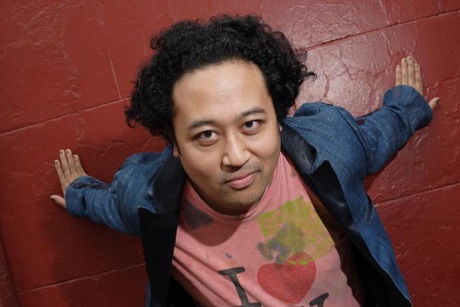 His work appears in over 30 anthologies including Aloud: Voices from the Nuyorican Poets Café, Spoken Word Revolution, Chorus & The Outlaw Bible of American Poetry . He co-edited Poetry Nation,: A North American Anthology of Fusion Poetry and guest editor for Beltway Poetry Quarterly. He has shared the stage with Patti Smith, Allen Ginsberg and through Howard Zinn's Portraits Project at NYU, has performed with Stanley Tucci, Jesse Eisenberg & Lupe Fiasco.
He is a recipient of a 2008 Future Aesthetics Arts Award Regrant from The Ford Foundation/Hip Hop Theater Festival, three New York Foundation for the Arts Fellowships for Poetry and Multidisciplinary Performance, The Larry Neal Awards for Poetry 2007 (3rd Place) and 2008 (1st Place), a 2008 DC Commission for the Arts Poetry Fellowship. He received the 2006 Writers for Writers Award from Poets & Writers for his work teaching at-risk youth at Bellevue Hospital in New York. Other recipients include Arthur Miller, Sharon Olds, Stephen King, Amy Tan & Edward Albee. He is a former Artist In Residence at NYU's Asian Pacific American Studies Program and has served as faculty at Banff's Spoken Word Program and Kundiman. As a theater artist he has directed two plays for the 2007 & 2008 Hip Hop Theater Festival,Elegies In The Key Of Funk and The Other Side. He received three New York Innovative Theater Award Nominations for his work in Too  Much Light Makes The Baby Go Blind with a win for Best Performance Art Production The Kenyon Review recently named Regie Cabico the "Lady Gaga of Poetry" and he has been listed in BUST magazine's 100 Men We Love.
His plays have been produced at the 2003 Humana Theater Festival (as part of RHYTHMICITY with UniVerses, Reg E. Gaines, Willie Perdomo & Rha Goddess, 2004 Kennedy Center Play Lab, Joe's Pub The Public Theater Festival, The Asian American Theater Festival, Living Word Festival, San Francisco. The Kitchen, Dixon Place, LaMama, The Philadelphia Fringe Festival, The New York Fringe Festival, Theater Offensive, among other venues. He received three New York Innovative Theater Award nominations for his work in the New York Production of Too Much Light Makes the Baby Go Blind with a 2006 award for Best Performance Art Production.  His latest solo play Unbuckled was developed with grants from National Performance Network and Mid-Atlantic Arts Foundation. He has been longtime curator of Composers Collaborative's Non Sequitur Series presented at Lincoln Center, Here Theater & The Flea Theater. He has been 2006 artist in residence for New York University's Asian American Studies Program & 2009 artist in residence at Deanza College.
He is the Youth Program Coordinator for Split this Rock Poetry Festival and is he artistic director of Sol & Soul, an arts and activist organization. He is the co-founder of SULU DC, a monthly Asian American Performance Series and is the co-director of CAPTURING FIRE: A QUEER SPOKEN WORD SUMMIT.He is pleased to be part of BANFF's 2011 Spoken Word Faculty.
Regie Cabico: X On The DL

Regie Cabico: What kind of guys are attracted to me

Oops! We could not locate your form.